Welcome to PocketMonsters.net
PocketMonsters.net
is a fansite dedicated to all things Pokémon (ポケモン) and Pocket Monsters (ポケットモンスター). We are the premier site for news and information about all aspects of the franchise from around the world. We cover the
Anime
,
indexing the music
, the
Trading Card Game
, the
Games
, the
variety shows
, have a
large imageboard
,
forum
and much more.
Follow us on Twitter
and
Subscribe to our RSS Feed
for the latest updates!
Upcoming Episodes
New episodes of the
Pocket Monsters anime
air Thursday evenings at 6:55PM JST and new episodes of the variety show
Pokénchi
air Sunday mornings at 8:00 AM JST on
TV Tokyo
in Japan. Pokémon airs Saturday morning at 9 AM EST and every Saturday and Sunday evening at 7:30 PM on Disney XD in the United States. Pokémon the Series also airs every weekday at 4 PM. Pokémon airs Saturday's at Noon EST on
Teletoon
in Canada. New titles are revealed in various publications such as: TV guides, childrens' magazines, anime magazines, promotional posters and videos, official websites and official television programs. Titles and their translations are added to our
episode guide
and the chart below when the titles are revealed.
Feb 12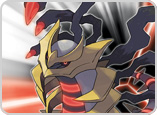 Nintendo has confirmed that Pokémon Platinum Version will have its European launch on May 22nd this year, a few months after the North American release.
The game that has sold over 2.4 million copies to date in Japan since its launch last September, with more than one million of those copies being sold within the first three days of launch; is set to reach European shores on 22 May 2009.
A sweeping new adventure, set in the Sinnoh region of the Pokémon world, packed with new features – such as new ways to play online at the Wi-Fi Plaza over Nintendo Wi-Fi connection and the ability to save your greatest victories in the Vs. Recorder – will electrify fans of the Pokémon series. A brand new Distortion World, governed by neither time nor space, also emerges, which provides a whole new gameplay challenge!
The epic story of Pokémon Platinum Version revolves around the legendary Renegade Pokémon, Giratina, appearing in its new Forme, the Origin Forme. Many other Legendary Pokémon are featured and can be captured in Pokémon Platinum Version – from Dialga and Palkia, to the powerful Lake trio of Uxie, Azelf and Mesprit
Perhaps most excitingly of all, one of the rarest and most popular Pokémon, Shaymin, available only in Pokémon Diamond Version and Pokémon Pearl Version through special events* appears in a new Forme in Pokémon Platinum Version. Transfer Shaymin from Pokémon Diamond or Pokémon Pearl game to your copy of Pokémon Platinum Version to discover the never before seen Sky Forme, with a new appearance, new attributes and special powers.
Your heroes appear in a new, special winter wardrobe in order to survive the freezing cold of wintry Sinnoh in Pokémon Platinum Version. As you follow the main quest to put a stop to the sinister Team Galactic, completing side missions and contests along the way, you will – of course – engage in some serious battles…
And when it comes to battling, Pokémon Platinum Version certainly packs a punch!
An all-new Battle Frontier, a special building packed with challenges and tournaments, is accessible after defeating the 'Elite Four' and the Pokémon League Champion – the game's final boss Trainers – and gaining a ferry ticket to the Fight Area. Not only are the final bosses harder to beat than ever before, but once you've overcome them and entered the Battle Frontier, you'll find the fighting has only just begun! The Battle Frontier contains five different Battle facilities, with each facility awarding Battle Points that can be traded for fantastic prizes.
In addition, the Global Trade Station from Pokémon Diamond Version and Pokémon Pearl Version has been expanded and renamed the Global Terminal, where you can check out other people's battles. Battle Videos are listed by popularity, so you can easily locate great content! You can save Battle Frontier and Wi-Fi battles via the Vs. Recorder, so that you can connect with Pokémon fans around the world and interact in new ways. Re-live your victories – or use them to gloat and provoke your friends into online battle!
Pokémon Platinum Version is designed to make online play as simple and exciting as possible. In the basement of every Pokémon Center is a Wi-Fi Plaza where up to 20 players can connect wirelessly and play games together in real-time. As well as trading and doing battle with friends with whom you have exchanged Friend Codes, there are a number of mini-games available to play together in the Wi-Fi Club.
There are hundreds of hours of immersive gameplay to be enjoyed in what is anticipated to be another epic Pokémon adventure. Get ready to see why Pokémon Platinum Version has been shattering sales records in Japan when it launches across Europe for Nintendo DS on 22 May 2009.
Source:
Press Release

Article edited on 2009-02-12 12:33:20 by Sunain
Feb 11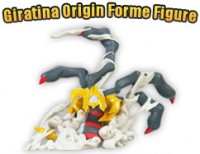 Beginning February 15th, Pokemon fans who reserve a copy of Pokemon Platinum Version for the Nintendo DS will receive an exclusive Giratina Origin Forme figure while supplies last.
The figure will be available nationwide through participating retailers, which may require a deposit to reserve the game. Most retailers will provide the figure when a reservation is made, but be sure to check with your favorite video game retailer for more details.
The sculpted Giratina Origin Forme figure strikes a dramatic pose and stands about 2.75 inches tall. It is crafted by Kaiyodo, an internationally renowned figure-making company.
The official Pokemon Platinum Version website was also announced on Pokemon.com and it should be opening soon.
Source:
Pokemon.com
and
EBgames

Article edited on 2009-02-11 07:08:35 by Sunain
Feb 11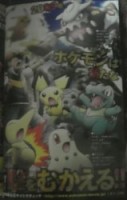 Another picture from the March 2009 Corocoro has leaked. The picture shows the surprise addition of the starter Pokemon from the Johto region to the upcoming 12th Pocket Monsters Movie.
Chikorita
,
Cyndaquil
and
Totodile
as well
Heatran
are all expected to have some kind of role in the upcoming movie but it is currently unclear what it will be. These newly announced Pokemon join the
Notched-Ear Pichu and
Arceus
that were announced earlier.
Another picture from the latest Corocoro issue shows the newly updated Movie 12 title: アルセウス超克の時空へ (Arceus - Towards the Continuum of Conquest). The title now includes
Arceus
, a Pokemon many people speculated would be in this movie. The revised title of this years movie should also be confirmed in this weeks
Pokemon Sunday.

Article edited on 2009-03-02 05:39:38 by Sunain
Feb 10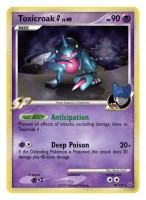 The official TCG website has posted information about another new card to the 'Platinum' set. Click on the card to get a higher resolution.
Toxicroak [G] (Platinum, 40/127) makes the ultimate companion for the sinister Saturn from Team Galactic. Its Anticipation Poké-Body prevents all effects of attacks, excluding damage, done to Toxicroak [G]. This keeps it safe from potentially nasty side effects (Asleep? I don't think so!). Its Deep Poison attack devastates Defending Pokémon that are already Poisoned. Deep Poison is guaranteed to deliver 20 damage, and if the Defending Pokémon is Poisoned, pour on an additional 40 damage. Team up Toxicroak [G] with a Pokémon that can inflict Poison and you're ready to roll!
Feb 10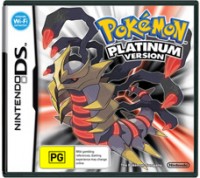 Pokemon Platinum Version was rated by the Australian Classification Board on February 6th, 2009. Platinum received a PG rating from the board due to the mild gambling references that are experienced at the Veilstone City Game Corner and due to the fact that the gaming experience may change when played online. "Computer games, whether they are locally made or come from overseas, have to be classified before they can be sold, hired or demonstrated in Australia." (
ACB
)
A release date for Pokemon Platinum Version has not been announced yet for Australia, but it shouldn't be too far off now that it has received a rating.
Source:
Australian Classification Board

Article edited on 2009-02-10 01:53:22 by Sunain
Feb 10
February 9, 2009 - Bellevue, WA -- February 9, 2009 - Today, Pokemon USA, Inc. announced that it has expanded its retail presence for Pokemon in Toys"R"Us stores nationwide through 2009. Dedicated areas at the entrance of the "R" Zone video game departments now showcase a variety of Pokemon merchandise, including the top-selling video games, the Pokemon Trading Card Game (TCG), TV and movie DVDs, select TOMY products that are making their U.S. debut, and a full range of Pokemon toys from JAKKS Pacific, Inc. Starting in April, Toys"R"Us Times Square, the company's International Flagship store, will highlight the Pokemon brand in a dedicated boutique through the remainder of the year. Toys"R"Us stores nationwide will also host retail events throughout 2009.
The expanded Pokemon area within Toys"R"Us stores spotlights several popular Pokemon video game titles, leading up to one of the most anticipated titles of the year-Pokemon Platinum Version for the Nintendo DS system. The dedicated area also features a wide selection of TCG expansion sets for the Pokemon: Diamond & Pearl Series and the newest Pokemon TCG: Platinum expansion. Additionally, the section includes a broad assortment of DVDs, strategy guides, and other toys from JAKKS Pacific.
The dedicated area establishes Toys"R"Us as the premier destination for fans looking for a wide selection of Pokemon products. Toys"R"Us will host video game events featuring character distributions for Pokemon Diamond Version & Pokemon Pearl Version (each sold separately), with the first event taking place from February 8 - February 14. A second event will take place in the spring. Toys"R"Us will also be the first retailer in the U.S. to carry select Pokemon toys by TOMY.
"Our partnership with Toys"R"Us speaks volumes about the unwavering popularity of the Pokemon franchise," said Caryl Liebmann, director, retail development and promotions, Pokemon USA, Inc. "We're excited that Toys"R"Us is offering our fans this first-class retail destination."
Pokemon is one of the most successful children's franchises in history and the #1 collectible trading card game of all time. The record-breaking TCG boasts 374 percent sales growth in the U.S. alone since 2005 and is sold in more than 30 countries around the globe. The Pokemon video game series has sold more than 186 million units worldwide through September 2008, with many more sales expected with the release of this spring's Pokemon Platinum Version. Other successful extensions of the property include eleven seasons on U.S. television with the debut of the series' 12th season this spring. Pokemon films and DVDs continue to reach fans in amazing numbers, often ranking at the top of the box office in Japan.

Article edited on 2009-02-10 01:14:22 by Sunain