Welcome to PocketMonsters.net
PocketMonsters.net
is a fansite dedicated to all things Pokémon (ポケモン) and Pocket Monsters (ポケットモンスター). We are the premier site for news and information about all aspects of the franchise from around the world. We cover the
Anime
,
indexing the music
, the
Trading Card Game
, the
Games
, the
variety shows
, have a
large imageboard
,
forum
and much more.
Follow us on Twitter
and
Subscribe to our RSS Feed
for the latest updates!
Upcoming Episodes
New titles are revealed in various publications such as: TV guides, childrens' magazines, anime magazines, promotional posters and videos, official websites and official television programs. Titles and their translations are added to our
episode guide
and the chart below when the titles are revealed.
May 09
Niantic has revealed that they plan to map the world in 3D with help from the Pokémon GO playerbase. By utilizing players smartphone cameras, the new technology could theoretically allow the use of AR (augmented reality) technology in combination with the 3d map to enable players to see new virtual structures and allow other users to view the same layout.
"We want players to build out the game board they want to play on," CEO John Hanke, a mapping veteran who worked on Google Earth and Google Street View, told Reuters last week.
"But based on existing features, players would turn on their cameras to visualize characters among their surroundings. Software would generate a map by automatically identifying contours and objects in the scene as a user plays." the Reuters article explained about the new technology.
Source:
https://www.reuters.com/article/us-niantic-maps/pokemon-go-maker-niantic-plans-to-build-ar-maps-with-users-help-idUSKBN1IA28S
May 09
The official Pokémon website has announced that
Pokémon: Sun & Moon, Vol. 1
manga was released in North America by VIZ Media on May 8th, 2018. The ISBN-10 is: 1974700755 while the ISBN-13 is: 978-1974700752. The volume is retailing for $4.99 USD.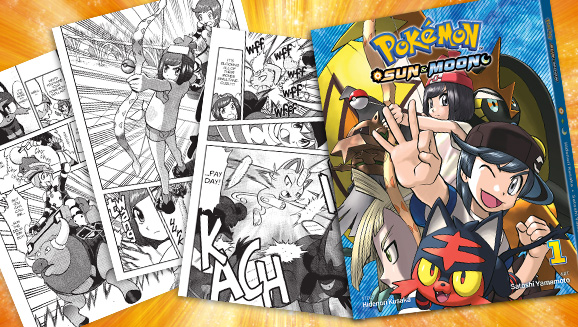 The Pokémon Manga Heads to Alola!
Follow the adventures of Moon and Sun with the launch of VIZ's latest Pokémon manga, Pokémon: Sun & Moon, Vol. 1.
A new chapter of VIZ's long-running Pokémon manga is about to begin with the launch of the latest series, Pokémon: Sun & Moon, Vol. 1. Headed up by the popular creative team of writer Hidenori Kusaka and artist Satoshi Yamamoto, Pokémon: Sun & Moon follows a Pokémon Trainer named Moon in a series of adventures that is markedly different from those we've seen in the video games and the animated Pokémon the Series.
As the story begins, Moon is on her way to deliver a rare Pokémon to Professor Kukui in the Alola region. Along the way, she crosses paths with Sun, a delivery boy who's been entrusted with a special Pokédex. Together, the two set off for the professor's lab, but they're waylaid by some troublesome Team Skull grunts and attacked by a mysterious Pokémon. When the Pokémon leaves behind an equally mysterious sparkling stone, it becomes clear that this is only the beginning of Moon and Sun's fantastic journey!
The first volume in this ongoing series features 80 fun-filled pages, and it's available now where books are sold. See Alola in a whole new light in Pokémon: Sun & Moon, Vol. 1, and look for the second volume to arrive in September 2018.
Source:
https://www.pokemon.com/us/pokemon-news/the-pokemon-manga-heads-to-alola/
Sampler Pages:

Article edited on 2018-05-09 11:29:20 by Sunain
May 07
Niantic has announced the first dates for the
Pokémon GO Summer Tour 2018
around the world. On June 30th, 2018 to July 1st, 2018 an event will take place in Dortmund, Germany while on July 14th, 2018 to July 15th, 2018, another event will take place in Chicago, United States.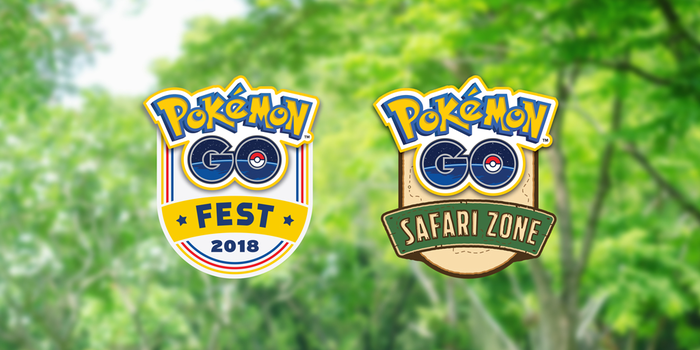 Get Pumped Up for Pokémon GO Summer Tour 2018!
Trainers, It's time to mark your calendars and get ready for an exciting lineup of Pokémon GO events all over the world. This year we're bringing dynamic live events to even more places. It's the Pokémon GO Summer Tour 2018!
Trainers across Europe: Get ready for a Safari Zone event in Dortmund, Germany. Together with the city of Dortmund, we will host an event from June 30 to July 1 in beautiful Westfalenpark. Westfalenpark is not only one of the largest inner-city parks in Europe but also includes elaborate water features, a Japanese garden, and large playgrounds for kids and families. Enjoy the fresh air and beautiful view while catching many types of Pokémon! Activities will expand to Dortmund's entire city district, inviting players from all over Europe to explore the city's cultural history through Pokémon GO. This is an open event for all to enjoy, so book your travel and accommodations soon! For detailed information on the Dortmund Safari Zone Event, please visit the event website.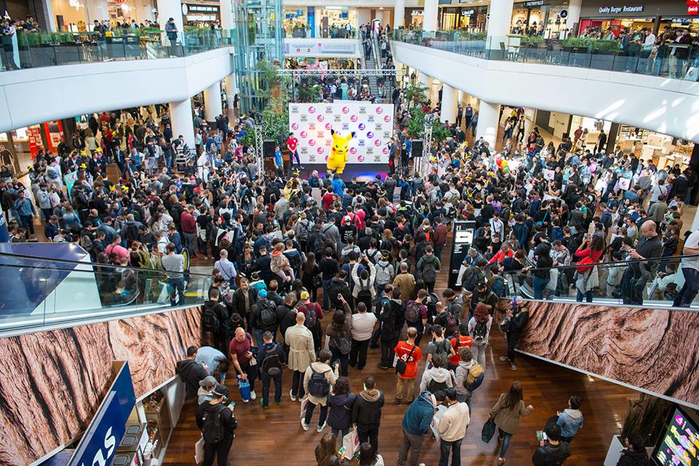 Safari Zone, Les Quatre Temps
Our biggest North American event is back with a brand-new look! Pokémon GO Fest returns to Chicago from July 14 to July 15. Pokémon GO Fest 2018: A Walk in the Park will offer a unique, immersive play experience unseen anywhere else that will create a daylong adventure for Trainers. The event will be held in the city's historic Lincoln Park, with a 1.8-mile walking course that, among the tree-lined greenery, will include exclusive activities for Trainers of all ages. Single-day passes go on sale on May 11 for //media.pocketmonsters.net/news/3240/tottorirecap.png0 on our event website. Also, check the event website for details on hotel accommodations and stay tuned for more details.
We've been so inspired by the spirit and dedication of Trainers who have come to our events throughout Asia. From Tottori to Seoul to Chiayi, we've been lucky to see hundreds of thousands of Trainers coming together to view breathtaking scenery, catch many types of Pokémon, and enjoy a unique real-world experience. We'll have a Safari Zone event in Yokosuka, Japan, later this Summer, to be followed by an exciting schedule for our Trainers across Asia. Keep an eye out for more details on these events!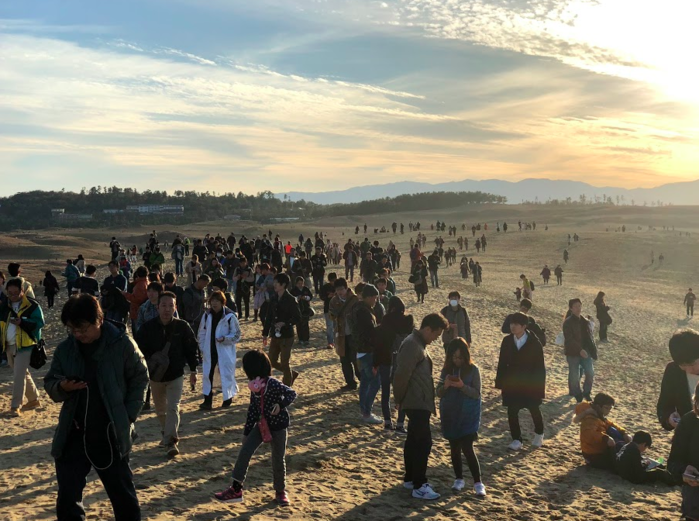 Safari Zone, Tottori
If you're unable to make it to one of our live events this summer, there are still plenty of amazing ways to participate in the action. Trainers across the globe will be able to engage in a variety of activities and challenges, so you'll be able to take part no matter where you are. Announcements on these features will be forthcoming, so watch out for more news! We invite you to join us on an adventure—even from your hometown.
Plus, there are monthly gatherings happening all over the world on Pokémon GO Community Day. On Saturday, May 19, the Fire-type Pokémon Charmander will be the star! Community Day happens once a month, so make sure you mark your calendars and gear up for events on Saturday June 16 and Sunday July 8. As we get closer to those dates, we will reveal the starring Pokémon, an exclusive move that can only be learned on Community Day, and special bonuses that will be available throughout the length of the events!
In addition to our own events, we also participate in civic and service-oriented events throughout the year, benefitting a number of causes. Seeking a way to connect with your city or community while discovering and catching Pokémon, or to get the latest on all of our upcoming live events? Don't forget to check out PokemonGOLive.com/events to see what's coming up next!
We're proud to bring you these special events across the globe, but there's still one important thing missing—you!
Source:
https://pokemongo.nianticlabs.com/en/post/summertour2018/

Article edited on 2018-05-07 09:35:41 by Sunain
May 02
From May 4th, 2018 until May 27th, 2018, Yveltal and Xerneas will be available to get at participating stores around the world via a code to obtain Yveltal in Pokémon Ultra Sun or Pokémon Sun or Xerneas in Pokémon Ultra Moon or Pokémon Moon.

Canada / Australia: EB Games
Germany / Italy / United States: GameStop
United Kingdom / Spain: GAME
France: Micromania
LEGENDARY POKÉMON YVELTAL AND XERNEAS CHARACTER DISTRIBUTION COMING IN MAY
PLUS YVELTAL AND XERNEAS BOOSTERS ARE AVAILABLE IN LATEST POKÉMON DUEL BOOSTER The Pokémon Company International announced today that Yveltal and Xerneas will be the next Pokémon featured in the yearlong celebration of Legendary Pokémon. Beginning May 4 until May 26, players can receive either Yveltal or Xerneas* in their Pokémon Ultra Sun, Pokémon Ultra Moon, Pokémon Sun or Pokémon Moon game for the Nintendo 3DS™ family of systems. Code cards will be available at GAME in the UK and GameStop in Ireland.
In addition, both Yveltal and Xerneas are two of the 11 new Boosters available from today in Pokémon Duel as part of the game's latest update.
These Legendary Pokémon first appeared in Pokémon X and Pokémon Y. When the wings and tail feathers of Yveltal spread wide and glow red, it can absorb the life force of living creatures. Xerneas is a Fairy-type Pokémon, and it is said it can share eternal life when the horns on its head shine in seven colours.
Yveltal and Xerneas - Level / Moves: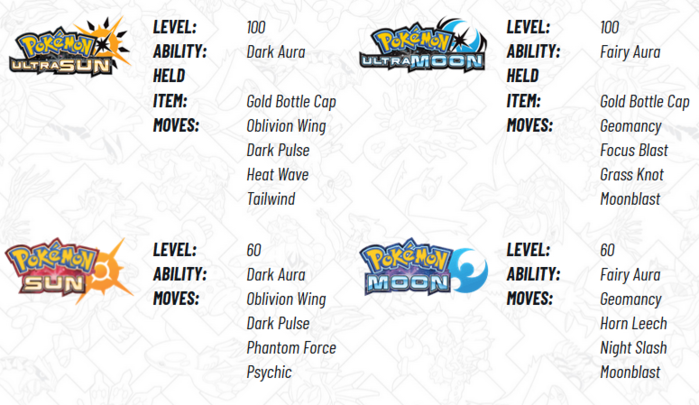 YouTube Trailer - Add Xerneas or Yveltal to Your Pokémon Game in the Year of Legendary Pokémon!
Source:
https://www.youtube.com/watch?v=D4iX3qqwtTc

Article edited on 2018-05-02 10:27:51 by Sunain
May 01
Niantic has announced a new special battle event featuring Fighting-type Pokémon in Pokémon GO which will take place from May 1st, 2018 until May 14th, 2018.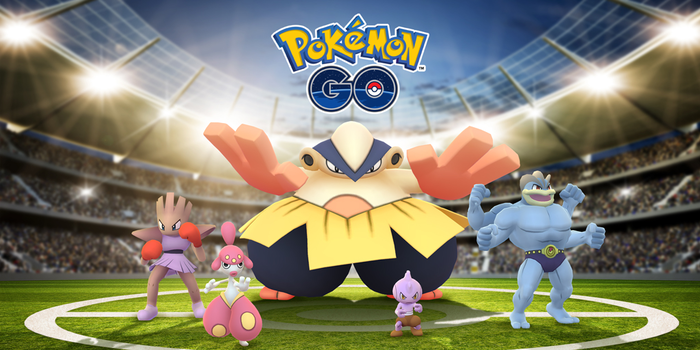 Fighting-Type Pokémon Star in Our Special Battle Showdown!
Trainers, It's time to test the strength of your Pokémon during a special battle event! Fighting-type Pokémon, such as Machop and Makuhita, will appear more frequently in the wild starting May 1 at 1:00 p.m. PDT.
But what's a battle celebration without some competition at your nearby Gym? Until May 14, you'll receive 2× bonus XP for Gym Battles and Raid Battles. Plus, Raid Battles will also award a guaranteed 3,000 Stardust for participating—and at least one Rare Candy if you win!
Several actions at Gyms will yield bonuses, including a 2× Badge multiplier, so you can receive even more benefits at a Gym you visit frequently. Just stopping by? Spinning the Photo Disc at Gyms will also yield more items!
Our Battle Showdown is sure to pack a punch, so don't miss it!
Source:
https://pokemongo.nianticlabs.com/en/post/battleshowdown2018/
Pokémon GO updated to version 0.101.1 for Android and 1.71.1 for iOS
Trainers, Pokémon GO is in the process of being updated to version 0.101.1 for Android and 1.71.1 for iOS devices. Details from our development team:
Aspect ratios and UI are now optimized for larger screens such as iPhone X and Samsung 8.
Lucky Eggs and Star Pieces are now accessible and usable from the Raid and Gym Battle inventories.
Various bug fixes and performance updates.
Source:
https://pokemongo.nianticlabs.com/en/post/ver-update-042518/
Pokémon GO updated to version 0.99.2 for Android and 1.69.2 for iOS
Trainers, Pokémon GO is in the process of being updated to version 0.99.2 for Android and 1.69.2 for iOS devices. Details from our development team:
The Nearby Pokémon indicator now prioritizes Pokémon that are not registered to your Pokédex and are at PokéStops near you.
Various bug fixes and performance updates.
Source:
https://pokemongo.nianticlabs.com/en/post/ver-update-041418/

Article edited on 2018-05-01 03:04:28 by Sunain
May 01
The
Ultra No Holds Barred
online competition for
Pokémon Ultra Sun and Ultra Moon
has been announced on the Pokémon Global Link website. Full details are listed below and on our
7th Generation Online Competitions
page which will be updated as new tournaments are announced.
Ultra No Holds Barred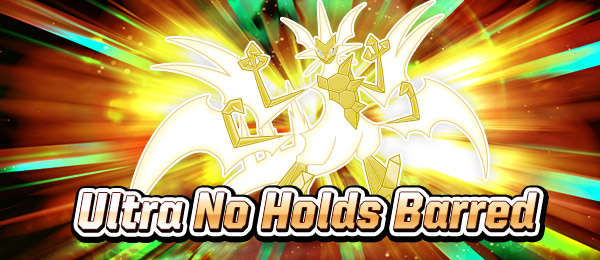 Information
Region: International
Registration Period: Thursday, May 17th, 2018 at 00:00 (UTC) through Thursday, May 24th, 2018 at 23:59 (UTC)
Tournament Period: Friday, May 25th, 2018 at 00:00 (UTC) through Sunday, May 27th, 2018 at 23:59 (UTC)
Ranking Results Announcement: June 2018
Player divisions: Junior Division: Born 2003 or later
Masters Division: Born 2002 or earlier
Junior Division players are limited to playing between 6 a.m. and 11 p.m., based on the easternmost time zone in each player's country.
Compatible Games: Pokémon Ultra Sun and Pokémon Ultra Moon
Battle Type: Single Battle
Banned Pokémon: Eligible Pokémon are restricted to National Pokédex No. 001 through 806, except Mewtwo, Lugia, Ho-Oh, Kyogre, Groudon, Rayquaza, Dialga, Palkia, Giratina, Arceus, Reshiram, Zekrom, Kyurem, Xerneas, Yveltal, Solgaleo, and Lunala.
Entry Gift: Qualified participants will receive 50 Battle Points. To qualify, players must complete at least one battle.
Description
In the Ultra No Holds Barred Online Competition, Trainers create a team using Pokémon from the National Pokédex No. 001 through 806, excluding Arceus and some Legendary Pokémon.
Competition Rules
• Duplicate Pokémon are permitted.
• Duplicate items are permitted.
• Register three to six of your Pokémon to your Battle Team.
• All Pokémon in this competition will automatically become Lv. 100 for the duration of each match.
• A 10-minute time limit for each player will automatically be enforced in-game, beginning at the start of each battle. When a player's time limit expires, that player will lose the game.
• At the beginning of each battle, players have 90 seconds to select three Pokémon to battle with.
• At the beginning of each turn, players have 30 seconds to select a move or change the Pokémon in battle. If a player has not made their selections at the end of this period, the game will automatically make selections for the player.
• Players may battle up to 15 games per day of the competition. Any unplayed games will carry over to the following day. A new day begins at 00:00 (UTC).
Source:
https://3ds.pokemon-gl.com/information/6681d4f2-b6c6-44f7-82c9-255b6fb21859