Welcome to PocketMonsters.net
PocketMonsters.net
is a fansite dedicated to all things Pokémon (ポケモン) and Pocket Monsters (ポケットモンスター). We are the premier site for news and information about all aspects of the franchise from around the world. We cover the
Anime
,
indexing the music
, the
Trading Card Game
, the
Games
, the
variety shows
, have a
large imageboard
,
forum
and much more.
Follow us on Twitter
and
Subscribe to our RSS Feed
for the latest updates!
Upcoming Episodes
New titles are revealed in various publications such as: TV guides, childrens' magazines, anime magazines, promotional posters and videos, official websites and official television programs. Titles and their translations are added to our
episode guide
and the chart below when the titles are revealed.
Apr 11
The latest episode of Pokémon Sunday,
Anime 'Pokémon Mystery Dungeon - Explorers of the Sky' / Latest Game Report (アニメ「ポケモン不思議のダンジョン 空の探検隊」最新ゲーム特集!)
, aired on Sunday in Japan.
Continuing the story of Pochama and Hikozaru, Pokémon Mystery Dungeon - Explorers of the Sky anime special follows the storyline of the upcoming game.
During this weeks episode, Robert each do a few scary tests. Yamato bungie jumps off a high tower. Baba scales down the side of a building and also goes on a drop-seat amusement ride while wearing a camera to show his reactions.
Pictures from the latest Corocoro issue
leaked earlier today and it was announced that Arcues will be this years public download Pokemon for Movie 12. The Arceus that will be given away is Level 100 and its in a Cherish Ball with a Classic Ribbon. The preview for next weeks episode of Pokemon Sunday showed Junichi Masuda introducing Arceus.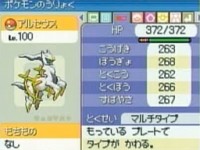 Arceus: Level 100
Attacks: Judgment, Roar of Time, Spacial Rend, Shadow Force
Held Item: Rowap Berry

Pictures
from this episode have been added to the
episode guide
. You can can also
comment and discuss
this episode. Also be sure to rate this and other episodes in the
episode guide
.

Article edited on 2009-04-12 12:23:46 by Sunain
Apr 09
Shoko Nakagawa latest CD single 'Antenna of the Heart' (Kokoro no Antenna - 心のアンテナ) is set to be released on July 15th. Below is Sushi's translation of the news article.
Shoko Nakagawa (23) is quickly spurring forward on her royal path to being an idol. Her ninth single called "Antenna of the Heart", which will be released on July 15th, is a work written by Takashi Matsumoto (59) and composed by Horuomi Hasuno (61).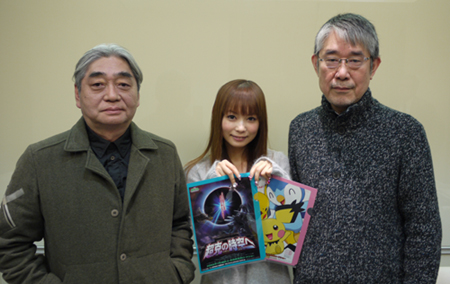 Shokotan is impressed by this combo, which has written and composed Seiko Matsuda's "Kiss from Heaven" and many other songs together.
Her song has been confirmed as the theme song of the anime movie of this year's summer holidays, "Arceus: Towards the Continuum of Conquest" (release date: July 18th). With that, she keeps achieving more and more of her childhood dreams.
Source:
http://www.nikkansports.com/entertainment/news/f-et-tp0-20090410-481012.html

Article edited on 2009-04-12 11:02:28 by Sunain
Apr 09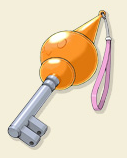 The Secret Key opens a secret room in Eterna City where you can change Rotom's form. This is the only way you can change Rotom's form, and the Secret Key is available only for a limited time.
The Secret Key is available via Nintendo Wi-Fi Connection April 20th through May 12th, and at participating Toys R Us locations in the U.S., Canada, and Puerto Rico April 19th through April 26th.
Source:
http://www.pokemonplatinum.com/#/pokemon/rotom/

Article edited on 2009-04-09 01:08:43 by Sunain
Apr 09
The official Pokémon Video Game Championships website is live. Rules, regulations and event location information are now posted on the website.
This spring and summer, Pokémon Trainers will play Pokémon Platinum Version and battle for a chance to become a World Champion at the 2009 Pokémon Video Game World Championships!
In addition to bragging rights, two World Champions will win a trip for four to either Tokyo, New York, or Hawaii!
Pokémon Video Game Regional Championships will be held this spring and summer throughout the United States, and the competition is guaranteed to be intense. Trainers tough enough to qualify will earn a guaranteed competitor slot and Travel Award to participate in the Pokémon Video Game National Championships held in St. Louis, Missouri on June 27th and 28th. Pokémon Trainers who have the skill to qualify at the National level will earn an Invitation and Travel Award to the ultimate stage - the Pokémon Video Game World Championships! Note that European Championship Events will be played on Pokémon Diamond Version and Pokémon™ Pearl Version.
Source:
http://www.pokemonvgc.com/en/

Article edited on 2009-04-09 12:28:41 by Sunain
Apr 06
The official Pokemon TCG website has posted a policy change that affects players that use cards from other countries. Only cards that match the language of your country will be allowed to be use in premier events. The policy change goes into effect September 1, 2009. Below is the press release from the official site.
Over the course of several seasons, Pokémon Organized Play has noticed a sharp increase in the use of foreign-language cards in markets where those languages are not commonly understood by the player base. While we recognize that the Pokémon Trading Card Game is an international game, the unfortunate side effect of this increase is that it has added a layer of complexity to an already complex tournament setting at Premier Events. In cases where the majority of players and event staff are not fluent in these other languages, the pace of games has slowed due to translation issues, even with the use of the Card Dex or local-language reference cards.
Starting with the 2009–2010 tournament season, which begins September 1, 2009, Pokémon Organized Play will restrict the use of foreign-language cards at Premier Events, based on where those events take place. The Pokémon Trading Card Game is currently printed in English, French, German, Italian, Japanese, Portuguese, and Spanish. As English-language cards are distributed in the vast majority of markets worldwide, and more cards are printed in English than in any other language, English cards are legal for Premier Events in every market.
In Special Premier Events that encompass multiple countries, the Last Chance Qualifier, and the World Championships, players are permitted to use cards in any language listed for their home market during these events, regardless of where the event is held. Players from markets where a language is not listed under their country of residence are not permitted to use those cards. For example, a Canadian player may use English or French cards in the World Championships, but may not use German, Italian, Japanese, Portuguese, or Spanish cards.
This new rule will not affect the legality of foreign-language cards at non-Premier Events and Leagues.
Source:
http://www.go-pokemon.com/op/news/articles/51.html

Article edited on 2009-04-06 01:36:13 by Sunain
Apr 06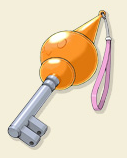 Canada is finally getting a download event. Toys R Us Canada has announced that they will distribute the Secret Key at the end of April. Below is the news quote from Toys R Us Canada's website.
"Exclusive Pokémon Platinum Version in store event! Get the Secret Key. Unlock the secrets in-stores between April 19th to 26th. Only the secret key lets you change Rotom's form in Pokémon Platinum. Be sure to bring in your Nintendo DS and Pokémon Platinum Version!
Nintendo DS hardware and Pokémon Platinum version required to participate."
Source:
Toys R Us Canada

Article edited on 2009-04-06 01:04:58 by Sunain