Welcome to PocketMonsters.net
PocketMonsters.net
is a fansite dedicated to all things Pokémon (ポケモン) and Pocket Monsters (ポケットモンスター). We are the premier site for news and information about all aspects of the franchise from around the world. We cover the
Anime
,
indexing the music
, the
Trading Card Game
, the
Games
, the
variety shows
, have a
large imageboard
,
forum
and much more.
Follow us on Twitter
and
Subscribe to our RSS Feed
for the latest updates!
Upcoming Episodes
New titles are revealed in various publications such as: TV guides, childrens' magazines, anime magazines, promotional posters and videos, official websites and official television programs. Titles and their translations are added to our
episode guide
and the chart below when the titles are revealed.
Jun 09
Gamestop has announced they will be offering Pokemon Diamond and Pearl owners an exclusive Deoxys starting at the end of June. Players can bring their Nintendo DS and Pokemon Diamond or Pearl cart to any of the participating Gamestop stores to get the exclusive Pokemon. This mysterious Pokemon from outer space is available for a very limited time, so make sure you get it while you can. Deoxys will be available to get the weekends of June 20th to June 22nd as well as June 27th to June 29th.
Jun 09
My Pokemon Ranch is a WiiWare title that was announced at Nintendo's fall 2007 conference. It was developed by Ambrella and can be purchased for 1,000 Wii Points. Pokemon can be transferred from Diamond and Pearl and stored on a farm. The player can use up to 8 Diamond and Pearl games to send their Pokemon, which then can be organized in the ranch by factors like height and weight.
This game was released in Japan in March and today Nintendo posted the game for purchase on WiiWare for North American users without any prior advertising. Many Pokemon fans were taken off guard by the unexpected release today. Nintendo's press website hasn't announced the release of My Pokemon Ranch nor has the official WiiWare site or Pokemon.com as of Monday morning.
Screenshots from the game are available on the
Imageboard
. There you can post your own screenshots from the game to share with others.
Jun 07
The official Japanese TCG website has posted a ton of new information on the upcoming Expansion 'Fierce Fighting in Broken Space'. The full card list will be posted on June 20th while the cards will be available for purchase on July 10th in Japan. Below are pictures of some of the new cards from the set.
Today's Pokemon Sunday episode also confirmed the rumor of a 'Lost Zone' area that is off the playing mat.
Pokemon Sunday also showcased a few other cards from Japan in the screenshot below.
Source:
http://www.pokemon-card.com/products/promotion/dpsp/
Jun 07
Director Yuyama has picked a few concept pictures and has posted them on the official Pokemon Yahoo Japan website. The art gives fans a unique look at how the movie is developed as well as see some of the amazing artwork that is produced during the concept phase of the movie.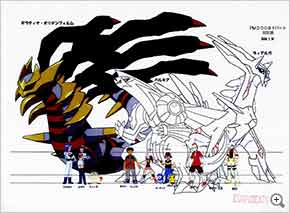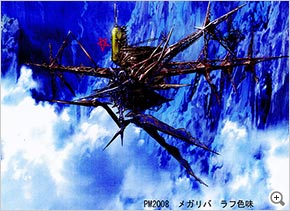 You can view larger pictures of the Concept Art by visiting the
Imageboard.
There you can post your comments about the art as well as view other Pokemon related pictures.
Source:
http://pokemon.yahoo.co.jp/details/index.html
Jun 07
With about a month to go till Movie 11 is in theaters in Japan, it appears as though a small picture of the Sky Forme of Shaymin has been accidentally posted. PoKeSaFaRi has created a vector image from the low resolution photo and we thank him for allowing us to post it.
After the official Pokemon site realized they had posted the image by accident, they promptly took down the image but not before users were able to save the picture and post it on 2ch. Below is more information from Bulbanews about the Shaymin's Sky Forme photo that was posted.
Small image of new Pokemon subsequently removed

The official Web site for Pokemon Festa, Japan's annual Pokemon convention, accidentally posted an image of what appears to be Shaymin's Sky Forme before removing it from the site, according to All About Pokemon Figure (AAPF).

The Pokemon in question is to the left of Pikachu on the cup. It is white with a green head crest and legs, and what appear to be red wings come off its back.

AAPF also reported that the formal name of Shaymin's previously-known appearance, Land Forme, is now being used officially and semi-openly by The Pokemon Company in its merchandising.
Source 1:
2ch
Source 2:
Bulbanews
Jun 05
Right Stuf has updated their website with a few more titles to expect from Viz Media in September and October.
Pokemon All Stars Vol. #11 - Meowth
66 minutes - $7.49 - 08/19/2008
Contains the following episodes: The Purr-fect Hero, Go West, Young Meowth, Meowth Rules!
Pokemon All Stars Vol. #12 - Treecko
66 minutes - $7.49 - 08/19/2008
Contains the following episodes: Tree's A Crowd, A Tail With A Twist, What You Seed Is What You Get
Pokemon All Stars Vol. #13
66 minutes - $7.49 - 10/28/2008
Pokemon All Stars Vol. #14
66 minutes - $7.49 - 10/28/2008
Pokemon Diamond and Pearl Vol. #01
176 minutes - $14.98 - 09/16/2008
Contains episodes 1-8: Following a Maiden's Voyage, Two Degrees of Separation, When Pokemon Worlds Collide, Dawn of the New Era, Gettin' Twiggy With It, Different Strokes for Different Blokes, Like It or Lup It, Gymbaliar
Pokemon Diamond and Pearl Vol. #02
198 minutes - $14.98 - 09/16/2008
Contains episodes 9-17: Setting the World on Its Buneary, Not on My Watch Ya Don't, Mounting a Coordinator Assault, Arrival of a Rival, A Staravia is Born, Leave it to Brocko, Shapes of Things to Come, A Grudd Act to Follow, Wild in the Streets
Pokemon Battle Frontier Set 2
520 minutes - $39.98 - 09/16/2008
Pokemon Diamond and Pearl Box 1
374 minutes - $24.98 - 09/16/2008
Contains all the episodes from Vol1 and Vol2 DP DVD's.