Welcome to PocketMonsters.net
PocketMonsters.net
is a fansite dedicated to all things Pokémon (ポケモン) and Pocket Monsters (ポケットモンスター). We are the premier site for news and information about all aspects of the franchise from around the world. We cover the
Anime
,
indexing the music
, the
Trading Card Game
, the
Games
, the
variety shows
, have a
large imageboard
,
forum
and much more.
Follow us on Twitter
and
Subscribe to our RSS Feed
for the latest updates!
Latest News

01 Dec
30 Nov
29 Nov
27 Nov
Upcoming Episodes
New titles are revealed in various publications such as: TV guides, childrens' magazines, anime magazines, promotional posters and videos, official websites and official television programs. Titles and their translations are added to our
episode guide
and the chart below when the titles are revealed.
Date
Title(s)
Mar 29 2020
PM2019 19: ワタシはメタモン!


I Am Metamon!

Mar 29 2020
POKENCHI 230: ポケモンバトルスペシャル / マスターボール級まで上り詰めた強者たちがガチバトル!


Pokémon Battle Special / Skilled Battlers Who Have Made it All the Way to the Master Class Tier Face Each Other in All-out Battles!

Apr 05 2020
PM2019 20: 夢へ向かってゴー!サトシとゴウ!!


Go Towards Your Dream! Satoshi and Go!!

Jul 10 2020
Movie 23: ココ


Coco
Dec 01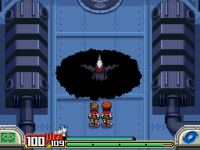 The special "Liberate the Tower" Wi-Fi mission for Pokémon Ranger: Shadows of Almia is now available for players in both North America and Europe. Once you complete this mission, you are able to obtain a special Darkrai that can be transferred over to your Diamond or Pearl cart. The mission can be accessed now by entering Ranger Net. The mission will be available from December 1st, 2008 to January 30th, 2009, so be sure to access the mission now while you can.
Pokémon Ranger: Shadows of Almia was released in North America on November 10, 2008. The "Liberate the Tower" mission is the third special mission that has been made available via Ranger Net.
Source:
http://www.pokemonranger.com

Article edited on 2008-12-01 08:29:17 by Sunain
Nov 30
The Member Card is now available. Players of the Japanese version of Pocket Monsters Platinum are now able to receive the gift wirelessly from Nintendo Wi-Fi Connection. The Member Card will be distributed via Wi-Fi to Platinum players from December 1st, 2008 to January 15th, 2009. The Member Card allows players to access the level 50 Darkrai found on Newmoon Island.
Episode 215 of Pokemon Sunday
had a news clip about this event and pictures from that clip can be viewed below.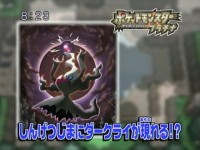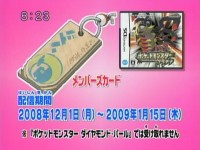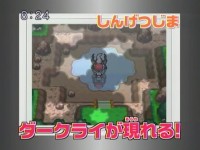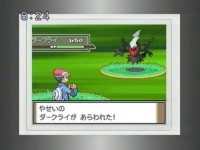 Article edited on 2008-11-30 03:25:47 by Sunain
Nov 29
The latest episode of Pokémon Sunday,
Diamond & Pearl Returns 'Contest Battle! Rival Confrontation!!' / The Help Corps 'I Want to become Strong at Judo' / Pokémon Game Arena 'Battle Queen ・Director Shoko-tan Appears in a Double Battle!' (ダイヤモンド&パールリターンズ 「コンテストバトル!ライバル対決!!」 手助け隊「柔道が強くなりたい!」 ポケモンゲームアリーナ「バトルクイーン・しょこたん部長がダブルバトルに登場!」)
, aired on Sunday in Japan.
This weeks Pokémon Revival episode is ヒカリ!コンテストデビュー!! (Contest Battle! Rival Confrontation!!) which is the twelfth episode of Diamond & Pearl. Satoshi and Hikari decided to enter a Pokemon Contest. The Pokemon Contest is finally concluding, but who will be victorious?
In this weeks episode, Red and Golgo go to learn about Judo. World Champion and Olympic Medalist
Kaori Yamaguchi (山ロ香先生)
teaches them a few basic moves. In the Pokemon Game Arena, the Platinum Double Battles continue as Shoko-tan shows her moves by flawlessly defeating her opponent in one of the fastest matches ever on the show.
Pictures
from this episode have been added to the
episode guide
. You can can also
comment and discuss
this episode. Also be sure to rate this and other episodes in the
episode guide
.

Article edited on 2008-11-29 10:25:37 by Sunain
Nov 29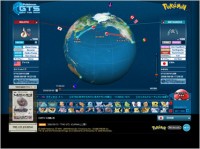 Yahoo! JAPAN has announced the "Internet Creative Award 2008" and the Pokemon GTS website received a Gold Award. Awards are given out to websites that Yahoo! Japan judges believe are pushing the limits of creativity on the Internet.
The Pokemon GTS website is intended for children to use in combination with their Nintendo DS to exchange Pokemon with other players from around the world. The website uses one of the most advanced communications networks in order to drive the database behind the website.
Source:
http://creative-award.yahoo.co.jp/prizewinner/c_webcontents.html
Nov 29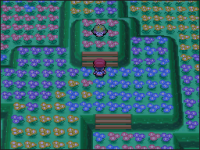 The official Japanese site has revealed that Shaymin will be given away next year over Wi-Fi Connection as a Mystery Gift. Users will be able to get Shaymin by using Okido's Letter which gives you access to the Flower Paradise. The event will be online sometime next year.
Pokemon Centers in Japan will be also giving out an Eevee to help promote the launch of new Eevee evolution merchandise. People can bring their copy of Pokémon Diamond, Pearl or Platinum from December 6th to January 12th to one of the Japanese Pokemon Centers to receive their Eevee.
Sources:
http://www.pokemon.co.jp/special/platinum/hotnews/17.html
&
http://www.pokemon.co.jp/info/pokemon/p081128_01.html

Article edited on 2008-11-29 03:49:26 by Sunain
Nov 27

Yahoo Japan has announced the 2008 Search Word Ranking from January 1st, 2008 to October 31st, 2008. Pokemon's popularity doesn't seem to be declining in Japan as it placed high in most the search term categories. Below is a list of categories with the rank that the Pokemon related searches placed.
| | | |
| --- | --- | --- |
| Rank | Search Keyword | Search Category |
| 1st | Shoko Nakagawa (Shoko-tan) / 中川翔子 (しょこたん) | Female Celebrities / 著名人ランキング女性編 |
| 2nd | Shoko Nakagawa (Shoko-tan) / 中川翔子 (しょこたん) | Overall Ranking of Celebrities / 著名人ランキング総合 |
| 1st | Pocket Monsters / ポケットモンスター | Anime Game Rankings / アニメ・ゲームランキング |
Source:
http://searchranking.yahoo.co.jp/ranking2008/general.html

Article edited on 2008-11-27 09:45:44 by Sunain