»
Episode Guide
» Viewing Episode: ラッキーのカルテ/Lucky's Clinical Records
Pikachu is standing on an apple tree. Suddenly it falls down the tree and faints. Misty gets Ash up and Brock rushes over with Pikachu in his arms. Pikachu tries to talk but all is heard is a little squeak. Brock thinks that something might be stuck in Pikachu's throat and that they take it to a Pokémon Center. They run to a hospital and Ash bangs on the door. A doctor comes to the door half asleep. His name is Dr. Proctor. The three of them beg for his help.

Dr. Proctor puts Misty on the table and asks of what might the trouble be. Ash brings Pikachu over and Dr. Proctor tells him that he only treats people and not Pokémon. Finally, Dr. Proctor agrees to help them. He takes out his stethoscope and checks Pikachu's heart beat. He then checks the amount of electricity that Pikachu has in its body and it's pretty low. He tells Brock and Misty to bring him something. Then Dr. Proctor charges up Pikachu's body and Pikachu regains its conciousness. Dr. Proctor tells Pikachu to open its mouth. Dr. Proctor's hand reaches in and grabs the apple. Pikachu shocks them and they fall down. Dr. Proctor scolds Ash about being irresponsible and then he leaves.

Dr. Proctor walks off and the phone rings. Ash, Misty, and Brock ask if he's going to answer it and Dr. Proctor says no. Ash answers the phone and Nurse Joy appears on the screen. Nurse Joy tells them that the truck carrying many Pokémon was involved in a traffic accident and that her Pokémon Center is full. Meowth is crying because it lost its gold charm on its head and Jessie is screaming at James. Dr. Proctor agrees to help the Pokémon. He tells Ash, Misty, and Brock that they'll have to be his assistants.

Two Chanseys and a crying Cubone rushes into the hospital. One of the Chansey gives Dr. Proctor a clipboard and he directs the Chansey to the room where they should go in. Ash takes out Bulbasaur to hold Cubone down. Dr. Proctor tells Ash that he can't be violent with the patients. Misty takes Cubone and cuddles with it. Team Rocket have their own Pokémon problems. Apparently, a Jessie thinks Raticate will hurt her Arbok. Dr. Proctor says that it couldn't do that and Chansey comes to fix up Raticate. Jessie asks Dr. Proctor to heal Arbok and he does so right away. Ash and Team Rocket meet up and Ash tells Dr. Proctor not to trust them. More injured Pokémon come in and Dr. Proctor asks Jessie and James to help.

Meowth is still crying because it lost its charm. Chansey gives Meowth a rice but Meowth just tosses it away. Chansey gives Meowth a gameboard but Meowth just cries louder. Then Chansey picks up Officer Jenny's booth. Chansey puts Venonat on Meowth's head. Meowth throws the Venonat at Chansey and then Chansey starts to slap Meowth. Lastly, Chansey bandages Meowth's head. Ash's Pokémon are also helping out. James and Brock are gluing on a horn on Pinsir. Jessie and Misty are busy taking out a Voltorb from a Weepinbell. Voltorb sparks a bit and Misty tells Jessie to be careful. Dr. Proctor tells them that Voltorb can selfdestruct. Jessie leaves and Chansey takes over. With a few tough pulls, the Voltorb comes out of Weepinbell's mouth. Now Ash and Brock have a problem with a Dodrio. Dodrios' heads are caught in a knot. Dr. Proctor takes out the medicine. One of the Dodrio heads attacks Dr. Proctor. The medicine flies out of his hand and it hits the doctor himself. The doctor falls asleep and Chansey puts a blanket over him.

So now Ash, Misty, Brock, and Team Rocket have to help the Pokémon. Ash tells Squirtle to weaken Dodrio with Water Gun. Then Pikachu uses Thunderbolt. Dodrio is now weakened. Ash takes out a Pokéball and decides to capture it but Brock stops him. They help a lot of other Pokémon including Hitmonlee, Nidoking, Sandslash, and some others. Jessie and James decide to take over now. They take off their outfit and then they say their motto. Ash tells Team Rocket to stop messing around. Team Rocket tells them that they will steal all of the Pokémon in the hospital. They kick the "stretcher catcher" at them. Two arms appear from the stretcher and they tie up Ash, Misty, Brock, and Pikachu. James takes out a big needle and he plans to use it on the kids. Chansey blocks his way. Jessie tells Arbok to attack Chansey but Arbok doesn't attack. James tells Weezing to attack Chansey but Weezing doesn't attack either.

Dr. Proctor wakes up and he tells them that Arbok and Weezing haven't forgotten that Chansey cared for them went they were injured. Dr. Proctor shows Team Rocket his weapons. They consist of needles, scissors, and many other things. Chansey frees Ash, Misty, and Brock. They slide the stretchers back at Team Rocket and they run away. Outside, Team Rocket is catching their breath. James shows them a Voltorb that he managed to get his hands on. Voltorb selfdestructs and Team Rocket blasts off again. They land on the ground and Meowth gets his charm back.

It is time for the group to leave. Dr. Proctor offers them to stay for awhile. Each of the kids tells him their dreams and that they need to get going. They say their goodbyes to Dr. Proctor and Dr. Proctor wishes them good luck.
Picture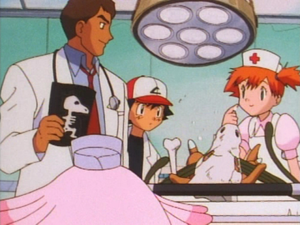 You must be signed in to rate episodes.
Average Rating:
7.70
VHS/DVD/Blu-ray Availability
Titles
| | | |
| --- | --- | --- |
| | 吉利蛋的病歷簿 | |
| | Chansey v akci | |
| | En Farlig Operation | |
| | Een Riskante Operatie | |
| | A Chansey Operation | 1999-03-06 |
| | Riskipeliä | 2001-01-13 |
| | Urgence à l'hôpital | |
| | Operation Chaneira | |
| | Πρώτες Βοήθειες Πόκεμον | |
| | הרפתקה בבית חולים | |
| | Kockázatos műtét | |
| | Una mela di troppo | |
| | ラッキーのカルテ | 1998-06-04 |
| | Lucky no karte | |
| | Lucky's Clinical Records | 1998-06-04 |
| | En Chansey-operasjon | |
| | Operacja Chansey | |
| | Uma Operação Arriscada | |
| | A Operação da Chansey | |
| | Операция Ченси | |
| | Operación Chansey | |
| | Una Operación Chansey | |
| | Pokémon i fara | 2001-02-25 |
Credits
| | | | |
| --- | --- | --- | --- |
| | Animation Director | 井坂純子 (Junko Isaka) | |
| | Episode Director | 鈴木敏明 (Toshiaki Suzuki) | |
| | Screenplay | 園田英樹 (Hideki Sonoda) | |
| | Storyboard | 鈴木敏明 (Toshiaki Suzuki) | |
©2002-2020 PocketMonsters.net
Version 5.1778
Rendered in: 0.01518s Queries: 6
Pokémon, all assorted characters, images and audio are ©GAME FREAK, Nintendo, Creatures, TV Tokyo, ShoPro and The Pokémon Company.
All images, text and audio are used in an editorial context. No site content, information, translations, news, images or otherwise may be reposted to any website without expression permission from the staff.
Current logos by: Juno