Welcome to PocketMonsters.net
PocketMonsters.net
is a fansite dedicated to all things Pokémon (ポケモン) and Pocket Monsters (ポケットモンスター). We are the premier site for news and information about all aspects of the franchise from around the world. We cover the
Anime
,
indexing the music
, the
Trading Card Game
, the
Games
, the
variety shows
, have a
large imageboard
,
forum
and much more.
Follow us on Twitter
and
Subscribe to our RSS Feed
for the latest updates!
Upcoming Episodes
New titles are revealed in various publications such as: TV guides, childrens' magazines, anime magazines, promotional posters and videos, official websites and official television programs. Titles and their translations are added to our
episode guide
and the chart below when the titles are revealed.
Jun 07
The official Japanese TCG website has posted a ton of new information on the upcoming Expansion 'Fierce Fighting in Broken Space'. The full card list will be posted on June 20th while the cards will be available for purchase on July 10th in Japan. Below are pictures of some of the new cards from the set.
Today's Pokemon Sunday episode also confirmed the rumor of a 'Lost Zone' area that is off the playing mat.
Pokemon Sunday also showcased a few other cards from Japan in the screenshot below.
Source:
http://www.pokemon-card.com/products/promotion/dpsp/
Jun 07
Director Yuyama has picked a few concept pictures and has posted them on the official Pokemon Yahoo Japan website. The art gives fans a unique look at how the movie is developed as well as see some of the amazing artwork that is produced during the concept phase of the movie.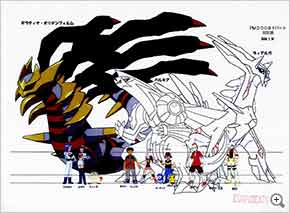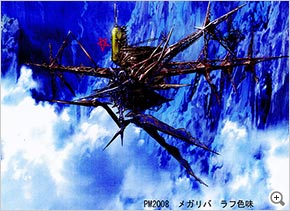 You can view larger pictures of the Concept Art by visiting the
Imageboard.
There you can post your comments about the art as well as view other Pokemon related pictures.
Source:
http://pokemon.yahoo.co.jp/details/index.html
Jun 07
With about a month to go till Movie 11 is in theaters in Japan, it appears as though a small picture of the Sky Forme of Shaymin has been accidentally posted. PoKeSaFaRi has created a vector image from the low resolution photo and we thank him for allowing us to post it.
After the official Pokemon site realized they had posted the image by accident, they promptly took down the image but not before users were able to save the picture and post it on 2ch. Below is more information from Bulbanews about the Shaymin's Sky Forme photo that was posted.
Small image of new Pokemon subsequently removed

The official Web site for Pokemon Festa, Japan's annual Pokemon convention, accidentally posted an image of what appears to be Shaymin's Sky Forme before removing it from the site, according to All About Pokemon Figure (AAPF).

The Pokemon in question is to the left of Pikachu on the cup. It is white with a green head crest and legs, and what appear to be red wings come off its back.

AAPF also reported that the formal name of Shaymin's previously-known appearance, Land Forme, is now being used officially and semi-openly by The Pokemon Company in its merchandising.
Source 1:
2ch
Source 2:
Bulbanews
Jun 05
Right Stuf has updated their website with a few more titles to expect from Viz Media in September and October.
Pokemon All Stars Vol. #11 - Meowth
66 minutes - $7.49 - 08/19/2008
Contains the following episodes: The Purr-fect Hero, Go West, Young Meowth, Meowth Rules!
Pokemon All Stars Vol. #12 - Treecko
66 minutes - $7.49 - 08/19/2008
Contains the following episodes: Tree's A Crowd, A Tail With A Twist, What You Seed Is What You Get
Pokemon All Stars Vol. #13
66 minutes - $7.49 - 10/28/2008
Pokemon All Stars Vol. #14
66 minutes - $7.49 - 10/28/2008
Pokemon Diamond and Pearl Vol. #01
176 minutes - $14.98 - 09/16/2008
Contains episodes 1-8: Following a Maiden's Voyage, Two Degrees of Separation, When Pokemon Worlds Collide, Dawn of the New Era, Gettin' Twiggy With It, Different Strokes for Different Blokes, Like It or Lup It, Gymbaliar
Pokemon Diamond and Pearl Vol. #02
198 minutes - $14.98 - 09/16/2008
Contains episodes 9-17: Setting the World on Its Buneary, Not on My Watch Ya Don't, Mounting a Coordinator Assault, Arrival of a Rival, A Staravia is Born, Leave it to Brocko, Shapes of Things to Come, A Grudd Act to Follow, Wild in the Streets
Pokemon Battle Frontier Set 2
520 minutes - $39.98 - 09/16/2008
Pokemon Diamond and Pearl Box 1
374 minutes - $24.98 - 09/16/2008
Contains all the episodes from Vol1 and Vol2 DP DVD's.
Jun 05
The Gureggru Festival of the Nomose Great Marsh!? is the 82nd episode of Diamond & Pearl. It aired in Japan on June 5, 2008 .
Satoshi and his friends have arrived in Nomose City and head to the Gym. The Gym Leader, Crasher Wake, comes out but denies Satoshi's request for a Gym Battle because of an urgent matter. The group decides to accompany him instead and follow him onto a train. Where are they heading?
DP82 Episode Screenshots:
Click Here
You can view larger screenshots from this episode by visiting the
Imageboard
. There you can post your own screenshots and discuss the latest episode.
Jun 03
The special guest cast for the 11th movie in the Pocket Monsters Movie series did a public reading of a few scenes from the upcoming movie Pocket Monsters Diamond & Pearl Giratina and the Sky's Bouquet: Shaymin in Tokyo, Japan on June 3rd. Crystal Kay, Koichi Yamadera, Shido Nakamura, Shoko Nakagawa, & Akira Minami were all in attendance.
Shoko Nakagawa who was in the 10th movie is also in this years movie. remains in office this year also. She plays the maid type artificial intelligence INFI which serves Zero.
Shido Nakamura is the young person of mystery, Zero. Zero is the silver haired villain and boss the of INFI, who plans to have world domination.
In the middle of their journey, Satoshi and friends meet a woman, Leila. Akira Minami plays the role of Leila.
Crystal Kay sings the theme song to Movie 11 entitled, 'One'. The CD single is scheduled to be released on July 16th, 2008 in Japan.
The Theater Edition of Pocket Monsters Diamond & Pearl Giratina and the Sky's Bouquet: Sheimi will be released on July 19, 2008 in Japan.
You can view photos from this event on the Imageboard by
clicking here.
Source 1:
http://journal.mycom.co.jp/news/2008/06/03/028/
Source 2:
http://www.varietyjapan.com/news/movie/2k1u7d0000028c5q.html