»
Episode Guide
» Viewing Episode: ダイゴ、ココドラ、ボスゴドラ!/Daigo, Cokodora and Bossgodora
Ash and co. have finally arrived at Granite Cave. They need to search for Steven in the cave because he knows a lot about Pokémon, and Steven might be able to tell Ash some good places to train. They walk inside the cave.

Meanwhile, Team Rocket is digging a hole in the cave. Jessie says it's the perfect plan to capture Pikachu. James disagrees with Jessie because their plans always turn out to be failures. He just wants to have a normal battle with Ash and co. Ash and co. continue to walk inside the cave. Ash calls out for Steven, but he doesn't receive any response. Brock places markers on the cave just incase they get lost. They can follow the markers out of the cave.

Steven and his Pokémon, Aron, are in a deep part of the cave looking for stones. They didn't find any stones yet. Team Rocket has finished digging their hole. They cover it up with dirt and hide. Team Rocket then hears Ash's voice. Ash and co. walk right into the trap. They fall in the hole. Team Rocket walks up to the hole and dances because they have Ash and co. captured. Suddenly, the ground beneath Ash and co. gives in. Team Rocket falls in the hole too and they all split into three paths. Steven and Aron hear the noise, and they decide to check it out.

Max, Pikachu, and Meowth are grouped together. They have to find a way back to the main level. Max says that the cave is made up of many tunnels and levels, so they must've fallen to the bottom one. Pikachu spots a tunnel up ahead. The three of them decide to follow the tunnel. May and Jessie land in another part of the cave. Jessie notices May and calls her "heavy." Then Jessie tries to climb her way back out of the tunnel. Ash, Brock, and James land in another part of the cave. Ash and James argue about the whole thing. Brock cuts in and tells them that they have no hope of escape.

Max, Pikachu, and Meowth continue their way down the tunnel. Max tells the Pokémon that they should try and keep an eye out for Steven. Meowth asks max who Steven is. Max tells him that Steven is the son of the president of the Devon Corporation. He is in the cave looking for rare stones. Pikachu and Meowth smell some fresh air. They turn around the corner. Since Max can't smell it, he has to follow the Pokémon.

Meanwhile, Ash, Brock, and James call out for their friends. James tells Ash and Brock that Jessie and Meowth are a bad influence on him and that they are very stubborn. James thinks he has the right to do what he wants to do. He thinks Jessie is an idiot and Meowth is a loser. Suddenly, something falls from the ceiling. It is an Aron. Ash looks up Aron in his Pokédex. James tells Aron to go away. Aron roars and several more Aron appear. The pack of Aron begin to chase Ash, Brock, and James. Steven sees the hole that Ash and co. have fallen through. He suspects trouble and jumps down the hole. The Aron continue to chase Ash, Brock, and James. Three more tunnels are come up. They jump into the top tunnel and avoid the Aron.

Max, Pikachu, and Meowth have come to a waterfall. They need to get to the top of the waterfall in order to escape the bottom level. May and Jessie are having a bit of difficulties. Jessie is stuck. May tries to pull and push Jessie out, but she still remains stuck. A Loudred comes towards Jessie's head. The Loudred passes Jessie's head. Then a part of the hole breaks freeing Jessie. Max, Pikachu, and Meowth are climbing the vines to the top of the waterfall. Max complains about how long it will take until they reach the top. Meowth doesn't like it how everyone is complaining. Max wants to know why Meowth can talk. Meowth tells him a story. Because Max thinks his story is way too long and boring, him and Pikachu continue to climb their way up. Ash, Brock, and James are lost. Suddenly, they see one of Brock's markers. They run where the arrow points only to find themselves fall in the same hole again. Steven runs to the hole and sees that it has gotten even bigger.

Max, Pikachu, and Meowth have finally made it to the top. Pikachu smells something. Meowth translates what Pikachu is saying. Pikachu is saying that someone has already went through the tunnel. Max assumes it was Steven. May and Jessie slowly walk down the tunnel. They see light up ahead. They run towards it, but they also fall down the same tunnel. Ash, Brock, and James are being chased by the Aron again. May and Jessie fall down on Ash, Brock, and James. The Aron continue to chase them.

Max, Pikachu, and Meowth finally meet up with Steven. Max tells Steven that their friends are lost. Steven says that Max's friends could be in trouble because of the wild Aron. Max, Pikachu, and Meowth follow Steven. They come to a bridge. Down below is Ash and the others. Steven gives them directions to where to go next. The Aron continue to chase Ash and co. They go to a waterfall. The Aron are beginning to corner Ash and co. Steven, Max, Pikachu, and Meowth appear at the top of the waterfall. Since the wild Aron aren't stopping, Steven's Aron uses Roar. Right before the Aron can attack Ash and co., they stop moving. Steven tells the Aron to leave, and the Aron do so. Ash and Brock find it amazing how Steven can control the wild Aron.

Team Rocket reunite with each other. To celebrate, they recite their motto to Ash and co. Jessie sends out Seviper and James sends out Cacnea which hugs James. Steven yells at Team Rocket. He scolds them for causing problems to the Aron. Steven decides to battle Team Rocket. He sends out Aggron. Ash looks up Aggron in his Pokédex. Aggron fires a Hyper Beam at Team Rocket. They blast off out of the cave.

Aron calls Steven over. It points to a stone sticking out of some rocks. Steven picks it up. Ash and co. run over to see what the object is. It is a Fire Stone, one of the rare stones that helps Pokémon evolve. Ash and co. thanks Steven for helping them out. When they all walk out of the cave, Steven tells Ash a could place to train. Then Steven goes on his boat and sails away.
Picture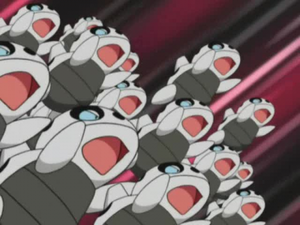 You must be signed in to rate episodes.
Average Rating:
7.83
VHS/DVD/Blu-ray Availability
Titles
| | | |
| --- | --- | --- |
| | 大吾,可可多拉跟波士可多拉! | |
| | En Hulens Ballade | |
| | Een hele berg problemen | |
| | A Hole Lotta Trouble | 2004-02-14 |
| | Luolan vangit | 2005-04-28 |
| | Un trou peut en cacher un autre | |
| | Höhlen-Ärger! | |
| | בורות ובעיות | |
| | La Grotta | |
| | ダイゴ、ココドラ、ボスゴドラ! | 2003-04-24 |
| | Daigo, Cokodora, Bossgodora! | 2003-04-24 |
| | Daigo, Cokodora and Bossgodora | 2003-04-24 |
| | Et enkelt hull i bakken | 2004-10-31 |
| | Dziura pełna kłopotów | |
| | Muito Sarilho | |
| | Um Buraco Cheio de Problemas! | |
| | Un Problema Con Muchos Agujeros | |
| | Un Problema Con Muchos Agujeros | |
| | Vilse i grottan | 2005-01-23 |
Credits
| | | | |
| --- | --- | --- | --- |
| | Animation Director | 岩根雅明 (Masaaki Iwane) | |
| | Episode Director | 浅田裕二 (Yūji Asada) | |
| | Screenplay | 十川誠志 (Masashi Sogo) | |
| | Storyboard | 浅田裕二 (Yūji Asada) | |
©2002-2020 PocketMonsters.net
Version 5.1778
Rendered in: 0.01537s Queries: 6
Pokémon, all assorted characters, images and audio are ©GAME FREAK, Nintendo, Creatures, TV Tokyo, ShoPro and The Pokémon Company.
All images, text and audio are used in an editorial context. No site content, information, translations, news, images or otherwise may be reposted to any website without expression permission from the staff.
Current logos by: Juno