Welcome to PocketMonsters.net
PocketMonsters.net
is a fansite dedicated to all things Pokémon (ポケモン) and Pocket Monsters (ポケットモンスター). We are the premier site for news and information about all aspects of the franchise from around the world. We cover the
Anime
,
indexing the music
, the
Trading Card Game
, the
Games
, the
variety shows
, have a
large imageboard
,
forum
and much more.
Follow us on Twitter
and
Subscribe to our RSS Feed
for the latest updates!
Upcoming Episodes
New titles are revealed in various publications such as: TV guides, childrens' magazines, anime magazines, promotional posters and videos, official websites and official television programs. Titles and their translations are added to our
episode guide
and the chart below when the titles are revealed.
Date
Title(s)
Apr 12 2020
PM2019 21: とどけ波導!サトシと不思議なタマゴ!!


Hit Your Mark, Wave Guidance! Satoshi and the Mysterious Egg!!

Apr 19 2020
PM2019 22: さよなら、ラビフット!


Farewell, Rabbifoot!

Apr 26 2020
PM2019 23: 大パニック!サクラギパーク!!


Massive Panic! Sakuragi Park!!

Jul 10 2020
Movie 23: ココ


Coco
Nov 28
ThinkGeek has added the officially licensed
Pokémon Poké Ball Waffle Maker
to their inventory of items. It costs $34.99 USD but free shipping is only available on orders $75 USD or more.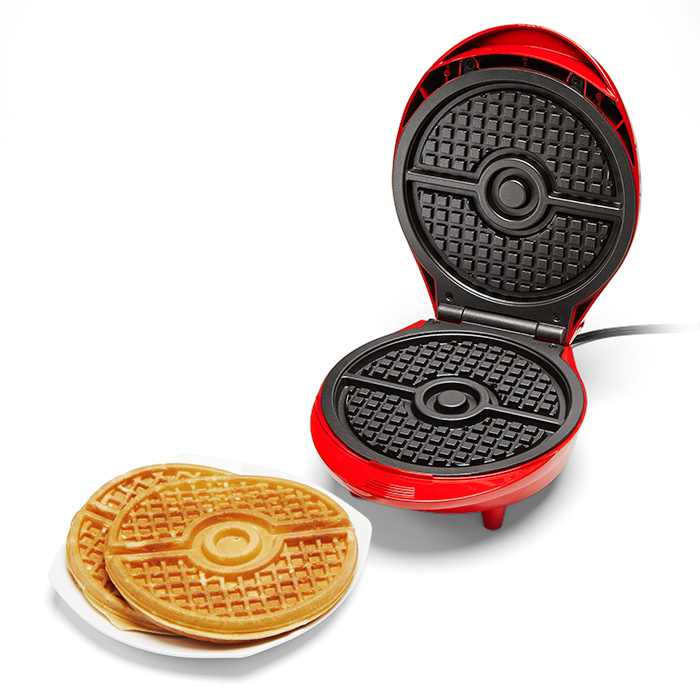 Product Description:
Mix up two of the best things ever! For those of you who are like us and use your ovens mainly to reheat pizza and tell the time, we've created a way for you to make flawless, edible versions of the Poké Ball without all the culinary expertise.
This Pokémon Poké Ball Waffle Maker makes big 7" diameter Poké Ball waffles. All you have to do is plug it in, pour your batter onto the non-stick cooking plate, and allow it to cook for 4-5 minutes. From of the waffle maker will emerge one warm, golden, tasty waffle that looks a lot like a Poké Ball! Be sure to keep up your training; you never know when you're going to have to battle for that last waffle!
Oh, and don't throw your waffles at anybody, k?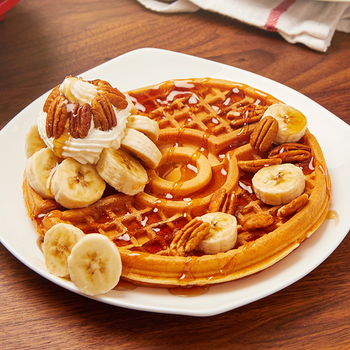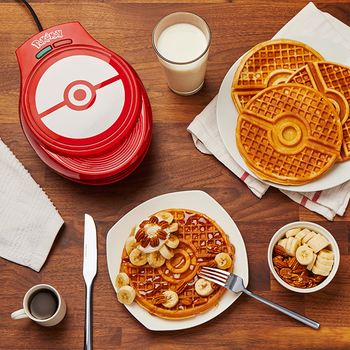 Product Specifications
Pokémon Poké Ball Waffle Maker
Officially-licensed Pokémon merchandise
A ThinkGeek creation & ThinkGeek / GameStop exclusive
Makes waffles that are just shy of 7" diameter and look like a Poké Ball
Non-stick cooking plates duplicate the design on both sides
Try filling the top half of the plate with batter tinted red
Indicators light up when iron is on and when it is at correct temperature
Materials: BPA-free housing and cast aluminum cooking plates
Care Instructions: Wipe plates with a damp cloth. Do not submerge in water.
Imported
Dimensions: 8" wide x 10" deep x 4" tall with 3' long cord
Weight: 2 lbs.
Electrical Plug: Type B socket (American, grounded) 120V ~ 60Hz
Ages 14+
YouTube Clip - Pokémon Poké Ball Waffle Maker from ThinkGeek
Source:
https://www.youtube.com/watch?v= iBxZdL340_g

Article edited on 2018-11-28 10:14:56 by Sunain
Nov 28
From November 16th, 2018 until November 26th, 2018,
Pokémon: Let's Go, Pikachu! and Pokémon: Let's Go, Eevee!
have sold a combined 1.5 million copies in the United States.
Pokémon Ultra Sun and Pokémon Ultra Moon
has sold 2.2 million copies since its launch on November 17th, 2017.
Nintendo Hits Big Milestones from Thanksgiving to Cyber Monday
Nintendo Switch set two new records from Thanksgiving to Cyber Monday: It became the best-selling Nintendo console in U.S. history for that five-day period, surpassing even Wii system sales. Nintendo Switch also had its best-selling week ever in the United States. In fact, according to Adobe Analytics, Nintendo Switch was among the most-purchased items online on Thanksgiving Day and the overall top-selling video game product online for the Black Friday-Cyber Monday time period.
Strong demand resulted in shoppers buying more than $250 million in Nintendo products from Thanksgiving through Cyber Monday, according to Nintendo's internal sales figures, demonstrating that Nintendo has something for everyone this holiday season. That sales total accounts for video game systems like Nintendo Switch and the Nintendo 3DS family of systems, retro systems like Nintendo Entertainment System: NES Classic Edition and Super Nintendo Entertainment System: Super NES Classic Edition, as well as all Nintendo-produced games and accessories. Total U.S. hardware sales for Thanksgiving through Cyber Monday increased 45 percent over the same period in 2017.
And that doesn't even take into account that one of the most anticipated video game events of the year is still to come: the Dec. 7 launch of the Super Smash Bros. Ultimate game. As previously announced, the game has become not only the most pre-sold Nintendo Switch game of all time, but also the most pre-sold Super Smash Bros. game ever in the series.
Unless otherwise noted, the following data from Nintendo covers Nov. 22 to Nov. 26, and is specific to the U.S. only:
Nintendo Switch hardware sales grew 115 percent compared to the same period in 2017.
Lifetime sales of Nintendo Switch, which is entering only its second holiday season, have reached more than 8.2 million units.
Sales of first-party games, including digital downloads, topped 1 million units Nov. 22-26, beating 2017's totals by 78 percent.
Nintendo Switch games Pokémon: Let's Go, Pikachu! and Pokémon: Let's Go, Eevee! have hit combined U.S. sales of more than 1.5 million units since their Nov. 16 launch.
Additionally, after 12 months of availability, lifetime combined sales of the Pokémon Ultra Sun and Pokémon Ultra Moon games crossed 2.2 million.
Nov 26
For their promotion on Cyber Monday 2018,
PokemonCenter.com
is offering free shipping on any order.
Normally free shipping
does not apply until the order is at least $50 USD. This offer only applies to the United States.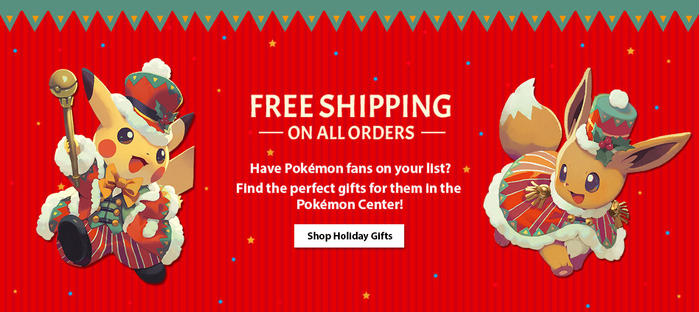 Get Free Shipping on any Order!
Free shipping offer ends 11/26/2018 at 11:59 PM PT. With any order from PokemonCenter.com, your shipping is FREE! That's right, any order means your Standard shipping is free. Don't miss this chance to get free shipping on your favorite Pokémon items!
Free Standard shipping promotional offer applies only to orders shipping to continental U.S., Alaska, and Hawaii addresses. Expedited or Priority shipping is excluded. No code required. Offer is for a limited time and subject to change without notice.
Source:
https://twitter.com/Pokemon/status/1066783492242063360

Article edited on 2018-11-26 07:51:12 by Sunain
Nov 21
Niantic announced on their Pokémon GO Twitter feed that Pokémon storage for Pokémon GO has been expanded to 2000.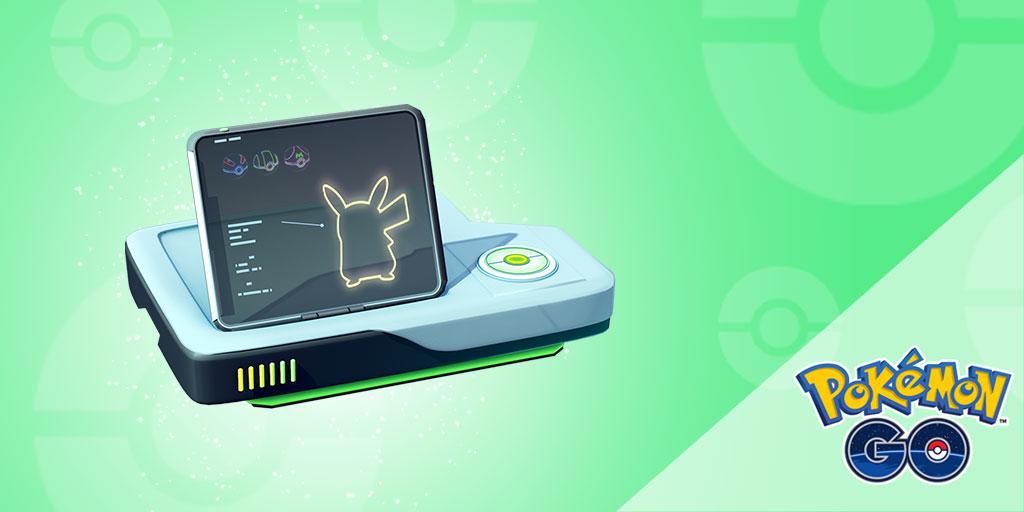 Pokémon Storage Expanded to 2000
Attention, Trainers! The limit on Pokémon storage has now been expanded to 2000. Thank you for your patience and good luck on all of your Pokémon GO adventures.
Source:
https://twitter.com/PokemonGoApp/status/1065368391257677824

Article edited on 2018-11-21 09:13:12 by Sunain
Nov 21

Bandai has officially announced that they will be releasing 2 new Pokémon tamagotchi's in Japan on January 26th, 2019.
Eievui x Tamagotchi - Loveable Eievui Version / Colorful Friends Version (イーブイ×たまごっち だいすきイーブイver. / カラフルフレンズver.)
will be sold separately for 2,484 yen. Depending on how you take care of your Eievui, it will evolve into one of 8 different evolutions. There are three questions marks on the picture below with the dialog that says: "Also, could there be more original Eevee x Tamagotchi forms that they could become!?"
Loveable Eievui Version / Colorful Friends Version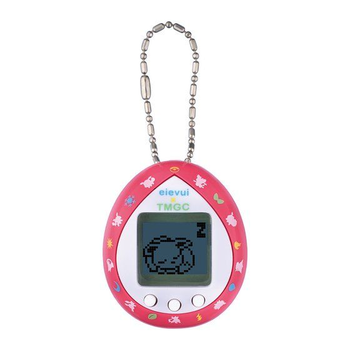 Sources:
http://tamagotch.channel.or.jp/tamagotchi/eievui/
,
http://www.bandai.co.jp/catalog/item/4549660314196000.html
and
http://www.bandai.co.jp/catalog/item/4549660338185000.html

Article edited on 2018-11-24 03:13:12 by Sunain