»
Episode Guide
» Viewing Episode: ケムッソVSケムッソ!どっちがどっち!?/Kemusso VS Kemusso! Which is Which!?
The episode starts off with the narrator giving us a review of what happened in the last episode. It is now morning. Everyone has taken a good sleep in beds at the Pokémon Center. May wakes up. She doesn't see Ash and Pikachu in their bed. Max and Brock also wake up. Ash and Pikachu are sleeping on a bench outside the room. Brock, May, and Max see Ash, and they wake him up. May asks Ash why he wasn't in his bed. Ash tells her that he wanted to remain close by Treecko and Taillow. Nurse Joy walks in the room. She tells Ash that Treecko and Taillow will be just fine. At the front desk, Nurse Joy hands Ash his two Pokéballs. Ash sends out Taillow and Treecko and apologizes to them. Taillow and Treecko accept Ash's apology. Then they have breakfast.

Wurmple devours its Pokémon food and then it goes to sleep. Ash wants to start his training right away. Max runs up to his friends and tells them that Steven is on the island doing some research. Brock assumes that it is Steven, the president's son. He is in a place called Granite Cave. Ash and co. starts to walk up a cliff. Granite Cave is located on the other side of the mountain.

An old man approaches them. The old man is really James in disguise. He tells Ash and co. that this place is great for water Pokémon. Ash and co. want to go fishing, and James offers them his fishing rods. Jessie and Meowth are hiding behind the bushes. They are glad that Ash and co. are falling for their trap. Ash and co. are sitting on a ledge with their fishing rods. Max tries to teach May how to fish. Suddenly, something pulls on May's fishing line. She pulls it up and out comes an Octillery. Ash looks up Octillery in his Pokédex. Brock tells May that she has to battle the Octillery. May sends out Wurmple. Before Wurmple can attack, Octillery attaches itself to Max and uses Constrict. Wurmple tries to attack Octillery with String Shot, but it ends up getting Max instead. Then Octillery hits Max with Headbutt and jumps back into the water.

Ash's fishing line is then pulled. A Corphish appears. Ash looks up Corphish in his Pokédex. Corphish pinches Max with Vicegrip. Then Corphish begins walking around and getting in everyones' way. Pikachu is about to attack Corphish when Corphish hits Pikachu with Crabhammer. Then Corphish jumps back in the water. They go back to fishing again. Team Rocket is in their Magikarp submarine underwater. James wonders why they are getting a lot of water Pokémon because he pointed out a random spot to them. Jessie tells James and Meowth their plan to capturing Pikachu.

May feels another pull on her fishing line. This time it's Team Rocket pulling on her fishing line. They are trying to pull her into the water. Ash, Brock, and Max pull as hard as they can on her fishing rod. The pedals to Team Rocket's sub breaks, and so it is easier to pull the sub up on the water. When the sub emerges, Team Rocket jumps out and says their motto. Since Team Rocket's original plan failed, they throw a net on Pikachu. Pikachu uses Thunderbolt, but the attack doesn't work. Treecko tackles James, who is holding the net. James releases Pikachu, and Pikachu is set free.

May doesn't want Team Rocket to touch her cute Wurmple. Jessie tells May that her Wurmple is cuter. Jessie takes out her Wurmple. Both May and Jessie argue over which Wurmple is better. Max breaks up the fight. He tells May and Jessie to put their Wurmples on the ground. Then Max examines each Wurmple and reports that they are both the same. Jessie refuses to believe that both Wurmple are the same. She has her Wurmple use String Shot. May dodges the attack. May's Wurmple also uses String Shot which hits Jessie. James takes out his net again. Treecko attacks James and Meowth. Jessie and May's Wurmples fall, mixing them up. They each grab a Wurmple. Team Rocket is about to get away when Pikachu attacks them with Thunderbolt. Team Rocket blasts off again.

Ash and co. are about to head back to the cliff for Granite Cave. May feels there is something not right about the Wurmple she is holding. She gives it a bowl of food to eat, but it hardly eats anything. Brock tells May that if a Pokémon can go in your Pokéball, then you know it's yours. May tries to put Wurmple back into its Pokéball, but it doesn't go in it. Max thinks that May's Wurmple and Jessie's Wurmple were switched from their battle. May hopes her Wurmple is okay, and she promises to get it back.

Team Rocket has landed deep in the forest. They are disappointed that their plan failed again. Jessie is just happy that she got her Wurmple back. James thinks they should celebrate with a cookie. He holds out a few cookies, and Wurmple devours them all. Then it goes to sleep. James and Meowth don't think the Wurmple belongs to Jessie. Jessie isn't too happy by their comments.

Ash and co. continue to search for May's Wurmple. Taillow couldn't track down Team Rocket yet. Jessie continues to go on about how she loves her Wurmple. She remembers the day when she captured it, and makes up a story. Finally, Taillow is able to track down Team Rocket. It flies back to Ash and tells it that it found Team Rocket. Ash and co. meet up with Team Rocket. May tells Jessie that both their Wurmples are switched, so she wants to trade. Jessie agrees to the trade. When they are about to trade Wurmples, Jessie grabs the Wurmple that May was holding. Then they begin to run away. Ash and co. start to chase Team Rocket.

Team Rocket goes in their balloon, and they begin to float away. Meowth tells Jessie and James that they can give the extra Wurmple to the boss. Taillow flies up and strikes Team Rocket's balloon with Wing Attack. The balloon falls down onto the ground. Ash and co. run towards Team Rocket. May picks up her Wurmple. Jessie sends out Seviper, and Ash sends in Taillow. Seviper uses Haze to block Taillow's sight. Then Ash sends out Treecko. Treecko hits Seviper with Pound. James sends out Cacnea which hugs James. Cacnea fires a Pin Missile at Pikachu, but Pikachu dodges the attack. Seviper attacks Treecko with Poison Tail, but Treecko also dodges Seviper's attack. Then Treecko hits Seviper again with another Pound. Pikachu defeats Cacnea with Quick Attack. Finally, Pikachu blasts Team Rocket off with Thunderbolt.

May gives her Wurmple a bowl of food. Wurmple quickly eats the food and then falls asleep. Brock tells May that she shares a great bond with her Pokémon. Max also adds in that May is becoming more of a trainer everday. May is glad that she got her Wurmple back. Ash and co. then continue their way to Granite Cave.
Picture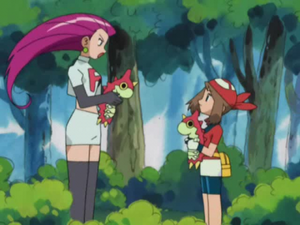 You must be signed in to rate episodes.
Average Rating:
7.33
VHS/DVD/Blu-ray Availability
Titles
| | | |
| --- | --- | --- |
| | 刺尾蟲對刺尾蟲!到底是哪一隻? | |
| | Wurmple Forvekslinger | |
| | Welke Wurmple is de goeie? | |
| | Which Wurmple's Which? | 2004-02-14 |
| | Mikä Wurmple on mikä? | 2005-04-21 |
| | Mais à qui est ce Chenipotte? | |
| | Vertauschte Waumpel | |
| | ?למי שייך הוואמפל הזה | |
| | Una Buona Pesca | |
| | ケムッソVSケムッソ!どっちがどっち!? | 2003-04-17 |
| | Kemusso vs. Kemusso! Dotchi ga dotchi!? | 2003-04-17 |
| | Kemusso VS Kemusso! Which is Which!? | 2003-04-17 |
| | Hvilken Wurmple er den rette? | 2004-10-24 |
| | Który Wurmple jest który? | |
| | Afinal Qual É o Wurmple? | |
| | Quem é Quem? | |
| | ¿Cuál Wurmple Es El Mío? | |
| | ¿Cual Wurmple Es Mío? | |
| | Wurmpleproblem | 2005-01-16 |
Credits
| | | | |
| --- | --- | --- | --- |
| | Animation Director | たけだゆ (Yūsaku Takeda) | |
| | Episode Director | 大町繁 (Shigeru Ōmachi) | |
| | Screenplay | 大橋志吉 (Yukiyoshi Ōhashi) | |
| | Storyboard | 藤本義孝 (Yoshitaka Fujimoto) | |
©2002-2020 PocketMonsters.net
Version 5.1778
Rendered in: 0.01601s Queries: 6
Pokémon, all assorted characters, images and audio are ©GAME FREAK, Nintendo, Creatures, TV Tokyo, ShoPro and The Pokémon Company.
All images, text and audio are used in an editorial context. No site content, information, translations, news, images or otherwise may be reposted to any website without expression permission from the staff.
Current logos by: Juno