»
Episode Guide
» Viewing Episode: ムロジム再戦!波乗りバトルフィールド!/Muro Gym Rematch! A Surfing Battlefield!
A recap is played of the previous episode. Brawly has pointed the location for their rematch. Ash hopes to win a Knuckle Badge. Brawly leads them across the path to the inside the his secret training room. Team Rocket is already inside the place. They gaze at the refrigerator full of food. They decide to make the place Team Rocket's first secret base in the Hoenn region. Jessie eyes the canned food. Then they begin to dream for a bit. Afterwards, Meowth takes out some food out of the refrigerator and places them on the table. Meowth plans to make a meal. Jessie and James start to eat before Meowth. They tell Meowth that he hasn't made a decent meal at all before in his life. Meowth sadly agrees and join his friends. Meowth accidently puts a can in his mouth. He throws the can out.

Brawly picks it up. Ash and co. looks above, and they see Team Rocket. Team Rocket says their motto. Brawly wonders how they got into his place. Team Rocket claims that Ash and co. are trespassing Team Rocket's secret base. Jessie sends out Seviper and James sends out Cacnea. Seviper uses Haze to fill the area up with smoke. Cacnea fires a Pin Missile. Ash orders Team Rocket to leave. Team Rocket refuses to leave. Brawly tells Team Rocket to leave at once. Team Rocket still refuses to leave. James says that Brawly will need something more powerful to kick them out. Brawly mentions that sometimes water shoots out like a geyser because of the shape of the island. Infact, Team Rocket is standing exactly on a place where a jet of water shoots out. Seconds later, a jet of water does shoot out causing Team Rocket to blast off.

Now that Team Rocket is out of the way, Brawly shows Ash and co. his sparring equipment. The equipment is used to train Pokémon. Brawly then shows Ash and co. the battlefield they will be using. Ash and co. are amazed at the battlefield. The battlefield is made out of stone. There are a few holes in the field. Jets of water shoots out of these holes, so you have to use the whole field to your advantage while avoiding the water. Ash can't wait to test out his new strategy in the battlefield. He tells Pikachu that it will have to sit out on this battle.

Brawly recalls back the last battle him and Ash fought. Back then, Ash's strategy was poor, but now Brawly wants to see how much Ash has learned. Shana is the judge of the battle. She declares that each trainer will use up to two Pokémon. When she is done explaining the rules, the battle begins. Brawly sends out Machop and Ash sends out Treecko. Brock, May, and Max wonder if Ash sent out the right Pokémon since he did lose with Treecko before. Machop starts off with Karate Chop. At the last second, Treecko dodges the attack. Brawly is impressed at Ash's training. Machop continues to do a series of Karate Chops, but Treecko dodges them all. When Machop is worn out, Treecko strikes Machop by using Quick Attack. May and Max think Ash is winning, but Ash isn't.

The geyser begins to form. Machop prepares a Cross Chop attack. The water comes under Machop. Machop uses the water to get closer to Treecko. Ash returns Treecko back just in time before Machop can knock it out.

Ash then sends out Corphish. Corphish uses Bubblebeam to weaken Machop. Then it uses Crabhammer, however Machop blocks the attack. Corphish uses another Crabhammer, this time hitting Machop. Machop is knocked out, and Ash wins the first round. Brawly then sends out Hariyama. Hariyama starts off with Arm Thrust. Corphish uses Harden to endure the attacks. Ash tells Corphish that Hariyama will eventually get tired because of its heavy weight. However, Hariyama isn't tired at all. It continues to hit Corphish with Arm Thrust. Brawly tells Ash that he's also been training, and Hariyama has built up some strength and endurance too.

Ash orders Corphish to jump into the water. Brawly doesn't want Corphish to get away. He has Hariyama jump on a rock on top of the water. Fortunately for Corphish, Hariyama can't sense where Corphish is at. Corphish immediately jumps up and hits Hariyama with Crabhammer. Then it jumps back into the water. This time, Hariyama uses Arm Thrust on the water causing Corphish to be seen. Hariyama uses a Seismic Toss on Corphish. When the attack is over, Corphish is knocked out.

Ash's last Pokémon is Treecko. Ash recalls his last encounter with Hariyama. This time, Ash knows he won't lose to Hariyama. Hariyama starts off with Arm Thrust, but Treecko easily dodges the attack. Ash explains to Treecko to aim all of its Pound attacks on Hariyama's legs. The battle continues on. Treecko dodges Hariyama's Arm Thrust attacks while hitting Hariyama's legs with Pound. May wonders why Treecko is hitting only Hariyama's legs. Brock explains that Hariyama gets all of its strength from its legs. With weakened legs, Hariyama won't have much power inside of it. Because Hariyama can't hit Treecko with Arm Thrust attacks, Hariyama tries a Vital Throw. However, Hariyama does not have enough power in its legs to use the attack because Treecko weakened them with Pound. Treecko, however, is also looking pretty worn out. Anyone can win the battle.

Suddenly, the geyser starts to form again. Both Pokémon stand over the holes in the ground. May and Max wonder what Ash and Brawly's strategy is. Brock explains that both Pokémon plan to use the geyser as energy boosts. The geyser finally comes. Both Pokémon are riding the geyser. Hariyama uses Knock Off and Treecko uses Pound. Both Pokémon collide into each other. Then both Pokémon land on the ground. Hariyama is the one that falls first. Ash wins the battle.

Brawly gives Ash his Knuckle Badge. He congratulates Ash on his fine victory. May says that Ash thought up of a good strategy. Brawly then tells Ash to keep up with his training and to do well in his future battles.
Picture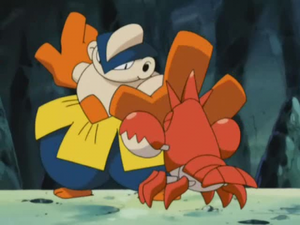 You must be signed in to rate episodes.
Average Rating:
8.00
VHS/DVD/Blu-ray Availability
Titles
| | | |
| --- | --- | --- |
| | 武鬥道館再戰!乘浪的戰鬥場地! | |
| | Sidste Dyst På Dewford Island | |
| | Vechten met geisers | |
| | Just One of the Geysers | 2004-05-15 |
| | Un peu plus près du geyser | |
| | Strategie ist alles! | |
| | זהירות גייזרים | |
| | Il Campo Pratica Segreto | |
| | ムロジム再戦!波乗りバトルフィールド! | 2003-06-26 |
| | Muro Gym saisen! Naminori battlefield! | 2003-06-26 |
| | Muro Gym Rematch! A Surfing Battlefield! | 2003-06-26 |
| | En geysir av mange | 2005-01-22 |
| | Niezwykły gejzer | |
| | Mais Um Geiser Para Ajudar | |
| | Um Geyser já chega | |
| | Cuidado Con Los Géisers | |
| | La Fuerza Del Geiser | |
| | Med geyserns hjälp | 2005-03-20 |
Credits
| | | | |
| --- | --- | --- | --- |
| | Animation Director | たけだゆ (Yūsaku Takeda) | |
| | Episode Director | 大町繁 (Shigeru Ōmachi) | |
| | Screenplay | 武上純希 (Junki Takegami) | |
| | Storyboard | 木村竜二 (Ryūji Kimura) | |
©2002-2020 PocketMonsters.net
Version 5.1779
Rendered in: 0.17569s Queries: 6
Pokémon, all assorted characters, images and audio are ©GAME FREAK, Nintendo, Creatures, TV Tokyo, ShoPro and The Pokémon Company.
All images, text and audio are used in an editorial context. No site content, information, translations, news, images or otherwise may be reposted to any website without expression permission from the staff.
Current logos by: Juno