»
Episode Guide
» Viewing Episode: はじめてのポケモンで大パニック!!/The Great Starter Pokémon Panic!!
There are only a few days left until the Slateport contest. May has been working hard in training her Pokémon. One trainer that she can't wait to go up against is Drew. She recalls back the times she had with Drew. May then asks Brock to take care of Torchic for her while she goes off to train Beautifly. Torchic is sad that it is not with May.

At breakfast, Max tells Ash and Brock that he thinks that May doesn't even like Torchic anymore because she is spending all of her time with Beautifly. Ash and Brock tell Max that May loves Torchic because Torchic was May's first Pokémon. Max still doesn't understand why being the first Pokémon matters. Ash explains to Max that your first Pokémon is always very special to you. Ash mentions that him and Pikachu weren't always buddies at the start. Max asks Brock what his very first Pokémon was. Brock tells a story about how it was his tenth birthday and he got an onix from his father. That day, Brock received his recognition from his father. Max wonders what his first Pokémon will be.

Nurse Joy passes by Ash and co. She sees that their Treecko, Torchic, and Mudkip have been raised very well. Nurse Joy tells them that there is a new trainer coming by, so she has to make sure that their Treecko, Torchic, and Mudkip are healthy. Brock wants to help Nurse Joy with the check up. Nurse Joy thinks that they should all come and help her.

May and Beautifly are on a beach training for the contest. Beautifly has just finished using its Silver Wind attack. May thinks Beautifly should last the Silver Wind a bit longer. She knows that she is pushing Beautifly hard, but May wants to win the contest. Suddenly, they see a Wailord washed up on the beach.

Nurse Joy leads Ash, Brock, and Max to a mini laboratory. Since there isn't a laboratory in town, the Pokémon Center acts as one for any beginning Pokémon trainers. Nurse Joy scans the beginners Pokémon. They all seem to be in good shape. Then Nurse Joy lets Max take the Pokémon out of their Pokéballs for some exercise. Max is really excited to do this considering he doesn't have his own Pokémon.

Suddenly, Nurse Joy gets a call from May. May tells Nurse Joy about the problem with Wailord. Ash looks up Wailord in his Pokédex. It happens to be the largest Pokémon yet discovered. Nurse Joy tells Ash and co. that they will have to babysit the Pokémon while she is gone, however the Pokémon are not allowed to leave the building. Brock follows Nurse Joy to help Wailord. Max is excited that he will finally be able to take care of Pokémon. He feels almost like a real trainer.

Team Rocket has been listening to their conversation. Jessie thinks they should capture the Wailord and bring it to the boss because the boss likes things that are big. Torchic has managed to escape the room. It is headed right out the door. Ash, Max, and the other Pokémon chase after it. May's Torchic gives the baby Torchic a mean look. The baby Torchic has tears in its eyes, but it is a trick. The Torchic uses Ember on May's Torchic. Pikachu blocks Torchic's way. However, Pikachu falls for Torchic's trick too. This time Treecko blocks Torchic's way. Treecko doesn't fall for any of Torchic's tricks. Max picks up Torchic. Torchic begins to squirm its way out of Max's hands. Ash sends out Corphish to stop Torchic from escaping. Torchic scratches Corphish and escapes outside. Corphish isn't too happy at Torchic right now.

Ash, Max, and the other Pokémon begin to chase after the Torchic. Corphish runs ahead from the group and tackles the Torchic. Both Corphish and Torchic go head to head against each other. Ash tells Corphish to stop what it is doing. Suddenly, Torchic knocks Corphish out and runs away. Ash can't believe how strong Corphish is.


May is resting in the Pokémon Center. Max brings May a cup of tea. He starts to act extra nice to May. Meanwhile, Stephanie, the new girl, has arrived. She is carefully examining the new Pokémon. May's Torchic is in there. Ash tells Stephanie that Mudkip and Treecko are great choices, and Torchic is a bad choice. Nurse Joy hears some banging noises going on. The noise is coming from the Combusken who is locked in a closet.

May asks Max where Torchic is at. Max nervously says that Torchic is outside. May begins to walk out the door, but Max stops her. May notices that there is something wrong. She pushes Max out of the way and opens the door. Torchic jumps into May's arms. Max apologizes to Ash since he couldn't hold May in any longer. Suddenly, the Combusken breaks out of the closet. Ash and Max apologize to Nurse Joy. They explain to her that the Combusken is actually the Torchic that they were suppose to watch over.

Suddenly, they see someone moving the Wailord. It is Team Rocket. They are in their balloon carrying Wailord. Ash and co. run up to Team Rocket. Nurse Joy demands that the release Wailord. Team Rocket ignores her, and they say their motto. Combusken uses Flamethrower on Team Rocket. Then it destroys the ropes that are holding Wailord together with Mega Kick. Wailord lands back into the ocean. Then Pikachu shocks Team Rocket with Thunderbolt. Team Rocket blasts off again.

Stephanie and her father applaud to Ash and his performance. Stephanie has decided to choose Mudkip as her first Pokémon. Treecko looks at Stephanie's father. Stephanie's father gazes at Treecko. Stephanie's father wants to take Treecko along witih him. Nurse Joy says that it is okay. Ash apologizes to Combusken. Because it evolved, it couldn't be picked. Nurse Joy has decided to make Combusken a guard Pokémon. Combusken likes the sound of the idea. Right now, the only thing on Max's mind is his very first Pokémon. He calls out to the world that he will be waiting for that moment.
Picture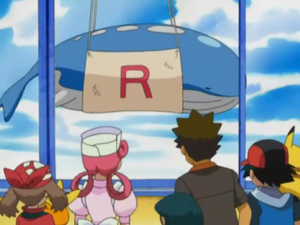 You must be signed in to rate episodes.
Average Rating:
7.70
VHS/DVD/Blu-ray Availability
Titles
| | | |
| --- | --- | --- |
| | 最初拿到的神奇寶貝,大混亂! | |
| | Masser Af Gang I Den | |
| | Een Wailord in nood | |
| | Having a Wailord of a Time | 2004-05-22 |
| | Un Poussifeu bien capricieux | |
| | Ein Wailord für alle Fälle | |
| | להציל את וויילרד | |
| | Evoluzione a Sorpresa | |
| | はじめてのポケモンで大パニック!! | 2003-07-17 |
| | Hajimete no Pokémon de dai panic!! | 2003-07-17 |
| | The Great Starter Pokémon Panic!! | 2003-07-17 |
| | Havets kjempe | |
| | Twój pierwszy Pokémon | |
| | Muita Diversão com o Wailord | |
| | Cadê, o Meu Torchic | |
| | Salvar A Wailord | |
| | El Primer Pokémon | |
| | Stephanies val | 2005-04-10 |
Credits
| | | | |
| --- | --- | --- | --- |
| | Animation Director | 志村泉 (Izumi Shimura) | |
| | Episode Director | 渡辺正彦 (Masahiko Watanabe) | |
| | Screenplay | 松井亜弥 (Aya Matsui) | |
| | Storyboard | 藤本義孝 (Yoshitaka Fujimoto) | |
©2002-2020 PocketMonsters.net
Version 5.1778
Rendered in: 0.01656s Queries: 6
Pokémon, all assorted characters, images and audio are ©GAME FREAK, Nintendo, Creatures, TV Tokyo, ShoPro and The Pokémon Company.
All images, text and audio are used in an editorial context. No site content, information, translations, news, images or otherwise may be reposted to any website without expression permission from the staff.
Current logos by: Juno