»
Episode Guide
» Viewing Episode: 対決!サトシ対ピカチュウ!?/Showdown! Satoshi VS Pikachu!?
With the Floaroma Pokémon contest coming up, Ash is giving Dawn the chance to battle his Pokémon. Pikachu starts off with Iron Tail. Piplup dodges the attack and strikes back with Bubblebeam. Brock tells Dawn that Piplup is in good shape. Dawn thanks Brock for the compliment. She lets Piplup take a rest, and then she sends Pachirisu into battle. Pachirisu uses its Discharge attack. The electric sparks head towards Pikachu, and Pikachu absorbs them all with its tail. Pikachu then uses Thunderbolt, but Pachirisu dodges the attack.

Suddenly, a woman walks up to them. She notices that Pikachu's Thunderbolt is very powerful, so she wants to borrow it for awhile. Ash is confused, so the woman introduces herself. Her name is Terisa, and she runs a cake shop with her aunt. Then Ash and co. introduce themselves to Terisa. Brock falls in love with Terisa, but Croagunk hits Brock and drags him away.

Terisa tells Ash and co. that her aunt Abigail helps run the cake shop. She used to have a Pikachu named Sugar as her partner, but it somehow disappeared. Terisa wants to use Ash's Pikachu to act like Sugar so that her aunt can participate in an upcoming baking contest. This will make Aunt Abigail happy. All Pikachu has to do is scratch its head once in awhile with its tail. Ash and co. agree to help.

Abigail is in the cake shop when suddenly Pikachu comes running towards her. It scratches its head with its tail, and Abigail thinks it's Sugar. Terisa and Ash and co. walk in the shop. Terisa tells Abigail that Ash and co. found Sugar and brought it back. Ash and co. sit in a table. They notice that Pikachu is acting very well, and that Abigail thinks Pikachu is really Sugar. Abigail tells Terisa that she is going out with Sugar. Terisa explains to Ash and co. that she is going out for supplies to make a great cake.

Meanwhile, Team Rocket is carrying boxes of berries for Pokéblock. Suddenly, they see a jolt of electricity from inside the forest. They run to find the source of the electricity. It happens to be Pikachu, and Team Rocket immediately notices that the Pikachu must belong to Ash. Pikachu is using its Thunderbolt attack to take the berries off of the trees. The berries fall off with a golden color for a sweet taste. Back at the cake shop, Terisa explains to Ash and co. what Abigail is doing with Pikachu. Ash notices that Pikachu has never done something like this before, so he plans on going out for a look.

Abigail tells Sugar that they have collected enough berries, so they decide to head on home. Suddenly, Team Rocket stops them, and they say their motto. Ash and co. are walking in the forest, and they see Abigail has confronted Team Rocket. Ash wants to help Abigail out, but Terisa stops him. She tells Ash that Abigail can take care of herself. Team Rocket demands for Pikachu, but Abigail tells them that they cannot have it. This makes Jessie mad. She sends out Seviper to battle. Abigail orders Sugar to run towards the tree on the right and then stop. Pikachu follows Abigail's command. Seviper chases Pikachu. Before Seviper can attack Pikachu, Pikachu uses a Thunderbolt on an Aspear berry. The berry falls and hits Seviper on the head. Brock mentions that Aspear berries are very hard, so Abigail had a good strategy. Then Pikachu uses Thunderbolt on Seviper. Seviper falls back into Team Rocket, and they blast off again.

Ash and co. walk up to Abigail. Terisa compliments on Abigail's good battle skills. While Ash and co. head back to the shop, Abigail mentions how she used to be a Pokémon trainer and how she competed in the Grand Festival. She takes note that Ash is planning on going for the Sinnoh League. Ash says that his next gym battle is in the Eterna Gym. Abigail asks Ash if he would like to battle her. She of course would be using Sugar for the battle. Ash has no choice but to agree to the battle.

The battle between Abigail and Ash is about to commence. Dawn and Brock don't like the fact that Ash has to battle Pikachu. Ash has no choice though because Abigail will know something is up if she finds out that Pikachu really isn't Sugar. Ash sends out Aipom for the battle. The battle begins.

Pikachu starts off by dashing towards Aipom. Aipom protects itself with Double Team. A bunch of copies surrounds Pikachu. Abigail has a few tricks though. She orders Sugar to jump up into the air and then use Thunderbolt on the ground. Pikachu follows Abigail's command. The Thunderbolt releases sand onto the copies, ruining Ash's strategy. Ash notices that Abigail is a tough battler. He orders Aipom to use Focus Punch. Aipom uses Focus Punch, and Pikachu begins to dodge the attacks. Aipom leads Pikachu to a corner. Pikachu trips and falls onto the ground. Before Aipom can hit Pikachu with its Focus Punch attack, Abigail calls the battle off. She tells Ash that he's a strong trainer. Since she lost the battle, she decides to walk back into the shop with Pikachu. Ash wonders why Abigail decided to quit.

At night, Ash and co. are discussing the contest. Right now Abigail is baking the cake with Ash's Pikachu for the contest. Ash has a bad feeling about the whole thing. Once Abigail finds out that Sugar is actually his Pikachu, she's going to be very sad. Terisa reassures Ash that everything will be fine, but Ash thinks that they shouldn't hide the truth in any longer. He runs off to find Abigail, and Dawn and Brock run after him.

Abigail and Pikachu are on the deck. Abigail can't wait for the contest. Ash and co. run up to her. Ash tells Abigail that he needs to tell her something. Abigail guesses that Ash wants to tell her that the Pikachu isn't really Sugar. Ash and co. are surprised that Abigail already knew the secret. Abigail says that when Ash's Pikachu shocked the berries to make a golden crisp, the real Sugar would always do a better job. Abigail also knows the real reason why her Sugar disappeared. One day, Abigail wanted Sugar to crack open some Aspear berries, but being as hard as they are, Sugar couldn't do it. So it ran off to find a way to crack open the berries. Abigail thanks Ash for letting her spend a good amount of time with Pikachu.

Suddenly, a mechanical arm extends out and captures Pikachu. The robot arm belongs to one of Team Rocket's robot. Pikachu is placed in a cage. It tries to use Thunderbolt to escape, but the attack does nothing. Then Team Rocket begins to drive away in their robot. Ash quickly jumps onto the robot before Team Rocket can fully escape. Dawn, Brock, Terisa, and Abigail decide to get into the van to chase Team Rocket down. Ash sends out Staravia. Staravia uses its Wing Attack on the robot, but the attack does nothing since the walls to the robot are very hard and thick. Dawn, Brock, Terisa, and Abigail are getting closer to Team Rocket. They notice that Staravia's attacks aren't doing anything. Staravia then prepares for an Aerial Ace attack. Suddenly, a small hill appears just ahead. The robot jumps off the edge of the road and down onto the next road. Ash falls off the robot. Then a mechanical arm shoots out and knocks Staravia down to the ground. Dawn, Brock, Terisa, and Abigail get out of the van to help Ash. Team Rocket continues their escape.

Suddenly, a blast of electricity is seen ahead as it stops Team Rocket. It is coming from a Raichu. Abigail thinks that Raichu is Sugar. It evolved! Team Rocket now wants to steal Raichu. Another mechanical arm extends out to capture Raichu. Raichu uses its Focus Punch attack to destroy the arm. Terisa and Abigail notice that Sugar is a lot stronger now. Abigail orders Sugar to rescue Pikachu. Raichu begins to Focus Punch the robot. Jessie wonders if their walls are strong enough for Raichu. Suddenly, Raichu punches its way through the walls and into the robot. It recovers the cage from Team Rocket and runs out. Finally, Raichu uses Thunderbolt on Team Rocket. The robot explodes, and Team Rocket blasts off again.

The next day, Abigail has finally finished her cake. Ash and co. know that Abigail will win first prize. Abigail offers them a slice of cake. When they eat the cake, they notice that it is really good. Sugar has even inspired Dawn for her next Pokémon contest. Now Dawn is even more excited than ever to win the Floaroma Pokémon contest.
Picture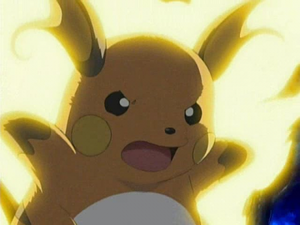 You must be signed in to rate episodes.
Average Rating:
8.50
VHS/DVD/Blu-ray Availability
Titles
| | | |
| --- | --- | --- |
| | 對決!小智對皮卡丘!? | |
| | Mimořádně sladká zápletka | 2009-02-04 |
| | Vi Bager På En Sød Historie | |
| | Cooking up a Great Story! | 2007-07-16 |
| | Maailman maukkain kakku | 2008-11-29 |
| | Une histoire savoureuse | |
| | Kein Kuchen ohne Sugar! | |
| | Pikachu in prestito / Il ritorno di Sugar | 2007-11-28 |
| | 対決!サトシ対ピカチュウ!? | 2007-03-29 |
| | Taiketsu! Satoshi Tai Pikachu!? | 2007-03-29 |
| | Showdown! Satoshi VS Pikachu!? | 2007-03-29 |
| | 포켓몬 시합! 지우 대 피카츄! | 2007-12-10 |
| | Å koke sammen en søt historie! | 2008-11-16 |
| | Upichćmy słodką historię! | 2008-12-22 |
| | Uma História Doce! | 2009-06-21 |
| | Preparando Uma Doce História! | 2008-07-31 |
| | Рецепт чудесной истории! | 2008-12-06 |
| | ¡Cocinando Una Dulce Historia! | |
| | ¡Cocinando una linda historia! | |
| | Baka, baka kaka | 2008-04-13 |
Credits
| | | | |
| --- | --- | --- | --- |
| | Animation Director | 木下和栄 (Kazue Kinoshita) | |
| | Episode Director | 牧野行洋 (Yukihiro Makino) | |
| | Screenplay | 藤田伸三 (Shinzō Fujita) | |
| | Storyboard | 日高政光 (Masamitsu Hidaka) | |
©2002-2020 PocketMonsters.net
Version 5.1779
Rendered in: 0.02336s Queries: 6
Pokémon, all assorted characters, images and audio are ©GAME FREAK, Nintendo, Creatures, TV Tokyo, ShoPro and The Pokémon Company.
All images, text and audio are used in an editorial context. No site content, information, translations, news, images or otherwise may be reposted to any website without expression permission from the staff.
Current logos by: Juno