»
Episode Guide
» Viewing Episode: アローラ探偵ロトム!消えたクリスタルの謎!!/Alola Detective Rotom! The Mystery of the Lost Crystal!!
01 Mar 2017 10:15 AM

Admin Staff


Joined: 12 Jul 2007
Forum Posts: 1012


Satoshi's precious Electric-Z is gone! Detective Rotom goes into action for the distressed Satoshi's sake! Will Rotom manage to find the lost Electric-Z with Pikachu's help?!

Summary:

One day at the Pokémon School, Satoshi realizes something terrible! Believe it or not, the precious Electric-Z he received from Kapu-Kokeko has disappeared. Satoshi panics, but Rotom decides to search for the Electric-Z for him. The truth is, Rotom is a huge fan of a crime show that's been all the rage in the Alola region lately. It says it wants to solve a mystery just like the protagonist in that show does. Rotom immediately sets out to search for the Electric-Z, but...?

Voice Cast:

Rica Matsumoto: Satoshi

Ikue Ohtani: Pikachu

Daisuke Namikawa: Rotom Zukan

Kei Shindo: Lilie

Kaito Ishikawa: Kaki

Reina Ueda: Mao

Hitomi Kikuchi: Suiren

Fumiko Takekuma: Māmane

Keiichi Nakagawa: Professor Kukui

Unsho Ishizuka: Principal Okido

Megumi Hayashibara: Iwanko

Rikako Aikawa: Ashimari

Mika Kanai: Togedemaru

Chika Fujimura: Amakaji

Kenta Miyake: Bakugames

This post was last edited 12 Mar 2017 10:35 PM by Adamant
17 Apr 2017 03:52 AM

Admin Staff


Joined: 18 Jun 2007
Forum Posts: 1712


This was an episode of Sun and Moon I completely didn't dislike. Rotom is turning into one of the better characters on the show and you can really see that it is evolving and learning really quickly, even more so than all the other Pokemon. Kaki's reaction animation was quite hilarious. It's unfortunate that they didn't keep the animation quality the same as in previous series while adding the animation gags that Sun and Moon have.

Administrator of PocketMonsters.net
Picture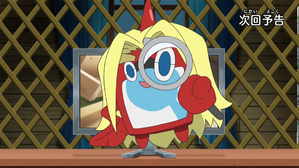 You must be signed in to rate episodes.
Average Rating:
9.00
VHS/DVD/Blu-ray Availability
Titles
| | | |
| --- | --- | --- |
| | Kristalhelder speurwerk! | 2017-08-12 |
| | Crystal-Clear Sleuthing! | 2017-07-01 |
| | Une énigme claire comme le cristal ! | 2017-09-14 |
| | Kristallklare Detektivarbeit! | 2017-07-29 |
| | Un'indagine cristallina! | 2017-09-01 |
| | アローラ探偵ロトム!消えたクリスタルの謎!! | 2017-03-09 |
| | Alola tantei Rotom! Kieta crystal no nazo!! | 2017-03-09 |
| | Alola Detective Rotom! The Mystery of the Lost Crystal!! | 2017-03-09 |
| | 알로라 탐정 로토무! 사라진 크리스탈의 비밀!! | 2017-05-23 |
| | Ett missuppfattat mysterium! | |
Credits
| | | | |
| --- | --- | --- | --- |
| | Animation Director | 直井由紀 (Yuki Naoi) | |
| | Animation Director | 夏目久仁彦 (Kunihiko Natsume) | |
| | Episode Director | 渡辺正彦 (Masahiko Watanabe) | |
| | Screenplay | 松井亜弥 (Aya Matsui) | |
| | Storyboard | 浅田裕二 (Yūji Asada) | |
©2002-2020 PocketMonsters.net
Version 5.1778
Rendered in: 0.01647s Queries: 9
Pokémon, all assorted characters, images and audio are ©GAME FREAK, Nintendo, Creatures, TV Tokyo, ShoPro and The Pokémon Company.
All images, text and audio are used in an editorial context. No site content, information, translations, news, images or otherwise may be reposted to any website without expression permission from the staff.
Current logos by: Juno