»
Episode Guide
»Viewing Episode: 挑戦!ポケモンマリンアスレチック!! /Challenge! The Pokémon Water Obstacle Course!!
Note
The official Japanese Anime PR Twitter account
posted an After Story comic on April 25th, 2021
by #もじゃクッキー @mojacookie
Even after returning to Sakuragi Park,
Jugon can't seem to forget about Sakurabyss...
Cheer up!
サクラギパークに戻った後も
ジュゴンはサクラビスのことが忘れられないみたいで…
元気だしてね
Note
CoroCoro Comic's Official website
posted an article
about this episode just before the original airing on March 12th, 2021. They also
tweeted about
the page on the official CoroCoro Comic Twitter account to promote it.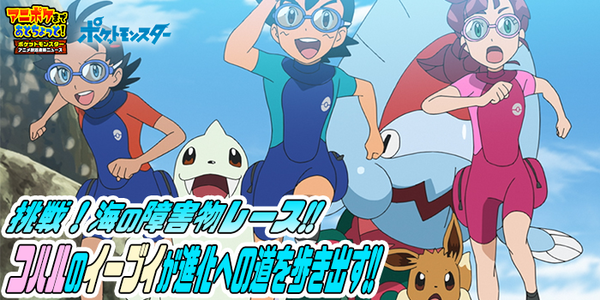 We're almost ready for Anipoke! Challenge! The Pokémon Water Obstacle Course!! Koharu's Eievui walks the path to evolution!
A revenge match against Rinto's Ellade! If you want to win, you'll have to have leeks...!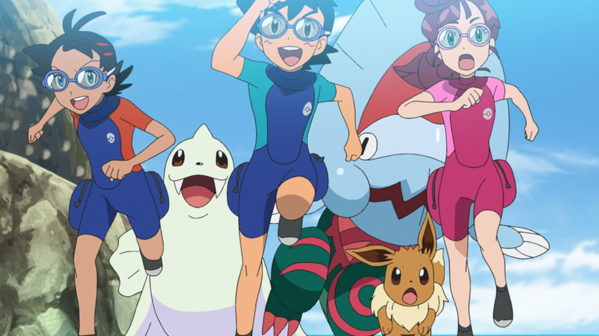 The anime "Pocket Monsters" will start airing soon! It's being broadcast every Friday at 6:55 pm! In this article, we'll introduce you to the Pokémon and characters that will appear in today's episode, as well as comments from the voice actors and director, and other Anipoke information you won't find anywhere else! It's a great way to get to know the people behind the scenes.
It's the "Pokémon Marine Athletic Race"! It's a heated obstacle race of Pokémon going through the ocean! Satoshi, Go, and Koharu are watching the race live at the Sakuragi Laboratories. While many Water-type Pokémon are competing, Koharu's Eievui is captivated by the winner of the race, Showers.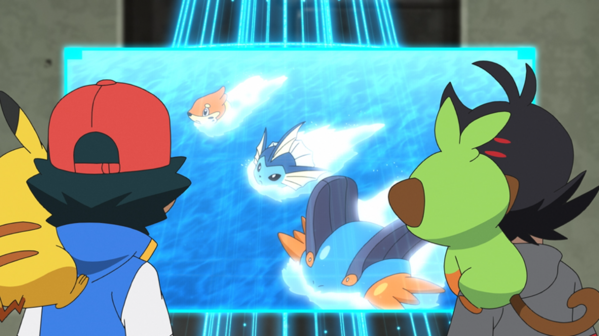 ▲Satoshi and his friends are excited to see Showers, Laglarge, and other Water-type Pokémon in an underwater dead heat!
Still undecided about the path Eievui will take, Koharu decides to go see Kairi, the trainer with the race-winning Showers, to learn more about Showers, one of the evolved forms of her partner, Eievui!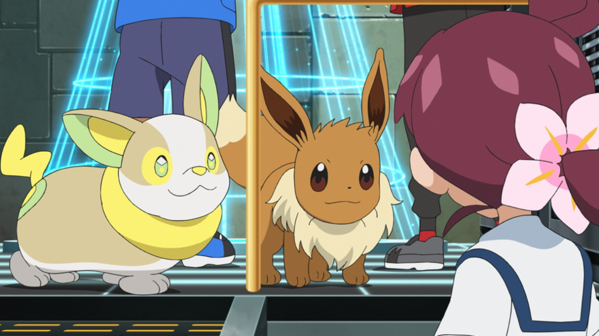 ▲Eievui is also curious about Showers, which may be its future evolution!?
Satoshi and his friends arrive at Minamo City in the Houen region, where the race is being held. Koharu asks Kairi what made them choose to evolve Eievui into Showers.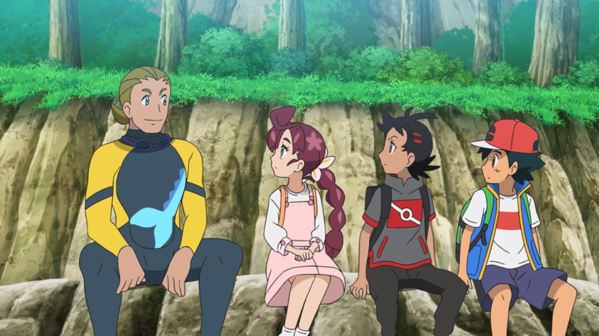 ▲Kairi is a great trainer who wins races, but they are also surprisingly friendly and good-natured!
Kairi's answer to Koharu's question was, "The best way to get to know Showers is to go into the ocean together with it!" So, Koharu decides to participate in the "Kids Marine Athletic Race" with Satoshi and Go!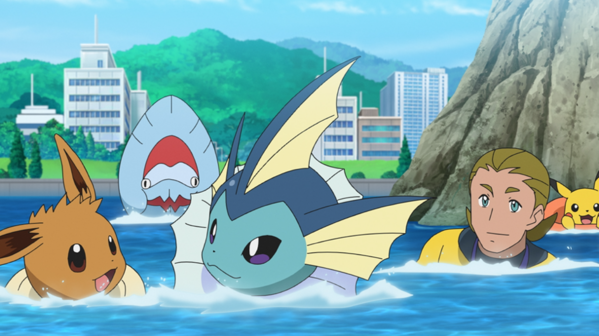 ▲I'm curious about what's going on with Eievui, but the pressure Satoshi's Uonoragon puts on me to make me laugh is unbelievable!
And in this race, something unexpected will happen to Koharu and Eievui! Check out the rest of this story on today's broadcast!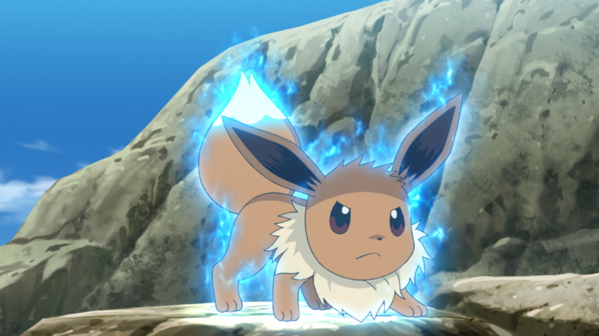 ▲ Is this blue light it evolving...? No, it's a move...? I mean, this is supposed to be a heartwarming race!
【アニポケまであとちょっと!】挑戦!海の障害物レース!! コハルのイーブイが進化への道を歩き出す!!
リントのエルレイドとのリベンジマッチ! 勝つためにはネギが無いと…!!?
毎週金曜よる6時55分から大好評放送中!
アニメ「ポケットモンスター」まもなく放送スタート!
この記事はアニメ放送直前に、今日の放送回に登場するポケモンやキャラクターの紹介、声優さんや監督からのコメントなどなど、ほかでは聞けないアニポケ情報をお届けするコーナーだ! 今日の放送でコハルのイーブイが…!!?
「ポケモンマリンアスレチックレース」! それは海を舞台にバッシャバッシャと繰り広げられるポケモンたちの熱き障害物レース!!
サクラギ研究所でレースの中継を見ているサトシ、ゴウ、そしてコハル。たくさんのみずタイプのポケモンが出場する中、コハルのイーブイはレースで優勝したシャワーズに心を奪われる。
▲シャワーズやラグラージたち、みずタイプのポケモンの水中デッドヒートに大興奮のサトシたち!
イーブイが進む道をまだ決められずにいるコハルは、パートナーであるイーブイの進化形のひとつであるシャワーズのことを知るため、レースで優勝したシャワーズのトレーナー・カイリに会いに行くことに!
▲イーブイも自分の将来の進化形かもしれないシャワーズに興味津々!?
早速、レースが行われているホウエン地方のミナモシティにやってきたサトシたち。コハルはカイリに「イーブイをシャワーズに進化させることを選んだきっかけ」を聞くのだった。
▲レースで優勝するようなすごいトレーナーなのに驚くほど気さくなカイリの好青年っぷりに注目!
コハルからの問いに対するカイリの答えは「シャワーズのことを知るには、いっしょに海に入るのが一番!」。
ということでコハルはサトシ、ゴウといっしょに「キッズマリンアスレチックレース」に出場することを決めるのだった!
▲イーブイの動向は気になるけど、サトシのウオノラゴンの笑わせにくる圧がハンパないぞ!
そしてこのレースでコハル、そしてイーブイにまさかの事態が起こる!!!?
この続きは今日の放送でチェックしよう!!
▲この青い光は進化…? いや、技を出しているところか…!? つーかほのぼのレースのはずじゃ!!?

Note
The official Japanese Anime PR Twitter account
posted a behind-the-scenes look
at the making of this Anipoke episode with a production artwork piece. The picture features Eievui and Showers.
Eievui and Showers with smiling faces
It looks like they're getting to know each other.
ニコニコ笑顔のイーブイとシャワーズ
すっかり打ち解けたみたいですね
Picture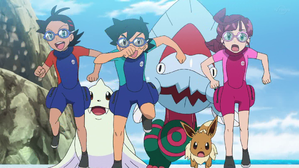 You must be signed in to rate episodes.
Average Rating:
VHS/DVD/Blu-ray Availability
Titles
| | | |
| --- | --- | --- |
| | 挑戦!ポケモンマリンアスレチック!! | 2021-04-23 |
| | Chōsen! Pokémon marine athletic!! | 2021-04-23 |
| | Challenge! The Pokémon Water Obstacle Course!! | 2021-04-23 |
Credits
| | | | |
| --- | --- | --- | --- |
| | Animation Director | 岩根雅明 (MasaakiIwane) | |
| | Animation Director | 志村泉 (IzumiShimura) | |
| | Episode Director | 浅田裕二 (YūjiAsada) | |
| | Screenplay | 松井亜弥 (AyaMatsui) | |
| | Storyboard | 浅田裕二 (YūjiAsada) | |
| | | |
| --- | --- | --- |
| | Pokémon Master Journeys: The Series #15 | |
©2002-2020 PocketMonsters.net
Version 5.1779
Rendered in:0.01663s Queries:7
Pokémon, all assorted characters, images and audio are ©GAME FREAK, Nintendo, Creatures, TV Tokyo, ShoPro and The Pokémon Company.
All images, text and audio are used in an editorial context. No site content, information, translations, news, images or otherwise may be reposted to any website without expression permission from the staff.
Current logos by: Juno