Pokémon The Series: Master Journeys The Complete Season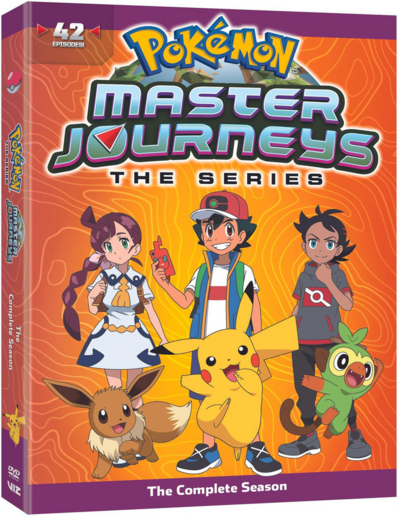 Details
Audio Tracks:
English
Publisher:
VIZ Media
Catalog #:
3000093531
Release Date:
2023-05-23
Aspect Ratio:
16:9
Region Code:

Video Format:
NTSC
Storage Medium:
DVD9
Closed Captions?:
Yes
Rental Only?:
No
Price:
$49.99
Description
Pokémon Master Journeys contains episodes 1-42 of the anime directed by Daiki Tomiyasu.
It's a big, big world, but you know where to find Ash and Goh—battling and catching Pokémon from Kanto to Galar! With Pikachu, Cinderace, and their other Pokémon beside them, our heroes continue to travel all over the world to research Pokémon for Cerise Laboratory. Along the way, Ash climbs higher in the World Coronation Series rankings, and Goh adds more Pokémon to his Pokédex in his quest to catch Mew. Meanwhile, Chloe takes her first steps as a Pokémon Trainer when she meets a mysterious Eevee. New friends, returning rivals, and exciting adventures await—as the journey continues!
Special Features: Clean Opening and Ending
The cover features stock artwork but because of that,
Chloe's Eevee
is the the wrong gender.
Images