»
Episode Guide
»Viewing Episode: ドラゴンバトル!サトシ VSアイリス!!/Dragon Battle! Satoshi VS Iris!!
Note
On April 5th, 2021, the official Japanese Pocket Monsters anime Twitter account
tweeted
that Iris from the anime Pocket Monsters Best Wishes, would appear for the first time in 7 years in the show and that voice actress would be reprising her role Aoi Yuuki. The episode title was officially revealed in that tweet as "Dragon Battle! Satoshi VS Iris!!" and that the episode would air on May 7th, 2021. The tweet also had a comment from her talking about reprising the role.
I'm very honored to be in the Pocket Monsters anime as Iris for the first time in about 7 years!
For those of you who are seeing Iris for the first time, this episode is packed with the Iris' charm and her dragon-type Pokémon and I hope this will be a good opportunity for you to fall in love with Iris and her partner Pokémon.
If you've been looking forward to Iris' appearance, I hope you'll pay close attention to her because you can feel her growth!
Above all, the interaction with Satoshi and Iris in the AniPoké after a long time is an exciting development that will get the heart pumping.
"Pokémon battles are so much fun!" and I hope it will deepen your "love of Pokémon".
Aoi Yuuki as Iris
約7年ぶりにアイリスとしてアニメ「ポケットモンスター」に加わる
事をとても光栄に思います!
初めてアイリスに触れる方もいらっしゃると思いますが、今回のェ
ピソードはアイリスとドラゴンタイプのポケモンの魅力がぐっと詰
まつた1話になつているので、これを機にアイリスと彼女のパート
ナーポケモンたちを好きになって貰えたら嬉しく思います。
そして、アイリスの登場を楽しみにしてくださつていた方は、彼女
の成長をすごく感じて頂けるので是非注目してご覧頂きたいです!
何より、サトシとの久々の交流はアニポケをご覧になっていた方は
心震える熱い展開になっています。
「ポケモンバトルってすごく楽しいんだ!」と改めて実感できるよう
なストーリーになつているので、皆さんの『ポケモン愛』を更に深め
て頂けたら嬉しいです。
アイリス役悠木碧
Picture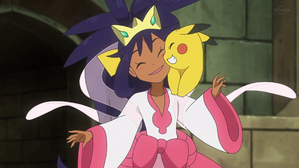 You must be signed in to rate episodes.
Average Rating:
VHS/DVD/Blu-ray Availability
Titles
| | | |
| --- | --- | --- |
| | ドラゴンバトル!サトシ VSアイリス!! | 2021-05-07 |
| | Dragon battle! Satoshi VS Iris!! | 2021-05-07 |
| | Dragon Battle! Satoshi VS Iris!! | 2021-05-07 |
Credits
| | | | |
| --- | --- | --- | --- |
| | Animation Director | 香月麻衣子 (MaikoKatsuki) | |
| | Animation Director | 倉員千晶 (ChiakiKurakazu) | |
| | Episode Director | 高木啓明 (HiroakiTakagi) | |
| | Screenplay | 冨岡淳広 (AtsuhiroTomioka) | |
| | Storyboard | 齋藤徳明 (NoriakiSaito) | |
©2002-2020 PocketMonsters.net
Version 5.1779
Rendered in:0.01486s Queries:7
Pokémon, all assorted characters, images and audio are ©GAME FREAK, Nintendo, Creatures, TV Tokyo, ShoPro and The Pokémon Company.
All images, text and audio are used in an editorial context. No site content, information, translations, news, images or otherwise may be reposted to any website without expression permission from the staff.
Current logos by: Juno