»
Episode Guide
» Viewing Episode: 脱出!サメハダーの島!!/A Great Escape! The Samehader Island!!
Ash and co. are traveling on Mr. Briney's boat to Dewford Island. They are enjoying themselves because of the fresh air and blue skies. Mr. Briney tells Ash that they should be at Dewford Island in a few hours. Ash is glad because he will be able to battle the gym leader by the next day. May sends out Torchic and Wurmple. She tells her friends that the Pokémon shouldn't miss out on the fun too. Ash and Brock think it's a great idea, and they send out their Pokémon as well.

Meanwhile, Team Rocket is in their Magikarp sub. They are shouting out a chant, "We are the best above all the rest!" They are busy with catching up with Ash and co. Because they are falling behind, they start to pedal faster. Max asks May if she would go swimming with him. May thinks that swimming is a great idea. Mr. Briney tells them that he knows a great place to swim. Ash is a disappointed because they are losing track. However, when he sees Pikachu sleeping, he decides to take a break and enjoy himself. They begin to change course. Pikachu wakes up from its nap. Ash tells Pikachu that they are going swimming on a nearby island. He points to the island.

Brock checks his guide book for the island's name. When he can't find it, he asks Mr. Briney for the name of the island. Mr. Briney tells Brock that the island doesn't have a name, nor is it on any maps. The island is a secret island that Mr. Briney accidently found while he was on his boat. May quickly changes into her swimsuit and jumps into the water. Max also changes and jumps into the water with May. The two of them begin to splash each other with water. Ash and Brock decide to go in the water too. Torchic, however, doesn't want to go in the water because it's a fire Pokémon.

Suddenly, a scream comes from May and Max. A large group of Sharpedo have surrounded them. Mr. Briney sends Peecko in to help May and Max. May and Max each grab a hold of Peecko's legs. Peecko begins to fly in the air. The Sharpedo all jump up and try to hit May and Max. Ash tells Taillow to help Peecko. Max gets hit by one of the Sharpedo. His leg is bruised because of Sharpedo's Rough Skin trait. May and Max are finally brought on the boat. May finds out that a part of her new swimsuit was ripped. She gets angry with the Sharpedo. Brock checks out Max's leg and makes sure that it's okay. Ash looks up Sharpedo in his Pokédex.

Mr. Briney suggests they leave the island now that the Shapedo are there. The Sharpedo all begin to ram the boat. Pikachu uses Thunderbolt to weaken the Sharpedo. This gives them a chance to leave. At night, Brock prepares a special dinner for everyone. Mr. Briney compliments on Brock's cooking. They are all having a real good time, however three Sharpedo are in the ocean keeping a look out for Ash and co. The rest of the Sharpedo are probably sleeping in a place nearby. Brock notices something strange with the Sharpedo. He says that Sharpedo usually are independent Pokémon. However, this time they are in large groups. Ash suggests they just battle the Sharpedo off. Max tells him that there are too many Sharpedo to battle. Brock suggests they find the leader of the Sharpedo and battle it. If they can beat the leader, then the other Sharpedo might begin to turn their backs on the leader. Mr. Briney thinks it's a good idea.

Team Rocket's submarine emerges from the water. They are disappointed because they are in the middle of the ocean and haven't gotten anywhere. Jessie suddenly sees the island. They imagine lots of food and restaurants on the island. Suddenly, a Sharpedo comes up to them. It begins to ram their submarine. James is scared stiff because a whole group of Sharpedo surrounds Team Rocket. Jessie send out Seviper. Seviper uses Poison Tail on one of the Sharpedo. The attack works. The leader and the rest of the Sharpedo charge towards the submarine. They knock into it, and Team Rocket blasts off into the sky.

Ash and co. have made a plan to battle the leader. The group of Sharpedo are already in the water. Ash gets on a platform and goes water skiing on it. Taillow and Peecko are pulling the ropes. Ash gets the Sharpedo's attention and leads them away. The leader, however, stays behind. Mr. Briney, May, and Max begin to pull their ropes. A fence comes out trapping the leader. The leader rams the fence, causing May to lose balance and fall in the water. The leader swims towards May. Just before May is attacked, Brock sends out Lotad. May grabs on a nearby rope, and Max pulls her to safety. Ash jumps off the platform and meets up with the others.

Now it's time for the battle with Lotad and Sharpedo. Brock orders Lotad to use Water Gun. Lotad shoots a stream of water at Sharpedo. Brock tells Lotad to use Water Gun again. Lotad takes a look at Sharpedo. It does not attack Sharpedo again. Sharpedo just lays in the water.

Ash and co. take the Sharpedo near land. Brock begins to check the Sharpedo. He reports that the Sharpedo has been poisoned by another Pokémon, and now the poison is beginning to take effect. Max thinks a Tentacruel must've done it. Even though Brock isn't a real doctor, he will still do his best to try and take care of Sharpedo. Mr. Briney tells Brock that he is doing a good job and that Sharpedo will appreciate it.

At night, everyone except for Brock eats dinner. Brock is still busy taking care of Sharpedo. He begins to talk to Sharpedo. He tells it to stay strong and not let the poison beat it. The next day, Sharpedo wakes up. It sees Lotad and then it sees Brock. It realizes that Brock helped it heal.

Suddenly, Team Rocket's submarine comes out from the water. Two nets are shot out capturing Pikachu and Sharpedo. Team Rocket then says their motto. Brock orders Team Rocket to release Sharpedo because it is sick. Jessie tells them that Seviper's Poison Tail must've caused the poison. Brock is angry that Team Rocket is responsible for Sharpedo's sickness. He sees Lotad near the net. Lotad uses Razor Leaf on the net, freeing Pikachu and Sharpedo. Pikachu is about to use Thunder on Team Rocket, but then it stops. Ash tells Team Rocket to look behind them. They do, and they see the whole group of Sharpedo staring at them. Team Rocket gets really scared now. The Sharpedo attacks Team Rocket, and they blast off again.

Brock is glad that Sharpedo is feeling better. The Sharpedo all thank Brock. Brock is worried that the Sharpedo's Rough Skin trait may take effect, but it doesn't. Mr. Briney explains that once you made friends with a Pokémon, their traits may not affect you. Ash, May, and Max all feel a Sharpedo's skin, and it doesn't hurt at all. Brock is glad that he has made friends with Sharpedo. Mr. Briney brings Ash and co. to the port of Dewford Island. Then he leaves for Slateport City. Ash and co. wave goodbye to the Sharpedo.
Picture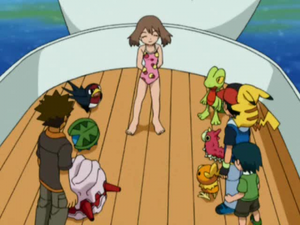 You must be signed in to rate episodes.
Average Rating:
7.50
VHS/DVD/Blu-ray Availability
Titles
| | | |
| --- | --- | --- |
| | 逃離巨牙鯊之島! | |
| | Sharpedo Går Til Angreb | |
| | Sharpedo aanval! | |
| | Sharpedo Attack! | 2004-01-31 |
| | Sharpedo hyökkäys | 2005-04-07 |
| | Des Pokémon bien agressifs | |
| | Angriff der Tohaido! | |
| | מתקפת שרפידויים | |
| | Una Buona Teoria | |
| | 脱出!サメハダーの島!! | 2003-04-03 |
| | Dasshutsu! Samehader no shima!! | 2003-04-03 |
| | A Great Escape! The Samehader Island!! | 2003-04-03 |
| | Sharpedo-angrep! | 2004-10-10 |
| | Atak Sharpedo! | |
| | Ataque Sharpedo! | |
| | O Ataque dos Sharpedo! | |
| | ¡Sharpedo Al Ataque! | |
| | El Ataque De La Isla Sharpedo | |
| | Sharpedo-attack! | 2004-12-19 |
Credits
| | | | |
| --- | --- | --- | --- |
| | Animation Director | 志村泉 (Izumi Shimura) | |
| | Episode Director | 須藤典彦 (Norihiko Sutō) | |
| | Screenplay | 松井亜弥 (Aya Matsui) | |
| | Storyboard | 須藤典彦 (Norihiko Sutō) | |
©2002-2020 PocketMonsters.net
Version 5.1778
Rendered in: 0.01568s Queries: 6
Pokémon, all assorted characters, images and audio are ©GAME FREAK, Nintendo, Creatures, TV Tokyo, ShoPro and The Pokémon Company.
All images, text and audio are used in an editorial context. No site content, information, translations, news, images or otherwise may be reposted to any website without expression permission from the staff.
Current logos by: Juno