»
Episode Guide
» Viewing Episode: ヒコザルVSザングース!運命のバトル!!/Hikozaru VS Zangoose! Battle of Fate!!
It's night, and Ash and his Pokémon are preparing for the second round of the tag battle tournament. Suddenly, Ash sees something across the distance. Meanwhile, many trainers rush into the Pokémon Center and hand their Pokéballs to Nurse Joy. Because there are many Pokémon that need to be healed, Brock offers his assistance to Nurse Joy. Dawn and Conway are also in the Pokémon Center. Conway is talking about how Pokémon interact with humans and how friendship is important. It applies not only to battles, but to contests, too. Dawn knows that this information that Conway is sharing is important, so she decides to pass it along to Ash.

Meanwhile, Paul is doing some training on his own. He has all of his Pokémon attack Chimchar, and then Paul has Chimchar block the attacks with Flame Wheel. Ash approaches Paul. Paul has Chimchar use Flamethrower, which accidentally hits Ash. Team Rocket appears from behind the bushes. They don't like the fact that Paul is treating his Pokémon harshly. Ash recovers from the attack and notices that Chimchar has gotten a lot stronger. Chimchar is pleased to hear Ash's comment, but Paul still isn't satisfied with Chimchar's abilities. Ash continues to tell Paul that he isn't treating Chimchar with proper care. Dawn suddenly appears at the scene and agrees with Ash. Ash wants to know why Paul even entered the tournament. Paul states that he needs Chimchar to become stronger, otherwise it is useless. Ash completely disagrees with Paul, but Paul just ignores him. He tells Ash and Dawn that Chimchar wants this special training, and Chimchar agrees. Ash tells Chimchar that there are better ways of training. Chimchar shows a sad expression on its face, and it sadly follows Paul as him and his Pokémon walk away.

At another location in the forest, Paul continues to have his Pokémon attack Chimchar. Chimchar can't take it anymore, and it ends up getting hurt. Paul orders Chimchar to stand up, but it fails. To "wake" Chimchar up, Elekid shoots out a Thunder attack at Chimchar. Suddenly, Pikachu runs in to block the Thunder. Ash and Dawn follow behind and take Chimchar to the Pokémon Center. Chimchar is layed on a table while Brock begins to heal Chimchar. Brock sprays a Super Potion on Chimchar and then covers it with a blanket. Holly is impressed with how well Brock cares for Pokémon. Brock steps out of the room and reports to Ash, Dawn, and Holly that Chimchar will be okay after some rest.

In the lobby, Paul sits at table. Brock sits right across him and asks Paul why he is pushing Chimchar so hard. Paul begins to tell him a story about how he first met up with Chimchar. He was in a forest with his Elekid when suddenly he saw Chimchar being chased by some Zangoose. The Zangoose wouldn't stop attacking Chimchar, and eventually Chimchar was cornered at the edge of a cliff. Right before the Zangoose could attack, Chimchar unleashed an enormous amount of power that ultimately defeated the Zangoose. Paul witnessed this power, and so he wanted to have Chimchar for himself. Paul states that he has never been able to witness that power again. Brock realizes that Paul is trying to place Chimchar under the same amount of stress that the Zangoose did so that Chimchar can unleash that power. Paul wants to push Chimchar over its limits again. Ash and Brock tell Paul that Chimchar needs lots of rest and Nurse Joy even agrees with them.

The second round of the tag battle tournament has already begun. Dawn, Conway, Brock, and Holly have all made it to the third round. The last battle of the second round is with Ash, Paul, and two other trainers. Ash sends out Turtwig, and Paul sends out Chimchar. Ash is surprised because he knows that Chimchar is worn out and needs rest. Chimchar tells Ash that is is doing alright, and Ash backs off a bit. One of their opponents sends out a Metagross. Dawn looks up the Pokémon in her Pokédex. The other trainer sends out a Zangoose. The Zangoose surprises Chimchar a bit because of its past experience. The battle then begins.

Metagross first starts off with Bullet Punch, and then Chimchar uses Flamethrower. Suddenly, Zangoose jumps off of Metagross and leaps towards Chimchar with X-Scissor attack. Turtwig counters with Razor Leaf, but Zangoose uses its attack to destroy them. Metagross then hits Chimchar with its Bullet Punch attack, and Zangoose strikes Turtwig with X-Scissor. Chimchar recovers and uses Dig. Right before Chimchar can surface, Metagross uses Magnet Rise to prevent Chimchar's attack from working. While Chimchar is in mid-air, Zangoose slashes it with Crush Claw. Ash orders Turwtig to use Tackle on Zangoose. Zangoose dodges the attack, and Metagross sends Turtwig back with Psychic. Then Zangoose jumps into the air and charges towards Chimchar with Crush Claw. Chimchar is paralyzed from the expression on Zangoose's face. Turtwig steps in and protects Chimchar with Bite. Metagross then uses Bullet Punch. Paul orders Chimchar to use Flame Wheel on Turtwig. Chimchar resists a bit, but Paul orders it. So Chimchar uses the attack. Turtwig gets hurt as a result, and the Flame Wheel also hits Metagross, damaging it a bit.

With Turtwig down, Zangoose uses another Crush Claw on Chimchar. Chimchar is pinned to the ground, preventing it from attacking. Ash orders Turtwig to use Razor Leaf even though it is weakened. Turtwig fires the leaves at Zangoose, freeing Chimchar. However, the Razor Leaf weakens Turtwig even more. Zangoose's trainer orders it to use Fire Blast on Turtwig. Just before the fire attack can hit, Chimchar jumps in and holds off the Fire Blast. The power from the Fire Blast increases Chimchar's strength a whole lot. Ash tells Paul to give Chimchar a command so that it can attack, but Paul just stands there and completely ignores Ash and Chimchar. So, Ash orders Chimchar to use Flamethrower. Even though Chimchar is not Ash's Pokémon, Chimchar still obeys Ash and hits Metagross with the Flamethrower. Metagross faints as a result of the attack. Zangoose is still in the battle, however. It uses Crush Claw one last time, but Turtwig dodges the attack. It hits Zangoose with a Razor Leaf, followed up with a Tackle. Zangoose faints, and Ash and Paul are the winners.

After the tag battle, Paul heads off to the forest and releases Chimchar. Paul is done with Chimchar and walks away. Ash and co. soon meets up with Chimchar. Ash sees Chimchar slowly walking away. Before Chimchar disappears, Ash calls out to Chimchar to stay with him. Ash reaches out a hand for Chimchar, and a brand new friendship begins.

Picture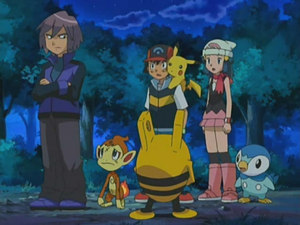 You must be signed in to rate episodes.
Average Rating:
9.04
VHS/DVD/Blu-ray Availability
Titles
| | | |
| --- | --- | --- |
| | 小火焰猴對抗貓鼬斬!命運的對戰!! | |
| | Hořké vítězství | 2009-03-03 |
| | Flammende Storhed | |
| | Glory Blaze | 2008-02-01 |
| | Kunnian kenttä | |
| | S'enflammer pour la gloire | |
| | Willkommen im Team! | |
| | Senza pietà | 2008-03-02 |
| | ヒコザルVSザングース!運命のバトル!! | 2007-10-18 |
| | Hikozaru VS Zangūsu! Unmei no Battle!! | 2007-10-18 |
| | Hikozaru VS Zangoose! Battle of Fate!! | 2007-10-18 |
| | 불꽃숭이 대 쟝고! 운명의 대결!! | |
| | Flammende ære | 2009-05-31 |
| | Blask zwycięstwa | 2009-01-20 |
| | A Chama da Glória! | 2010-03-07 |
| | A Chama da Glória | 2008-11-17 |
| | Сияние славы! | 2009-02-27 |
| | Resplandor de Gloria | |
| | ¡Llamarada de gloria! | |
| | Chimchars dilemma | 2008-11-15 |
Credits
| | | | |
| --- | --- | --- | --- |
| | Animation Director | 志村泉 (Izumi Shimura) | |
| | Episode Director | 古賀一臣 (Kazuomi Koga) | |
| | Screenplay | 冨岡淳広 (Atsuhiro Tomioka) | |
| | Storyboard | 日高政光 (Masamitsu Hidaka) | |
©2002-2020 PocketMonsters.net
Version 5.1778
Rendered in: 0.01926s Queries: 6
Pokémon, all assorted characters, images and audio are ©GAME FREAK, Nintendo, Creatures, TV Tokyo, ShoPro and The Pokémon Company.
All images, text and audio are used in an editorial context. No site content, information, translations, news, images or otherwise may be reposted to any website without expression permission from the staff.
Current logos by: Juno