Pokémon - All Stars Set: Limited Edition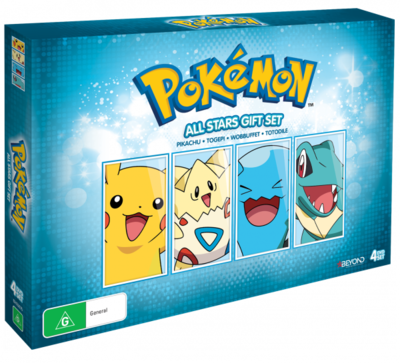 Details
Audio Tracks:
English
Publisher:
Beyond Home Entertainment
Catalog #:
BHE6075
Release Date:
2015-05-01
Aspect Ratio:
4:3
Region Code:
Video Format:
PAL
Storage Medium:
DVD5
Closed Captions?:
No
Rental Only?:
No
Price:
Description
PIKACHU - Meet Pikachu, an Electric-type Pokémon that has the power to zap opponents with electricity. Ash is Pikachu's Trainer and after a stubborn first encounter as well as the occasional accidental zap, the two grow to become best friends!
WOBBUFFET - Meet Wobbuffet, the Patient Pokémon that chooses to endure attacks except when its tail is attacked. Wobbuffet's Trainer is Jessie, who ended up with the Pokémon by accident. With its curious nature Wobbuffet can be distracting at times, but Jessie secretly cares about it.
TOGEPI - Meet Togepi, the Spike Ball Pokémon that supposedly contains happiness in its shell. Togepi's Trainer is Misty and although she doesn't let the Pokémon battle, it has saved the day on more than one occasion using its unpredictable Metronome move.
CHIKORITA - Meet CHIKORITA, the leaf Pokémon who loves to sunbathe! Very gentle and docile, Chikorita is sensitive emotionally, and can become very upset when misunderstood.
This set is a re-release and re-packaging. The disc were originally released as individual DVD's in Australia in 2010 and 2011 by Magna Pacific. Below are the links to the original releases.
Pokémon All-Stars: Chikorita
Pokémon All-Stars: Wobbuffet
Pokémon All-Stars: Pikachu
Pokémon All-Stars: Togepi
Images