»
Episode Guide
» Viewing Episode: アオプルコのきゅうじつ/Holiday at Aopulco
06 Sep 2010 12:46 PM

Registered Users


Joined: 18 Apr 2010
Forum Posts: 84


It's possible that the English crew were lazy and they not paint over most of the Japanese signs. After all, has anyone seen a professor speaking English holding a JAPANESE magazine, but still understanding it?

Look at my YouTube account!

http://www.youtube.com/user/mariobrosfan4000/
07 Jan 2011 08:29 AM

Registered Users


Joined: 07 Jan 2011
Forum Posts: 3


this ep seems different from other episodes, i saw a lot of cut versions out there, mostly on dub version, but it's still awesome :D
07 Feb 2014 05:15 AM

Admin Staff


Joined: 12 Jul 2007
Forum Posts: 956


Summary:

Having just managed to escape from the uninhabited island, Satoshi and friends arrive at Aopulco, said to be the greatest resort in the world. Palm trees line up against beautiful beaches as far as the eye can see... and Satoshi and friends begin their vacation.

But as Satoshi rides around in a cruiser owned by old man Ryu, the proprietor of a beach shack, he ends up destroying it. And while Satoshi and friends start working part-time to pull in customers for him to cover the repair costs, his rival Obaba uses Musashi and Kojiro of the Rocket Gang to disturb his business.

Just then, Professor Okido and Satoshi's mother Hanako come by, being on a tour arranged by the neighborhood committee. At Professor Okido's suggestion, Satoshi and friends decide to hold a "Tanned Beauty and Masquerading Pokémon Contest"...

Voice Cast:

Rica Matsumoto: Satoshi

Ikue Ohtani: Pikachu

Unsho Ishizuka: Professor Okido

Yuko Kobayashi: Shigeru

Mayumi Iizuka: Kasumi

Yuji Ueda: Takeshi

Megumi Hayashibara: Musashi

Shinichiro Miki: Kojiro

Inuko Inuyama: Nyarth

Koichi Kitamura: Ryu

Chika Sakamoto: Obaba

Masami Toyoshima: Hanako

Rikako Aikawa: Zenigame

Koichi Sakaguchi: Arbo

This post was last edited 07 Feb 2014 05:17 AM by Adamant
18 Feb 2014 02:34 PM

Registered Users


Joined: 18 Feb 2014
Forum Posts: 1


Quote From: Rumpelstiltskin

It's possible that the English crew were lazy and they not paint over most of the Japanese signs. After all, has anyone seen a professor speaking English holding a JAPANESE magazine, but still understanding it?

Maybe he learnt a lot of Japanese before he came.
Picture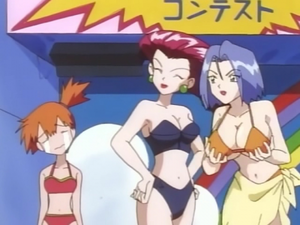 You must be signed in to rate episodes.
Average Rating:
8.00
VHS/DVD/Blu-ray Availability
Titles
| | | |
| --- | --- | --- |
| | 藍普魯奇的渡假日 | |
| | Beauty and the Beach | 2000-06-24 |
| | アオプルコのきゅうじつ | 1997-07-29 |
| | Aopulco no kyūjitsu | |
| | Holiday at Aopulco | 1997-07-29 |
Credits
| | | | |
| --- | --- | --- | --- |
| | Animation Director | 酒井啓史 (Hiroshi Sakai) | |
| | Episode Director | 鈴木敏明 (Toshiaki Suzuki) | |
| | Screenplay | 園田英樹 (Hideki Sonoda) | |
| | Storyboard | 鈴木敏明 (Toshiaki Suzuki) | |
©2002-2019 PocketMonsters.net
Version 5.1778
Rendered in: 0.04588s Queries: 9
Pokémon, all assorted characters, images and audio are ©GAME FREAK, Nintendo, Creatures, TV Tokyo, ShoPro and The Pokémon Company.
All images, text and audio are used in an editorial context. No site content, information, translations, news, images or otherwise may be reposted to any website without expression permission from the staff.
Current logos by: Juno