»
Episode Guide
» Viewing Episode: ハスボーとフラワーショップの三姉妹!/Hassboh and the Three Sisters from the Flower Shop!!
Ash, May, and Brock jump into the lake for some swimming. Brock does some stretches before he jumps into the water. Ash and May splahes Brock. Brock floats on top of the water. He loves the smell of the fresh water. Suddenly, Pikachu senses something. A bunch of things that look like lily pads creep up to them. Ash suggests they swim to shore immediately. They start to swim back when Max is pulled down. Soon, Ash, May, and Brock are pulled down as well. The things they saw are Lotad. The group gets a good look at all of them. Then the Lotad push Ash and co. out of the water and onto the shore.

Ash looks up Lotad in his Pokédex. They think the lake belongs to the Lotad. Then the Lotad all jump onto land near Ash and co. May hides behind Max. Ash thinks the Lotad are friendly and that they just want to play. Then all the Lotad use Water Gun in the sky. The Water Guns touch each other, and they form a welcome for Ash and co. Max says that normal Lotad can't use Water Gun. They see one Lotad in this situation. Brock walks to the Lotad and gets sprayed with water by it.

A girl walks to Ash and co. She says that they can't swim in the lake because it belongs to the Lotad. The girl is really bossy. She then wants Ash and co. to come with her for a lecture. Meanwhile, Team Rocket is slowly walking through the forest. They are very thirsty and tired. Jessie wants to know where they are at, but none of them know. Suddenly, James collapses. Jessie and Meowth want to help James. James sees a berry on a tree. Jessie and Meowth both run over to it, and they fight over it. When they both take a bite from the berry, their mouths are on fire.

The girl leads Ash and co. to her house. An older woman gives the girl a lecture about being kinder to travelers. The older woman's name is Nicole, and the younger girl is Natalie. Their house is a flower shop. Nicole runs the flower shop. Ash and co. introduce themselves to Nicole and Natalie. When Brock introduces himself, he holds Nicole's hand and tells good things about her. Nicole offers the group a slice of pie. Ash and co. accept her offer.

Suddenly, another girl walks in the door with a Wailmer Pail. Her name is Rita. Brock says lots of nice things about Rita, and this makes Natalie jealous. Rita thinks that it is love at first sight. Everyone sits at a table and has a slice of pie. May loves the taste of the pie. Nicole tells her that the pie is from the berries that they grew. Because of their mild climate, they can grow a lot of good things. Rita asks May if she would like to see some more things that they have been growing. May agrees to this. Natalie has prepared a special pie for Brock. It is a big stack of pies.

When they are done eating, Ash sends out Treecko and Taillow, so that they can enjoy the outside. Brock thinks it is a good idea and he sends out Forretress. May sends out Torchic. All the Pokémon are happy to be outside. Then Nicole leads them all to her garden. May compliments on the garden's beauty. Nicole also shows them the berries they grow. She introduces the group to a few of the berries. Ash notices a red-looking berry from the tree. He is about to eat it when Nicole stops him. She says that the berry is a Tomato Berry and that it is very hot. Ash and co. wonder why Nicole would be growing berries that are hot. Nicole tells them that the berries all have different effects on the Pokémon. Natalie explains that transforming the berries into Pokémon food can heal your Pokémon and do all sorts of other nice things. Nicole points to a tree and explains that the tree has Sitrus Berries. Brock is very interested in the berries because he wants to learn how to be a great breeder. Natalie decides to make Brock a list of all the different berries. Brock is happy by that.

Rita comes out and tells Nicole that one of their pipes are broken, and that she will have to fix it. Fortunately for Rita, the Lotad are helping fix the pipe. The Lotad have water on their heads and they pour the water near the trees. Then the Lotad use Water Gun. Max wants to know why the Lotad can use Water Gun since they normally can't. Nicole tells Max that these Lotad can perform all kinds of special moves. Ash suggests that they help out too.

Team Rocket is at the lake. They are drinking from the lake to regain their strength. Jessie and Meowth have red lips from the previous berry they ate. James takes out his binoculars. He sees Ash and co. on the other side of the lake. With them are a group of Lotad. Meowth suggests they steal the Lotad and give them to the boss. They dream of themselves getting big promotions and lots of money. They think of a plan to capture the Lotad.

Everyone is helping the Lotad by carrying a bucket of water. Suddenly, the Lotad stop. At the front of the line is that weird Lotad that couldn't use Water Gun. Brock walks up to the Lotad and shows it how to pour the water onto the soil from its head. Lotad thanks Brock for helping it out. Rita notices how nice Brocks is to Pokémon. She thinks Brock will be a great Pokémon Breeder.

When the Lotad are done watering the plants, they all head on back to the lake. Suddenly, Nicolie runs up to the group and presents Rita a note. The note is from Natalie and it says that she went to look for Sitrus Berries. Brock thinks that Natalie went to get the Sitrus Berries for him, so he decides to find her. Rita and Ash also go with Brock to look for Natalie.

It is finally dark outside and Brock, Rita, and Ash still haven't found Natalie yet. Pikachu hears something in the bushes. Lotad comes out. Brock picks Lotad up and takes care of it. Meanwhile, Natalie is still searching for the Sitrus Berries. She suddenly finds one on a tree. She pulls it off a tree. Suddenly, Natalie hears something in the bushes. A Beedrill pops out of the bush and faces Natalie. Natalie screams. Ash, Brock, and Rita hears Natalie's scream, and they rush to her rescue. Before the Beedrill can hit Natalie, Brock sends out Forretress. Forretress uses a Rapid Spin on Beedrill, causing it to fly away. Rita scolds Natalie for disappearing. Natalie apologizes to her big sister, and then she gives the Sitrus Berry to Brock.

Pikachu senses something again. They all run to the lake only to find Team Rocket there with a boat. Team Rocket laughs and they say their motto. When Team Rocket is finished with their motto, they drive off in their boat to capture the Lotad. Lotad and Pikachu get an idea. Pikachu climbs on Lotad's head, and Lotad swims off to catch Team Rocket. Meanwhile, all the Lotad are being sucked into Team Rocket's boat. Nicole, May, and Max sees Team Rocket stealing all of the Lotad. Suddenly, Pikachu and Lotad begin to gain on Team Rocket. Pikachu jumps off Lotad and lands on Team Rocket's boat. Team Rocket is happy to see Pikachu because they can catch it. Then the Lotad that Pikachu was riding on fires a powerful Water Gun at Team Rocket's boat. A hole is created and the other Lotad begin to escape. When all the Lotad are free, Pikachu uses Thunderbolt. The boat explodes and Team Rocket blasts off again.

The Lotad are all fine. Nicole tells Natalie not to run off by herself again. The next day, Natalie gives Brock a list of all the berries. Brock thanks Natalie for the list. Nicole tells Ash that Rustboro City is just ahead. Rita wishes Ash and May good luck with their gym battles. The same Lotad from before walks up to Brock. Brock picks the Lotad up. Max thinks that Lotad wants to stay with Brock. Nicole, Natalie, and Rita agree with Max. Brock is happy to have Lotad on his team. Now Ash and co. head up to Rustboro City.
Picture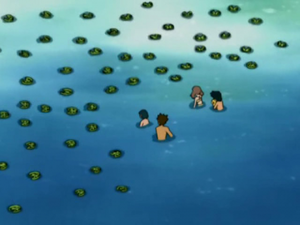 You must be signed in to rate episodes.
Average Rating:
7.30
VHS/DVD/Blu-ray Availability
Titles
| | | |
| --- | --- | --- |
| | 蓮葉童子與花店三姊妹! | |
| | Skibet Er Lastet Med Lotad | |
| | Leve de Lotad | |
| | The Lotad Lowdown | 2003-12-20 |
| | Alakuloinen Lotad | 2005-02-10 |
| | La Team Rocket prend l'eau | |
| | Rocko und das kleine Loturzel | |
| | האמת על לוטד | |
| | Tutti Frutti | |
| | ハスボーとフラワーショップの三姉妹! | 2003-02-13 |
| | Hassboh to flower shop no san shimai!! | 2003-02-13 |
| | Hassboh and the Three Sisters from the Flower Shop!! | 2003-02-13 |
| | Lotad overalt | 2004-08-22 |
| | Podły Lotad | |
| | O Meu Amigo Lotad | |
| | O Pequeno Lotad! | |
| | Lotad Acuáticos | |
| | Lotad Acuáticos | |
| | Brocks nya vän | 2004-10-31 |
Credits
| | | | |
| --- | --- | --- | --- |
| | Animation Director | 岩根雅明 (Masaaki Iwane) | |
| | Episode Director | 浅田裕二 (Yūji Asada) | |
| | Screenplay | 十川誠志 (Masashi Sogo) | |
| | Storyboard | 片貝慎 (Shin Katakai) | |
©2002-2020 PocketMonsters.net
Version 5.1779
Rendered in: 0.01576s Queries: 6
Pokémon, all assorted characters, images and audio are ©GAME FREAK, Nintendo, Creatures, TV Tokyo, ShoPro and The Pokémon Company.
All images, text and audio are used in an editorial context. No site content, information, translations, news, images or otherwise may be reposted to any website without expression permission from the staff.
Current logos by: Juno