»
Episode Guide
» Viewing Episode: おきろ!カビゴン!/Wake up! Kabigon!
23 Apr 1998 03:00 AM

Automated Bots


Joined: 31 Dec 1969
Forum Posts: 1356

02 Jun 2015 07:12 AM

Admin Staff


Joined: 12 Jul 2007
Forum Posts: 1019


Summary:
Traveling makes you hungry. Completely starved, Satoshi and his friends arrive in a village in search of food. However, neither the bakery nor the greengrocery have any food at all, nor do the restaurants.

Completely bewildered and too hungry to even move, the group is approached by the village elder, who treats them to a meal. At the elder's house, they learn that the village hasn't been able to harvest any crops due to a drought, though they don't understand why this would be the case, since it has been raining.

Wanting to pay the elder back for treating them, the group starts heading up the dried-out river to investigate, hoping to find the cause of this.

Voice Cast:
Rica Matsumoto: Satoshi
Ikue Ohtani: Pikachu
Mayumi Iizuka: Kasumi
Yuji Ueda: Takeshi
Megumi Hayashibara: Musashi
Shinichiro Miki: Kojiro
Inuko Inuyama: Nyarth
Hiroshi Ohtake: Old Man
Takeshi Watabe: Elder
Rikako Aikawa: Koduck
Koichi Sakaguchi: Arbok
Mr. T: Kabigon
Unsho Ishizuka: Narration
Picture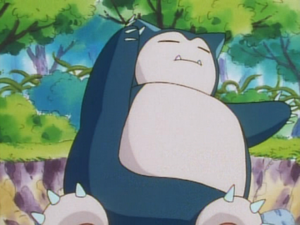 You must be signed in to rate episodes.
Average Rating:
7.53
VHS/DVD/Blu-ray Availability
Titles
| | | |
| --- | --- | --- |
| | 醒來吧!卡比獸 | |
| | Vstávej Snorlaxi | |
| | Vågn Op Snorlax | |
| | Wakker Worden Snorlax! | |
| | Wake up Snorlax | 1998-10-28 |
| | Snorlax, herätys! | 2000-12-02 |
| | Sommeil sans faim | |
| | Relaxo im Tiefschlaf | |
| | Ξύπνα, Σνόρλαξ! | |
| | התעורר סנורלקס | |
| | Ébredj, Snorlax! | |
| | Il Pokémon addormentato | |
| | おきろ!カビゴン! | 1998-04-23 |
| | Okiro! Kabigon! | |
| | Wake up! Kabigon! | 1998-04-23 |
| | Våkn opp, Snorlax | |
| | Obudź się, Snorlax! | |
| | Acorda Snorlax | |
| | Acorde, Snorlax | |
| | Просыпайся, Снорлакс! | |
| | Despierta Snorlax | |
| | Despierta Snorlax | |
| | Vakna, Snorlax | 2001-02-04 |
Credits
| | | | |
| --- | --- | --- | --- |
| | Animation Director | 志村泉 (Izumi Shimura) | |
| | Episode Director | 小川浩司 (Kōji Ogawa) | |
| | Screenplay | 大橋志吉 (Yukiyoshi Ōhashi) | |
| | Storyboard | 鈴木敏明 (Toshiaki Suzuki) | |
©2002-2020 PocketMonsters.net
Version 5.1778
Rendered in: 0.01711s Queries: 9
Pokémon, all assorted characters, images and audio are ©GAME FREAK, Nintendo, Creatures, TV Tokyo, ShoPro and The Pokémon Company.
All images, text and audio are used in an editorial context. No site content, information, translations, news, images or otherwise may be reposted to any website without expression permission from the staff.
Current logos by: Juno