»
Episode Guide
» Viewing Episode: そだて屋さんとポケモンのタマゴ!/The Day Care Workers and the Pokémon Eggs!
Ash and co. continue their way to the Battle Dome where Ash will battle for his third symbol. Ash has his badge case opened and stares at his new Guts Symbol. May sees a farm. She runs towards it and states how cute the farm is today. Suddenly two Voltorb surround May. They electrify her with a Thunderbolt. Ash, Brock, and Max rush to May's side. Brock wonders why the Voltorb attacked May since they didn't do anything wrong. A girl walks out. She tells them with a stubborn attitude that the Voltorb are trained to attack anyone who trespasses their property. May never knew she was trespassing. She feels aweful just thinking about it. The girl takes a look at May and realizes that she participated in the Saffron City contest. Two other people walk out of the farm. They call for the girl, Nicoled.

At the farm, the two people invite Ash and co. to stay for a while. The two people are Nicoled's parents. Her dad says that Nicoled is trying to become a Pokémon Coordinator, just like May. The dad introduces himself as Christopher and his wife, Jeanie. May says that becoming a coordinator isn't very hard. Brock wonders if there is a problem. Christopher states that they think that becoming a coordinator is the best thing for Nicoled, but she also likes to be home a lot. Jeanie also thinks that becoming a coordinator would be very good for Nicoled. Max asks Christopher the type of farm they run. Christopher tells Max that they are an egg farm where Pokémon eggs are raised. May and Max are surprised since they have never seen a Pokémon egg before. May gets all excited and asks if they can have a tour around the place. Christopher agrees to this.

Max sits on the grass with Munchlax. He grooms it and tells Munchlax that it will have to look its best for Pokémon Contests. Nicolet walks up to Max. She wants to have a battle with Munchlax. May catches up with Nicolet. May tells her to start training to become Pokémon Coordinator. Nicolet tells May that she can train on the farm. Then Nicolet challenges May to a battle, however Nicolet wants to battle Munchlax. Since Munchlax hasn't had much training, May gets a bit nervous. Nicolet doesn't leave May with any choice. She sends out her Vileplume. Vileplume starts the battle off with Petal Dance to confuse Munchlax. Munchlax begins to move its fingers. Max warns May about the Metronome attack and that Munchlax can use any attack. The Metronome turns into a Splash. Vileplume unleashes a Stun Spore. The attack paralyzes Munchlax. May is in a panic since Munchlax has never battled before. Vileplume fires a Bullet Seed at Munchlax. Nicolet starts to tease May about how she isn't so good anymore. This gets May mad. She says that all Munchlax needs is some focus. With that, Munchlax shoots out running towards Vileplume. It punches Vileplume with a Focus Punch. May and Max are both shocked that Munchlax learned how to use Focus Punch. To finish the battle off, Munchlax charges up for a Solarbeam. It fires it right at Vileplume. Vileplume tries to dodge the attack, but the Solarbeam damages one of Vileplume's petals causing it to faint. Nicolet returns Vileplume back to its Pokéball. May is happy for Munchlax.

Ash and Brock call out for May and Max so that they can look at the eggs. Christopher takes them to a shed full of eggs. Everyone gazes at the beautiful eggs laid on the shelves. Christopher tells Ash and co. that the eggs on one shelf are for safe keeping and that they are suppose to care for them. On another shelf are eggs that are their own. Then Christopher asks May if she would be willing to share her stories to Nicolet. May says yes, and Ash and Brock say that they would also like to help in anyway possible. Christopher then tells them that a Pokémon egg is ready to hatch very soon. Ash and co. agree to help him with the eggs.

Team Rocket is watching the farm behind bushes. They want to steal some of the Pokémon eggs. Meowth reminds Jessie and James about the Voltorb that are guarding the farm. James gets an idea and tells them his plan.

Ash and co. compliment on the dinner they had just ate. Christopher and Jeanie ask Nicolet if she wants to hear some stories about May's adventures. Sadly, Nicolet says no and walks away into another room. May assumes that Nicolet doesn't like her, but Nicolet's parents tells May that she is just being stubborn. Suddenly, an electric shock is seen out the window. Brock thinks that the Voltorb caught a trespasser. When everyone walks outside, they see a gigantic egg sitting on the grass. A note falls down from the top of the egg. Brock reads the note. It says to take care of the egg for a bit. They put the egg back to the shed. Jessie and James watch as Ash and co. carry the egg back to the farm.

In another room, Ash and co. watch as a Pokémon egg glows. It is the egg that is about to hatch. Brock asks if there is anything else they can do to help. Jeanie tells them to keep an eye on things and let her know if anything comes up. Ash and co. agree to take the job. May sees Nicolet in a room rubbing a cloth on an egg. She walks inside and does the same thing. Nicolet tells May to rub the egg softer. Nicolet tells May that she loves taking care of the eggs on the farm. She also says that she would love to travel around, but she is scared. May tells her that everyone gets scared, but it gets better the more you travel. Nicolet still doesn't have the confidence to travel.

Jessie and James are in their balloon. Jessie contacts Meowth who is in the Pokémon egg that was recently brought into the farm. Jessie tells Meowth to go with their plan. Robot arms and legs come out of the egg. The egg robot begins to steal all the eggs. Meowth, in the robot, sees the egg that is about to hatch. An arm shatters the window and steals the egg. Jeanie calls Ash and co. over. Christopher explains to them what happened. Meowth begins to run off. The Voltorb tries to stop Meowth, but they end of getting knocked out. Ash and co. rush to the scene. Jessie and James float down in their balloon. They say their motto. Christopher and Jeanie don't know who Team Rocket is. Max tells them that Team Rocket are the bad guys who try to steal Pokémon. Nicolet sees that Team Rocket stole the egg that was about to hatch.

Ash tells Pikachu to use Thunderbolt, but Nicolet stops him. She tells her that a thunderbolt could destroy the eggs. They connect the robot to the balloon and begin to float away. May tells Nicolet to get her Vileplume to use Stun Spore since the attack won't damage the eggs. Vileplume comes out, and it paralyzes Team Rocket with Stun Spore. Then Vileplume fires a Petal Dance at Team Rocket, confusing them. The balloon begins to shake. The eggs fall out of the compartment. Ash and co. run quickly to catch the eggs. Everyone catches a tray of eggs. The egg that is about to hatch still is falling. May sends out Munchlax. The egg bounces off of Munchlax and into Jeanie's arms. Team Rocket tells Meowth to steal back the eggs. More arms come out of the robot, but Vileplume's Bullet Seed destroys them. May and Nicolet both tell their Pokémon to use Solarbeam. When the attack hits Team Rocket, they are still standing. Team Rocket runs away from them. Ash tells Pikachu to use Quick Attack. Pikachu runs towards Team Rocket. Electricity begins to surround Pikachu's body. Pikachu shoots right through the robot. Ash and co. wonder what attack Pikachu just did. Brock tells Ash that Pikachu did Volt Tackle. Team Rocket blasts off into the sky.

During the day, Ash and co. crowd around the egg that is about to hatch. After a few moments, the egg hatches into a Vulpix. May looks up Vulpix in her Pokédex. May says that it is cute, and Brock says that the best part was that they got to see it hatch. May is happy for Nicolet. The attack combination she did before was really good, and that proves that Nicolet won't have any problems on her journey. Nicolet decides to travel after all. Christopher and Jeanie thanks Ash and co. for taking care of their eggs. They reward May with a Pokémon egg of her own. May thanks them for the egg. They say goodbye and head back on the road to the Battle Dome.
Picture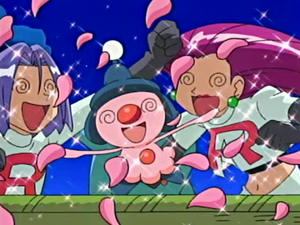 You must be signed in to rate episodes.
Average Rating:
7.50
VHS/DVD/Blu-ray Availability
Titles
| | | |
| --- | --- | --- |
| | 撫養家與神奇寶貝蛋! | |
| | Mays Ægstra Gode Eventyr | 2008-09-27 |
| | Het Ei-zersterke Avontuur van May | |
| | May's Egg-Cellent Adventure! | 2006-09-23 |
| | May ja Pokémon-muna | 2008-07-12 |
| | Qui vole un oeuf | |
| | Ein 'Ei'-maliges Abenteuer! | |
| | Η Αυγο-Περιπέτεια της Μέι | |
| | Gli allevatori di uova di Pokémon | |
| | そだて屋さんとポケモンのタマゴ! | 2005-11-03 |
| | Sodateya-san to Pokémon no tamago! | 2005-11-03 |
| | The Day Care Workers and the Pokémon Eggs! | 2005-11-03 |
| | Mays ekstreme utflukt | 2009-06-22 |
| | A Maravilhosa Aventura da May | |
| | La Huevo-Aventura De Aura | |
| | La Excelente Aventura de May | |
| | Majs ägg-ande upplevelse | 2008-09-24 |
Credits
| | | | |
| --- | --- | --- | --- |
| | Animation Director | 岩根雅明 (Masaaki Iwane) | |
| | Episode Director | 浅田裕二 (Yūji Asada) | |
| | Screenplay | 武上純希 (Junki Takegami) | |
| | Storyboard | 浅田裕二 (Yūji Asada) | |
©2002-2020 PocketMonsters.net
Version 5.1779
Rendered in: 0.01566s Queries: 6
Pokémon, all assorted characters, images and audio are ©GAME FREAK, Nintendo, Creatures, TV Tokyo, ShoPro and The Pokémon Company.
All images, text and audio are used in an editorial context. No site content, information, translations, news, images or otherwise may be reposted to any website without expression permission from the staff.
Current logos by: Juno