»
Episode Guide
» Viewing Episode: ハンターJ再び!タテトプスを守れ!!/Hunter J Returns! Protect Tatetops!!
Ash and co. are continuing their journey through Sinnoh and are at the foot up Mt. Coronet. They've met up with a weird Pokémon. Ash looks it up in his Pokédex and discovers that it is a Shieldon. Brock knows that Sheildon are rare Pokémon. Dawn thinks it's cute, too. Suddenly, they hear a tree tumble to the ground. A large truck approaches them and a man walks out of it. Ash and co. recognize the truck belonging to Hunter J. Dawn and Brock know that the man is here to steal Shieldon. Ash orders Pikachu to use Thunderbolt. The man sends out Golbat. It dodges the Thunderbolt and hits Pikachu with Wing Attack. Two hunter appear. Suddenly, a blast of electricity from another direction gets fired at the hunters. Gary and his Electivire run out to greet the Shieldon. Ash greets Gary. Gary tells Ash that they have to run quickly. While running, Dawn asks Brock who Gary is, and Brock tells her that Gary is another one of Ash's rivals.

The two hunters report to Hunter J that they weren't able to capture Shieldon. Hunter J is not happy about the news, but the hunters promise her that they will capture it. When Ash and co. are at a safe place, Gary explains that the has become a Pokémon researcher. Gary greets Dawn since it is his first time meeting her. Brock tells Dawn that Gary is Professor Oak's grandson. Three more Shieldon lie up ahead. Gary explains that Mt. Coronet is the only place where Shieldon live. Gary then pulls out his laptop and connects with Professor Rowan. He explains to the professor that Pokémon hunters are nearby and they want to caputure the Shieldon. Gary plans on taking the Shieldon out to safety. Professor Rowan approves of Gary's plan and points to a location where they can meet up. Ash wants to help Gary protect the Shieldon, and Gary agrees.

Team Rocket has been watching Ash and co. from behind the bushes. James knows that the boss would love the Shieldon. Jessie and Meowth know that Hunter J has a lot of rare Pokémon in her collection. They want to defeat Hunter J as revenge for what she did to them the last time. Suddenly, the two hunters approach again in their truck. Gary sends out Blastoise. It uses Water Gun on the truck, but it has little effect. Pikachu then uses Thunderbolt on the truck because it was covered with water. The truck stops, and one of the hunters gets out. He sends out Golbat who uses Wing Attack on Blastoise. Ash wants to attack the hunters, but Gary stops him. Gary says that they can't or the Shieldon may get hurt. Golbat charges towards Ash and co. Gary sends out Umbreon, and it uses Sand-Attack on Golbat. Golbat gets covered with sand, but it recovers quickly. It fires an Air Cutter at Umbreon. Umbreon dodges the attack. The Air Cutter hits a nearby tree, which is the home to many Beedrill. The Beedrill attack the hunters. While the hunters are being attacked, Ash and co. flee.

Gary explains that he knew about the Beedrill living in the tree. That's why he had Golbat attack it. Gary states that he has been researching the area a lot and knows a lot about the Pokémon living there. Meanwhile, Hunter J is talking to what seems to be one of her clients. Her client wants the Shieldon soon. J calmly tells him that he can pick the Sheildon up immediately. When her chat is over, the captain reports a few intruders in a section of Mt. Coronet. J orders him to secure the area up. Many more of J's henchmen begin to go into the area where Ash and co. are at. Ash and co. are beginning to notice the guards everywhere. Ash wants to battle them all, but Gary stops him. Gary states that their battling may put the Shieldon in even more danger, and the others agree. Gary explains that they have to find another route to get to Professor Rowan or else they will be in trouble.

Ash and co. begin to walk slowly on the edge of a cliff. Brock reminds everyone not to look down. One of the Shieldon does look down. It freaks out and falls along with the others. Luckily the Shieldon are tied together with a rope. Ash grabs onto the rope, and Dawn and Gary help pull the Shieldon back up onto the ledge. Meanwhile, Team Rocket has made it inside J's headquarters. Jessie sees a camera and thinks it's a movie camera. James and Meowth look up and recognize it to be a security camera. The camera has already seen Jessie, and a voice orders them to freeze. Team Rocket then says their motto. Suddenly, the room that Team Rocket is in gets sealed up, leaving Team Rocket with no way to escape.

J rides on her Salamence to the place where the two hunters are at. The two hunters report that they haven't found the Shieldon yet. Then J gets a call from her captain telling her that there is some movement in one of the areas. J looks it up and thinks that it is some friends of Ash and co. It happens to be Professor Rowan and Officer Jenny. Gary has just spoken to Professor Rowan who happens to be nearby. Suddenly, J and Salamence appear. Ash and co. are surprised that J was able to find them. J orders Ash and co. to surrender over the Shieldon. Ash tells Pikachu to use Iron Tail. Pikachu attacks J, but J is still able to fight. J sends out Dorapion who uses its Cross Poison attack on Pikachu. Gary tells Dawn and Brock to take care of the Shieldon while he fights J with Ash. Dawn and Brock agree.

Gary sends out Blastoise who uses Hydro Cannon. Salamence counters the attack with Hyper Beam. Dawn and Brock begin to lead the Shieldon away until one of them falls. J sees it and freezes it with her gun. This gets Ash mad. He orders Pikachu to use Thunderbolt, but Dorapion protects itself and J. J orders Salamence to use Hyper Beam and Dorapion to use Pin Missile. These two attacks knock Ash and Gary off their feet.

Moments later, Professor Rowan and Officer Jenny approach Dawn, Brock, and the other three Shieldon. Brock tells them the story. Officer Jenny states that they must go after Hunter J and find Ash and Gary. J places Shieldon in the truck. Ash and Gary hop on the bottom of the truck and hold on while the truck drives away. J and the truck heads back to the headquarters. J decides to wait for her client to pick up Shieldon. Ash quietly sends out Staravia so that it can look for Dawn, Brock, and the others. Then the truck is driven into the headquarters.

Once Ash and Gary are inside, they begin to use their Pokémon to wreck the place. A few of J's henchmen are sent inside to stop them. When enough damage has been caused, Ash and Gary run out to search for Shieldon. A hole is blasted into the wall that is trpaping Team Rocket. Team Rocket manages to escape through the wall. Then Ash and Gary blast their way out of the headquarters. Ash takes Shieldon and frees it. J is about to attack when her client tells her that the deal is off because Officer Jenny is coming. J has no choice but to order her men to retreat.

As soon as J's vehicle lifts off into the air, Professor Rowan and Officer Jenny meet up with Ash and Gary. Officer Jenny states that she will do a full investigation of Hunter J. Professor Rowan is glad that everyone is alright. Gary thanks Ash for his bravery. Without it, they would have never been able to save Shieldon. Then Gary says his goodbyes to Ash and he departs with Professor Rowan. Now with the Shieldon all safe, Ash and co. continue their journey towards Hearthome City.
Picture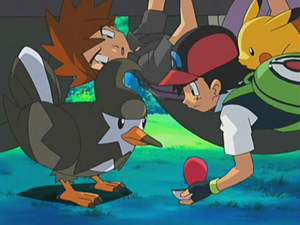 You must be signed in to rate episodes.
Average Rating:
8.86
VHS/DVD/Blu-ray Availability
Titles
| | | |
| --- | --- | --- |
| | 獵人J再度現身!保護盾甲龍!! | |
| | Zlovolný lov | 2009-02-26 |
| | En Ondsindet Jæger | |
| | Ill-Will Hunting! | 2008-01-12 |
| | Metsästäjää paossa | |
| | Chasse au Dinoclier | |
| | Rettet Schilterus! | |
| | Caccia allo Shieldon / Mai più nemici | 2008-02-16 |
| | ハンターJ再び!タテトプスを守れ!! | 2007-08-30 |
| | Hantā Jē Futatabi! Tatetopusu wo mamore!! | 2007-08-30 |
| | Hunter J Returns! Protect Tatetops!! | 2007-08-30 |
| | 포켓몬 사냥꾼 제이! 방패톱스를 지켜라! | |
| | En ondsinnet jeger! | 2009-04-26 |
| | Łowczyni powraca | 2009-01-15 |
| | A Caça! | 2010-02-20 |
| | O Dia da Caça! | 2008-08-29 |
| | Охота за покемонами! | 2009-02-15 |
| | Caza Mal Intencionada | |
| | ¡A la caza de los Shieldon! | |
| | Jägare J | 2008-10-11 |
Credits
| | | | |
| --- | --- | --- | --- |
| | Animation Director | 志村泉 (Izumi Shimura) | |
| | Episode Director | 小山賢 (Masaru Koyama) | |
| | Screenplay | 藤田伸三 (Shinzō Fujita) | |
| | Storyboard | 古賀一臣 (Kazuomi Koga) | |
©2002-2020 PocketMonsters.net
Version 5.1778
Rendered in: 0.01514s Queries: 6
Pokémon, all assorted characters, images and audio are ©GAME FREAK, Nintendo, Creatures, TV Tokyo, ShoPro and The Pokémon Company.
All images, text and audio are used in an editorial context. No site content, information, translations, news, images or otherwise may be reposted to any website without expression permission from the staff.
Current logos by: Juno