»
Episode Guide
» Viewing Episode: 史上最悪のトゲピー!/The Most Horrible Togepi of All Time!
07 Sep 2009 01:44 PM

Registered Users


Joined: 19 Apr 2009
Forum Posts: 191


From the preview, seems like it`ll be an interesting episode, the "evil laugh" that Togepi did was a little different from what one would normally expect from it, but it`ll be humorous to see how it progresses.


10 Sep 2009 09:03 PM

Registered Users


Joined: 05 Mar 2009
Forum Posts: 274


the episode is ok but that wasn,t what i,m expecting from that episode though i find. and i give up on the platinum game and not getting any future pokemon games because i,m not to happy about not beating cyrus in the distortion world when it comes to platinum pokemon game
13 Sep 2009 02:56 AM

Registered Users


Joined: 10 Nov 2008
Forum Posts: 122


I gotta say, this was a really fun episode. It seems like this episode was full of references to other animes, including Naruto. Still, it seems really wierd seeing a demonic and sadistic Togepi.
31 Jan 2010 01:02 AM

Admin Staff


Joined: 18 Jun 2007
Forum Posts: 115


I rather enjoyed this episode, the evil Togepi made me laugh a lot!

Administrator/Lead Programmer of pm.net
Picture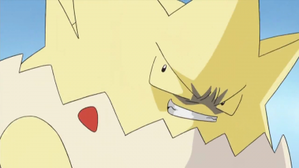 You must be signed in to rate episodes.
Average Rating:
8.08
VHS/DVD/Blu-ray Availability
Titles
| | | |
| --- | --- | --- |
| | 史上最邪惡的波克比! | |
| | Místo, kam noha Togepiho ještě nevkročila | 2010-08-25 |
| | Where No Togepi Has Gone Before! | 2010-01-30 |
| | Un Togépi facétieux! | 2010-09-06 |
| | Wo ein Togepi noch nie gewesen ist! | 2010-06-08 |
| | מקום בו לא היה טוגפי מעולם | 2010-09-15 |
| | Dove nessun Togepi è arrivato prima! | 2010-06-02 |
| | 史上最悪のトゲピー! | 2009-09-10 |
| | Shijō saiaku no Togepi! | 2009-09-10 |
| | The Most Horrible Togepi of All Time! | 2009-09-10 |
| | 토게피를 믿지 마세요! | 2010-03-15 |
| | Hvor ingen Togepi har dratt før! | 2011-05-22 |
| | Um Togepi a Caminho das Estrelas! | 2011-07-14 |
| | ¡Lo que nunca se esperaría de un Togepi! | |
| | ¡A donde un togepi no fue antes! | 2010-10-06 |
| | Här har ingen Togepi varit förut! | 2011-03-27 |
Credits
| | | | |
| --- | --- | --- | --- |
| | Animation Director | 岩根雅明 (Masaaki Iwane) | |
| | Episode Director | 浅田裕二 (Yūji Asada) | |
| | Screenplay | 米村正二 (Shōji Yonemura) | |
| | Storyboard | 浅田裕二 (Yūji Asada) | |
©2002-2020 PocketMonsters.net
Version 5.1778
Rendered in: 0.01673s Queries: 9
Pokémon, all assorted characters, images and audio are ©GAME FREAK, Nintendo, Creatures, TV Tokyo, ShoPro and The Pokémon Company.
All images, text and audio are used in an editorial context. No site content, information, translations, news, images or otherwise may be reposted to any website without expression permission from the staff.
Current logos by: Juno