»
Episode Guide
» Viewing Episode: メガタブンネVSギガギガニャース!!/Mega Tabunne VS Giga Giga Nyarth!!
04 Nov 2015 10:29 AM

Admin Staff


Joined: 12 Jul 2007
Forum Posts: 1011


Joy and her assistant Tabunne get in a huge quarrel! What will Satoshi do? Also, if you participate in today's data broadcast, you will receive a universal serial code with which you can obtain a "level 100 Zygarde" in your video game.

Summary:

The woman Satoshi and his friends rescue in a forest turns out to be a slightly eccentric Joy who researches Mega Evolution. Satoshi and the others head to the Pokémon Center together with her, but they don't get to enter it! Apparently Joy's assistant Tabunne is angry at her for just leaving like that all the time. Satoshi and his friends do their best to make the two reconcile, but then the Rocket Gang shows up!

Voice Cast:

Rica Matsumoto: Satoshi

Ikue Ohtani: Pikachu

Mayuki Makiguchi: Serena

Yuki Kaji: Citron

Mika Kanai: Eureka

Megumi Sato: Dedenne

Megumi Hayashibara: Musashi

Shinichiro Miki: Kojiro

Inuko Inuyama: Nyarth

Yuji Ueda: Sonansu

Hiroshi Tsuchida: Platane

Chinatsu Akasaki: Joy

Shiho Kokido: Tsutomu

Miyako Ito: Chief Nurse

Unsho Ishizuka: Narration

Data broadcast:

"The three-week-straight data broadcast giveaway campaign"

In today's data broadcast, a "universal serial code" for receiving a "level 100 Zygarde" in your Pocket Monsters X/Y/Omega Ruby/Alpha Sapphire" video game will be announced!

*the exact timing of the "universal serial code" announcement varies by television.

How to receive:

Once the show has started, press the d-button on your remote to participate in the data broadcast. Then, use the button in the top right of the data broadcast screen to enter the screen where the "universal serial code" can be seen. Finally, enter the announced "universal serial code" in a Nintendo 3DS "Pocket Monsters X/Y/Omega Ruby/Alpha Sapphire" video game that's connected to the Internet to obtain the Pokémon.

This post was last edited 04 Nov 2015 10:47 AM by Adamant
07 Feb 2016 01:01 PM

Banned Users


Joined: 06 Feb 2016
Forum Posts: 15


The dub title has been revealed.

Title: A Giga Battle With Mega Results!
Airs: March 5, 2016
Source: http://tvschedule.zap2it.com/tv/pok%C3%A9mon-xyz-a-giga-battle-with-mega-results/EP023613740003?aid=tvschedule (Zap2it)
Picture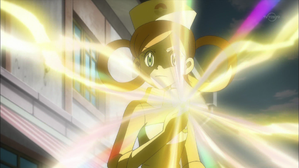 You must be signed in to rate episodes.
Average Rating:
7.00
VHS/DVD/Blu-ray Availability
Titles
| | | |
| --- | --- | --- |
| | A Giga Battle With Mega Results! | 2016-03-05 |
| | Un giga-combat, pour de méga-résultats ! | 2016-04-13 |
| | Giga-Kampf – Mega-Ergebnisse! | 2016-06-11 |
| | Una giga lotta con mega conclusione! | 2016-05-14 |
| | メガタブンネVSギガギガニャース!! | 2015-11-12 |
| | Mega Tabunne VS Giga Giga Nyarth!! | 2015-11-12 |
| | Mega Tabunne VS Giga Giga Nyarth!! | 2015-11-12 |
| | 메가다부니 VS 기가기가나옹!! | 2016-03-29 |
| | ¡Una gigabatalla con megarresultados! | 2016-09-02 |
| | ¡Una giga batalla con mega resultados! | 2016-08-17 |
Credits
| | | | |
| --- | --- | --- | --- |
| | Animation Director | 小山知洋 (Tomohiro Koyama) | |
| | Animation Director | 志村泉 (Izumi Shimura) | |
| | Animation Director | 一石小百合 (Sayuri Ichiishi) | |
| | Animation Director | 福江光恵 (Mitsue Fukue) | |
| | Episode Director | うえだしげる (Shigeru Ueda) | |
| | Screenplay | 武上純希 (Junki Takegami) | |
| | Storyboard | 飯島正勝 (Masakatsu Iijima) | |
| | Assistant Animation Director | 田島瑞穂 (Mizuho Tajima) | |
| | Assistant Animation Director | 松原徳弘 (Tokuhiro Matsubara) | |
©2002-2020 PocketMonsters.net
Version 5.1778
Rendered in: 0.01765s Queries: 9
Pokémon, all assorted characters, images and audio are ©GAME FREAK, Nintendo, Creatures, TV Tokyo, ShoPro and The Pokémon Company.
All images, text and audio are used in an editorial context. No site content, information, translations, news, images or otherwise may be reposted to any website without expression permission from the staff.
Current logos by: Juno