»
Episode Guide
» Viewing Episode: 怪奇!キノココ屋敷の謎!?/Strange Suspense! The Mystery of Kinococo Mansion!?
04 May 2015 07:59 PM

Admin Staff


Joined: 12 Jul 2007
Forum Posts: 964


Summary:

As they continue their journey to Kanazumi City, Satoshi and his friends finally exit the huge forest and reach a town, where they decide to split up into two groups doing different things so they can all enjoy the town the way they wish.

After having a meal, Satoshi and Masato find a scared "Mushroom Pokémon" called Kinococo in an alley. The Kinococo is initially wary of the two, but they gently calm it down and it opens up to them. Kinococo are supposed to live in forests, so Satoshi thinks it's weird to find a wild one in a city like this and the two decide to bring it to the Pokémon Center for now. But as they walk past a run-down mansion on the way there, the Kinococo suddenly runs off, entering the house. Satoshi and Masato rush after it, but...

And in the meantime Haruka and Takeshi, who set off to do some shopping, overhear some rumors about a cursed mansion supposed to be somewhere in town...

Voice Cast:

Rica Matsumoto: Satoshi

Ikue Ohtani: Pikachu

Yuji Ueda: Takeshi

KAORI: Haruka

Fushigi Yamada: Masato

Megumi Hayashibara: Musashi

Shinichiro Miki: Kojiro

Inuko Inuyama: Nyarth

Koichi Kuriyama: Azuma

Yoshimitsu Shimoyama: Worker

Chinami Nishimura: Achamo

Chie Sato: Habunake

Katsuyuki Konishi: Sabonea

Makoto Tsumura: Kinococo

Unsho Ishizuka: Narration

This post was last edited 04 May 2015 08:01 PM by Adamant
Picture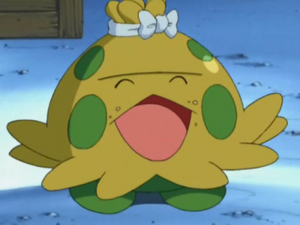 You must be signed in to rate episodes.
Average Rating:
6.70
VHS/DVD/Blu-ray Availability
Titles
| | | |
| --- | --- | --- |
| | 怪奇!怪奇蘑蘑菇大宅之謎? | |
| | Den Fortabte Shroomish | |
| | Het temmen van de Shroomish! | |
| | Taming of the Shroomish | 2003-12-06 |
| | Kummituskartano | 2005-01-20 |
| | Le manoir hanté | |
| | Die heimatlosen Knilz | |
| | !לביית את השרומישים | |
| | La Casa Stregata | |
| | 怪奇!キノココ屋敷の謎!? | 2003-01-23 |
| | Kaiki! Kinococo yashiki no nazo!? | 2003-01-23 |
| | Strange Suspense! The Mystery of Kinococo Mansion!? | 2003-01-23 |
| | Temming av Shroomish | 2004-05-29 |
| | Oswoić Shroomish'a | |
| | Domesticar Um Shroomish | |
| | Domando um Shroomish! | |
| | La Mansión De Los Shroomish | |
| | La Mansión De Los Shroomish | |
| | Rivningshuset | 2004-10-10 |
Credits
| | | | |
| --- | --- | --- | --- |
| | Animation Director | 宍戸久美 (Kumiko Shishido) | |
| | Episode Director | 秦義人 (Yoshito Hata) | |
| | Screenplay | 十川誠志 (Masashi Sogo) | |
| | Storyboard | 藤本義孝 (Yoshitaka Fujimoto) | |
©2002-2020 PocketMonsters.net
Version 5.1778
Rendered in: 0.0795s Queries: 9
Pokémon, all assorted characters, images and audio are ©GAME FREAK, Nintendo, Creatures, TV Tokyo, ShoPro and The Pokémon Company.
All images, text and audio are used in an editorial context. No site content, information, translations, news, images or otherwise may be reposted to any website without expression permission from the staff.
Current logos by: Juno