»
Episode Guide
» Viewing Episode: ハルカ!ポケモンコンテスト初挑戦!!/Haruka! Her First Try at a Pokémon Contest!!
Today is the opening day of the Pokémon contest. Ash and co. are running down the street towards the building. They are running late because May didn't check the deadline. If they can make it to the contest on time, May will be able to participate. They enter the building. May shows the lady at the counter her contest card. May has just made it on time. The lady tells May that the contest will begin at one o'clock. Ash is hungry from all the running. Since there are still three hours left, they decide to search for a restaurant.

Team Rocket enters the building too. The approach the lady at the counter by saying their motto. Jessie then tells the lady that she would like to enter the contest. The lady tells Jessie that she is too late. Team Rocket is shocked to hear this. All of their time training has gone to waste. They walk outside and sit on a bench. A trainer calls his Poochyena over. Jessie sees something in the trainer's hand. It is Pokeblock. They decide to sell Pokeblock because every trainer will want some.

The contest is about to begin. Vivian is on stage introducing herself and the contest. Then she introduces the judges. Then Vivian shows the audience the ribbon that the coordinators will be competing for. If a trainer wins five ribbons, that trainer will then be qualified to enter the Grand Festival.

May is looking really nervous. Ash and the others walk up to her. Ash tells May that she has to stay calm because if she doesn't, then her Pokémon will be nervous too. The peliminaries are about to start. In these rounds, the Pokémon are judged on their acts and beauty. Many trainers begin to show off their Pokémon. Ash, Brock, and Max all are enjoying the performances. Next up is Drew. Drew sends out Roselia. It starts off with using Petal Dance. Then Roselia uses a combination of Stun Spore and Magical Leaf. These attacks show great beauty. Then Roselia uses another Petal Dance and Magical Leaf combination. When Drew's performance is over, the audience applauds for him. Drew got a 29.4, the highest score yet.

Meanwhile, Team Rocket has different uniforms on themselves. They each are carrying a tray. Jessie says that they will steal all the Pokeblock the trainers have. A man walks up to Team Rocket. He tells them that he knows many secrets about the Pokeblock. Team Rocket wants to hear these secrets.

Drew walks up to May. He brags to May about how great his performance was. Then he tells May that he will cheer for her because he wants her to make it past the peliminaries. Robert is the next coordinator to perform. He tells Milotic to use Safeguard. The Safeguard leaves the audience in awe. Ash looks up Milotic in his Pokédex.

Now it is May's turn. Vivian tells the audience that it is May's first time participating in a contest. May is looks very nervous. Ash and co. shout down to May to calm down. May takes out her Pokéball. Before she can send Beautifly out, she slips on the floor. Vivian helps May up. Then May tries again. She doesn't mess up. She throws a frisbee to Beautifly. Beautifly uses String Shot to bounce the frisbee right back to May. Then Beautifly uses Silver Wind to finish things off. Her final score is a 24.9.

May hopes she makes it to the second round. Drew hands May a rose for her Pokémon. He tells May that she could use some more work. Meanwhile, the man continues to talk to Team Rocket. Team Rocket is getting bored of the man's conversation. The results now are displayed on the big screen. Both May and Drew make it to the second round. When the screen randomly selects who will be versing who, May and Drew are together.

The second round begins. May sends out Beautifly and Drew sends out Roselia. Roselia uses Magical Leaf, but Beautifly counters with Gust. However, the Magical Leaf attack bounces right back and hits Beautifly. Drew explains that Magical Leaf is an attack that never misses. Brock states that May was fooled by that attack. Ash blames himself for not teaching May some good battling techniques. May is in big trouble now. She has lost a lot of points. Roselia then prepares a Solarbeam attack. Beautifly tries to stop Roselia with String Shot. It doesn't work. Roselia fires the Solarbeam, scoring a direct hit. Beautifly is knocked out, and Drew wins the battle.

Ash, Brock, and Max tries to comfort May. May feels awful about the whole thing. Ash tells May that it is okay that she lost. They look on the TV screen. Drew is facing Robert. Robert beats Drew with a few of Milotic's attacks. Ash and co. are surprised that Drew lost. Meanwhile, the man continues to tell Team Rocket his information about berries and Pokeblock. The judges present Robert with his Pokémon Ribbon. The contest is now over.

Drew walks outside. May runs up to Drew. She tells him that she will beat him in their next contest. Drew is looking forward to it, but he will be stronger too. Then Drew leaves. Now May has an even stronger will of winning a Pokémon contest. The man continues to explain the Pokeblock stuff while Team Rocket is asleep.
Picture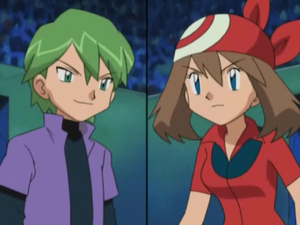 You must be signed in to rate episodes.
Average Rating:
8.08
VHS/DVD/Blu-ray Availability
Titles
| | | |
| --- | --- | --- |
| | 小遙!初次挑戰神奇寶貝華麗大賽! | |
| | Dysten Mod Drew | |
| | Winnen of verliezen van Drew | |
| | Win, Lose or Drew! | 2004-05-29 |
| | Flora tente sa chance | |
| | Hopp oder top! | |
| | !נצחון הפסד או לשלוף | |
| | Vincere o Perdere | |
| | ハルカ!ポケモンコンテスト初挑戦!! | 2003-07-24 |
| | Haruka! Pokémon Contest hatsu chōsen!! | 2003-07-24 |
| | Haruka! Her First Try at a Pokémon Contest!! | 2003-07-24 |
| | Tap og vinn med samme sinn! | |
| | Wygraj, przegraj albo zremisuj | |
| | Vencer, Perder ou Drew! | |
| | Vencer ou Perder, Empatar Nunca! | |
| | ¡Ganar, Perder O Drew! | |
| | Ganar, Perder O Drew | |
| | Majs första tävling | 2005-04-17 |
Credits
| | | | |
| --- | --- | --- | --- |
| | Animation Director | 宍戸久美 (Kumiko Shishido) | |
| | Episode Director | 秦義人 (Yoshito Hata) | |
| | Screenplay | 冨岡淳広 (Atsuhiro Tomioka) | |
| | Storyboard | 秦義人 (Yoshito Hata) | |
©2002-2019 PocketMonsters.net
Version 5.1778
Rendered in: 0.0468s Queries: 6
Pokémon, all assorted characters, images and audio are ©GAME FREAK, Nintendo, Creatures, TV Tokyo, ShoPro and The Pokémon Company.
All images, text and audio are used in an editorial context. No site content, information, translations, news, images or otherwise may be reposted to any website without expression permission from the staff.
Current logos by: Juno