»
Episode Guide
» Viewing Episode: チルットの空!ハルカの心!!/Tyltto's Sky! The Heart of Haruka!!
A violent storm blows through a dense forest and suddenly a bolt of lightning hits a large tree and it catches on fire. A flock of Swablu and Altaria are in the tree and have to fly away but one Swablu was unable to and got in the way of the falling tree. Continuing their stop-and-go journey toward the next gym in Petalburg City, Ash and his friends find themselves in an all too familiar situation and are once again lost. May complains that they are getting too good at being lost. Brock suggests that they take a break for lunch before deciding what they should do next.

Brock cooks a large pot of stew as Ash, May and Brock send out all their Pokemon. All the Pokemon quickly realize that Brock's Lotad evolved into a Lombre and they greet it. Pikachu and Torchic are suddenly concerned about something and run off into the forest where they find the injured Swablu. Ash and his friends follow them and see the Swablu but as May tries to approch it to help it, the Swablu uses sing and they all fall asleep.

May's Torchic ends up pecking May to wake her up and she then gives Swablu a spray to make its wing better. May instructs her Torchic to wake everyone else up by pecking them and they all yell as they wake up. Brock looks at what May did to the Swablu and then everyone else thinks it looks like a mummy all bandaged up.

Morita, a ranger of a nature preserve near Petalburg City came running after he heard Ash and his friends yell loud when they were awoken by May's Torchic's pecking. They all went to the rangers house where he gave them some hot chocolate. Morita explained to them that the terrible storm that occurred the night before destroyed many Pokémon nests and it unfortunately also separated many young Pokémon from their parents. He assumed that the little Swablu that Ash and his friends found must've been separated from its flock during the storm.

Morita realized that Ash and his friends were traveling to Petalburg City and offered to watch over the Swablu and take good care of it but they decided to stay around till it recovered so they could return it to its flock. Morita then offered them lodging at his place while Swablu healed.

In a nearby tree, Team Rocket was spying on Ash and his friends while scheming of their next plan. Meowth comes up with a plan to capture the Swablu and give it to the boss to use as a pillow. Meowth tells them that after the boss spent all day long yelling at all of his lazy underlings that he needs a good night's snooze. After using the Swablu's fluffy wings and its Sing to have a good nights rest, he'd promote them because of the great gift.

Max, Ash, and Brock enter the main room to see May sleeping. After she insists on watching the Swablu on her own, Brock gave her new bandages and medicine. May stayed up a long time watching over the Swablu and they continued the routine for a few days while it continued healing.

Team Rocket continued their surveillance as they waited for the Swablu was completely healed before making an attempt to capture it. Finally after a few days, Swablu's wing had healed but it tried to fly but didn't get too high before falling down. Ash couldn't believe that Swablu could have forgotten to fly though.

Ash then decided to send out his Taillow to show Swablu how to fly. Swablu seem scared and Brock realized that the Swablu might be afraid to fly. Morita explained to May that being afraid to fly after a traumatic event is actually quite common. He also told her that solving this problem can take quite a while.

Realizing that getting the Swablu to stop being afraid is harder than the originally thought, Max decides its time to go to plan B. Max says that they will use magic. Max tells Swablu that the only reason Beautifly and Taillow can fly at all is because of this super secret magic powder. Max asks the Swablu if it wants some of the magic powder and May tells the Swablu to try it out. Swablu starts flying and then Ash and Pikachu want some of the powder as well but Max has to tell Ash that its fake.

Morita runs out of the house and informs Ash and his friends that he found out where the flock is located. Everyone gets in his car and he quickly drives toward the location, a lake not too far from them. Suddenly the tire gets a flat and then an arm appears and takes Swablu. Team Rocket's balloon appears from behind the trees as they do their motto.

May then instructs Swablu to use Sing. It puts Team Rocket asleep until James's Cacnea uses Pin Missile on them and wakes them all up. It stays asleep though and continues to use Pin Missile until it his the balloon's engine and it catches fire. Swablu is afraid as it remembers the fire from tree. May encourages it to fly away and just as the balloon explodes Swablu emerges from the smoke.

Team Rocket crashes to the ground in a ball of flame as Brock sends out his Mudkip and Lombre to use Water Gun on them and then once again to send them blasting off. Ash and his friends head off to the lake on foot but the flock was gone by the time they got there. May they invites Swablu to come with her which it agrees too but just as May brings out her Poke ball, the flock returns. May waves goodbye as Swablu reunites with the flock.
Picture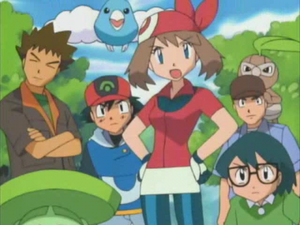 You must be signed in to rate episodes.
Average Rating:
6.80
VHS/DVD/Blu-ray Availability
Titles
| | | |
| --- | --- | --- |
| | 青綿鳥的天空 ,小遙的心! | |
| | Swablu taboe! | |
| | True Blue Swablu | 2005-02-05 |
| | Eksynyt Swablu | |
| | Un Tylton tombé du nid | |
| | Angst vorm Fliegen | |
| | עוזרים לסוובאלו | |
| | Un Pokémon Quasi Volante / Evoluzione e Pace | |
| | チルットの空!ハルカの心!! | 2004-02-19 |
| | Chirutto no sora! Haruka no kokoro!! | 2004-02-19 |
| | Tyltto's Sky! The Heart of Haruka!! | 2004-02-19 |
| | Ekte blå Swablu | 2005-11-20 |
| | Swablu Realmente Azul | |
| | O Swablu | |
| | Un Swablu Tristón | |
| | Rescatando A Swablu | |
| | Swablu | 2006-02-25 |
Credits
| | | | |
| --- | --- | --- | --- |
| | Animation Director | 岩根雅明 (Masaaki Iwane) | |
| | Episode Director | 浅田裕二 (Yūji Asada) | |
| | Screenplay | 大橋志吉 (Yukiyoshi Ōhashi) | |
| | Storyboard | 浅田裕二 (Yūji Asada) | |
©2002-2020 PocketMonsters.net
Version 5.1779
Rendered in: 0.01563s Queries: 6
Pokémon, all assorted characters, images and audio are ©GAME FREAK, Nintendo, Creatures, TV Tokyo, ShoPro and The Pokémon Company.
All images, text and audio are used in an editorial context. No site content, information, translations, news, images or otherwise may be reposted to any website without expression permission from the staff.
Current logos by: Juno