»
Episode Guide
» Viewing Episode: ライバルはサラリーマン!?/My Rival is an Office Worker?!
May found out about a contest in Silvertown and decided to enter it. May practices with Squirtle. She sends out Squirtle for an opening. May thinks that Squirtle's opening could be better.

Inside the contest building, two people walk around looking for somebody. May approaches them and asks them if they've seen Squirtle. The man says no and they walk away. Ash, Brock, and Max walk up to May. May tells them that she can't find Squirtle. Squirtle appears from behind Brock's leg. Flowers are on Squirtle. May tells Squirtle that it is really cute and that they will win first prize.

Team Rocket sees the contest poster. James wants Jessie to enter the contest. Jessie sighs and says that they have a Pokeblock shop to run instead. James and Meowth wonder why Jessie is acting weird.

The contest is about to begin. Lillian introduces the contest to everyone. Ash and Max are impressed with the way Lillian talks. The judges are soon introduced. Afterwards, the Pokémon Coordinators walk on the stage. Everyone in the audience cheers for the coordinators. Before Lillian starts the contest, a man walks onto stage and tells Lillian that one coordinator still hasn't shown up. Jeremy, the late coordinator, rushes through the doors and on to the stage. He apologizes to Lillian for being late. Jeremy gets into line. Now that everyone is present, the contest begins.

Many of the coordinators show off their Pokémon. The crowd seems to love each Pokémon that comes on the stage. Up next is May. May sends out Squirtle who immediately fires an Ice Beam. Squirtle spins around very quickly and makes a smooth landing. Then Squirtle uses its Bubble attack. In the middle of the stage is a big bubble with smaller bubbles surrounding it. Squirtle jumps on the bigger bubble and uses Ice Beam to destroy the smaller bubbles. Then Squirtle uses Ice Beam on the bigger bubble. The bubble pops and a ice sculpture takes its place. Squirtle lands on top of the sculpture and finishes its performance. The judges enjoyed May's performance. The last coordinator to perform is Jeremy. When Jeremy walks on the stage, he has an electric guitar in his hand, and his clothes have been changed. Jeremy sends out Butterfree. Butterfree uses a combination of Poisonpowder and Stun Spore. Then with Safeguard, Butterfree glows with a greenish color dazzling the audience. Suddenly, the two people that May saw earlier enters the room. They call out for Jeremy to stop what he is doing. Apparently, Jeremy and the two people are related to each other. The woman walks on the stage and tries to get Jeremy to go home with the family. Jeremy explains to everyone how contests are his life long dream and how they mean a lot to him. He makes an excellent speech to the woman and to everyone else. The audience enjoy Jeremy's speech, and they all clap for him.

Meanwhile, Team Rocket is searching for berries for their shop. When the peliminaries are over, Lillian announces the four winners on a screen. Round 2 begins right away. May's combusken burns up a trainer's Exeggutor and ends up winning the match. In Jeremy's match, the trainer's Vileplume fires a Petal Dance at Jeremy's Venusaur. Venusaur counters the attack with a Razor Leaf. Jeremy wins the battle.

The final round between May and Jeremy is about to start. Jeremy thanks May for helping him out earlier, but May tells Jeremy that it was his courage that brought him here. The man and woman walk outside. They discuss about Jeremy, the man's dad. They have a flashback on how their dad was a rock star and about how he loved Pokémon. The woman is the man's mom.

The final battle begins. May sends out Combusken and Jeremy sends out Venusaur. Venusaur starts off with Razor Leaf, but Combusken burns the leaves with Fire Spin. To stop the Fire Spin attack, Venusaur uses Vine Whip. May is shocked that Venusaur wasn't weakened by the attack. Then Jeremy calls out for a Frenzy Plant, a very powerful grass type attack. Vines emerge from the ground. The vines head straight for Combusken. Combusken manages to dodge one vine, but soon after it gets hit. Ash, Brock, and Max wonder how May will win from a powerful attack like Frenzy Plant. May soon sees that Venusaur has used up a lot of energy and is tired out. She tells Combusken to use Quick Attack. Combusken slams its body into Venusaur, and then it begins to weaken Venusaur with a series of Peck attacks. Venusaur knocks Combusken off its body. Jeremy orders Venusaur to do another Frenzy Plant. Combusken tries Fire Spin, but the attack has no effect on the vines. Then Combusken moves in closer to Venusaur with a Quick Attack while dodging the vines. It charges into Venusaur with a Sky Uppercut. Since Venusaur can no longer battle, May wins the battle.

Lillian presents May with a ribbon for winning the contest. Jeremy, the woman, and the man walk away together. Ash hopes that they run into them again at another contest. At night, Team Rocket is still outside looking for berries. Jessie sees something sticking out from a bush. She pulls on it, but the thing happens to be a Beedrill. Team Rocket runs as the Beedrill chase them.
Picture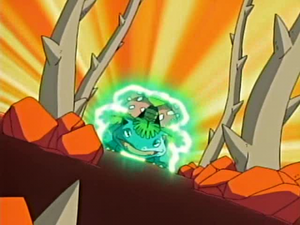 You must be signed in to rate episodes.
Average Rating:
6.50
VHS/DVD/Blu-ray Availability
Titles
| | | |
| --- | --- | --- |
| | 對手是上班族!? | |
| | Weekend Kriger | 2008-09-27 |
| | Weekend Strijder | |
| | Weekend Warrior! | 2006-09-23 |
| | Viikonloppusoturi | 2008-07-19 |
| | Coeur de rocker | |
| | Rock'n Roll | |
| | Ο Πολεμιστής του Σαββατοκύριακου | |
| | La gara della città d'argento | |
| | ライバルはサラリーマン!? | 2005-11-10 |
| | Rival wa salaryman!? | 2005-11-10 |
| | My Rival is an Office Worker?! | 2005-11-10 |
| | Helge kriger | 2009-06-22 |
| | Guerreiro do Fim-de-Semana | |
| | Fin De Semana Marchoso | |
| | Guerrero de Fin de Semana | |
| | Fritidskrigare | 2008-09-24 |
Credits
| | | | |
| --- | --- | --- | --- |
| | Animation Director | | |
| | Animation Director | 山下惠 (Megumi Yamashita) | |
| | Animation Director | 広岡歳仁 (Toshihito Hirooka) | |
| | Episode Director | ながはま (Norihiko Nagahama) | |
| | Screenplay | 松井亜弥 (Aya Matsui) | |
| | Storyboard | しのゆき (Yukihiro Shino) | |
©2002-2019 PocketMonsters.net
Version 5.1778
Rendered in: 0.04946s Queries: 6
Pokémon, all assorted characters, images and audio are ©GAME FREAK, Nintendo, Creatures, TV Tokyo, ShoPro and The Pokémon Company.
All images, text and audio are used in an editorial context. No site content, information, translations, news, images or otherwise may be reposted to any website without expression permission from the staff.
Current logos by: Juno