»
Episode Guide
»Viewing Episode: ダンジョン攻略!? 谷間の発電所!/Dungeon Escape!? The Valley Power Plant!
Eyecatch
The Jagged Spirit in Pokémon
To help remind viewers of the jagged-eared Pichu promotion, an intro eyecatch was shown featuring Shoko-tan stating: The Jagged Spirit in Pokémon! (ポケモンでギザ元気!).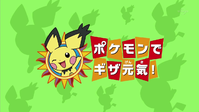 Special First-Airing Segment
Game Announcement
A special preview of the new upcoming games Heart Gold and Soul Silver, along with a preview of the anime tie-in special!

Pocket Monsters HeartGold and SoulSilver are finally on sale in Japan as of this episodes original airing. The characters and Pokémon who appeared in DP143 and DP144 also contribute a lot in the Jouto region, the setting of the games! The secrets of the Jouto region, which promise excitement in the anime as well as in the games, will now be revealed on a grand scale!

Secret number one: The new main character is in action a lot! These two are the main characters traveling through the Jouto region and if you choose the boy as the main character, the girl will appear as Kotone, a supporting character. In the anime, Kotone contributes in the form of battles, of course, but also as a love cupid!

Secret number two: The new traveling partners. These three are the ones you can receive from the professor in the game this time. First, the Grass Type Chicorita. It can learn strong moves such as Magical Leaf and Solarbeam. In the vicious battles with Satoshi and the others in the anime, it will show a variety of moves as well! Next, the Water Type Waninoko. As its wild appearance indicates, it can master powerful moves! Waninoko holds the key to the further development of Kazunari's journey. Could this possibly be...? Finally, the Fire Type Hinoarashi. As it is a precious Fire Type according to the story, there's no doubt it's a great addition! As Hikari's new partner in the anime, it will undergo some harsh training!

Secret number three: Aim to be a Pokéthlete! Pokéthlon is where the sports festival for Pokémon are held. The Bound Field, where you aim at glowing lamps and Dash Hurdle where you have to jump over approaching hurdles.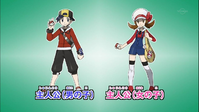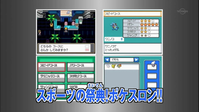 Picture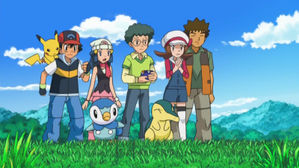 You must be signed in to rate episodes.
Average Rating:
7.82
VHS/DVD/Blu-ray Availability
Titles
| | | |
| --- | --- | --- |
| | 攻破地窖!?山谷間的發電廠! | |
| | Průvan ve větrné elektrárně | 2010-08-27 |
| | Borte med vindværket | |
| | Uitgeput! | |
| | Gone with the Windworks! | 2010-02-13 |
| | Tuulivoimalan viemää! | |
| | Panne de courant ! | 2010-09-09 |
| | Stromausfall im Windkraftwerk | 2010-06-09 |
| | תחנת הרוח חולפת עם הרוח | 2010-09-19 |
| | Tutti in trappola! | 2010-06-07 |
| | ダンジョン攻略!? 谷間の発電所! | 2009-09-17 |
| | Dungeon kōryaku!? Tanima no hatsudensho! | 2009-09-17 |
| | Dungeon Escape!? The Valley Power Plant! | 2009-09-17 |
| | 골짜기 발전소! 우리는 하나! | 2010-03-17 |
| | Tatt av vindverk! | 2011-06-05 |
| | E Tudo As Ventoinhas Levaram! | 2011-07-18 |
| | Desaparecido em Windworks! | |
| | В западне на электростанции! | |
| | Lo que el Valle Eólico se llevó | 2010-07-07 |
| | ¡Lo que la planta eólica se llevó! | 2010-10-20 |
| | Borta med vindkraftverket | 2011-04-10 |
Credits
| | | | |
| --- | --- | --- | --- |
| | Animation Director | 志村泉 (IzumiShimura) | |
| | Episode Director | 大庭秀昭 (HideakiŌba) | |
| | Screenplay | 大橋志吉 (YukiyoshiŌhashi) | |
| | Storyboard | 古賀一臣 (KazuomiKoga) | |
©2002-2020 PocketMonsters.net
Version 5.1779
Rendered in:0.01694s Queries:7
Pokémon, all assorted characters, images and audio are ©GAME FREAK, Nintendo, Creatures, TV Tokyo, ShoPro and The Pokémon Company.
All images, text and audio are used in an editorial context. No site content, information, translations, news, images or otherwise may be reposted to any website without expression permission from the staff.
Current logos by: Juno