»
Episode Guide
» Viewing Episode: もえろゼニガメだん!ほのおのように!!/Burn on, Zenigame Gang! Like a Flame!!
Ash and co. continue their journey to Goldenrod City. Right now they are in a Pokémon Center. Ash holds the Pokéball containing Tauros in his hand. He plans on sending Tauros back to Professor Oak. On the video monitor, Ash sees that Heracross and Professor Oak are having a lot of fun. Professor Oak tells Ash that Heracross is a very important Pokémon to research, and he asks Ash to let Heracross stay with him longer. Ash agrees, and then he sends Tauros back to Professor Oak. Then Misty, Brock, and Nurse Joy walk over to Ash with Ash's healed Pokémon. Nurse Joy reports to Ash that his Pokémon are very healthy. Brock gets crazy over Nurse Joy. Nurse Joy remembers that she has to take care of the Pokémon who are competing in the Fire and Rescue Grand Prix. Then she leaves.

Ash and co. arrive at the Grand Prix building. There is a long line in front of the building. Ash and co. stare at a poster. Misty thinks that Grand Prix is a fire-fighting competition for Pokémon. Ash wants to compete in the competition. Misty tells him that he only has one water Pokémon: Squirtle. Ash says that he is going to use Psyduck and Staryu. Misty tells Ash that he could be more polite by asking her first. Suddenly, they hear a familiar voice. They see Aiden and his team of Wartortle. Brock is impressed with the Wartortle. Misty explains to Brock that Team Wartortle is a fire-fighting force. They are the best ones on the Orange Islands. Ash asks Aiden if Team Wartortle ever participated in the competition before. Aiden tells him that they are the returning champions. Then Ash's Squirtle and the Wartortle leader shake hands.

Inside the building, a lot of trainers are preparing for the big event. Aiden's team and Ash's team are exercising for the competition. Misty can't believe that they allowed Ash to enter on such short notice. Brock says that Ash just lucked out, however he is going to need to do some serious training in order to win. They look around and see a team of Marill, Vaporeon, Golduck, and Quagsire. Ash knows that he will win. Then Ash and Squirtle see Officer Jenny and her team of Squirtle. They recognize the Squirtle from the Squirtle Squad.

Ash's Squirtle runs on over to its friends, and it greets them all. Ash and co. walk over and they say hello to Officer Jenny. Brock is glad that Officer Jenny hasn't forgotten about him. Then Aiden and his Team Wartortle walk on over. Aiden and Officer Jenny shake hands with each other. They are both excited for the competition.

Team Rocket is outside watching Ash and co. They plan to steal all the water Pokémon so that they can make a lot of money. Ash and co. watch the Squirtle Squad laugh together. Officer Jenny asks Aiden if her team of Squirtle could share the same practice session of his team of Wartortle. Aiden doesn't mind, and they go over to the target practice booth. Team Squirtle and Team Wartortle form two separate lines. In front of them is a row of targets that they have to knock over using their Water Gun attack. The beeper sounds. Team Wartortle focuses on the targets and knocks each one down with their Water Gun attacks. Squirtle does the same, however they miss the targets. Misty notices that Team Squirtle isn't doing very well. Ash's Squirtle then gets tough on his companions. He gets Team Squirtle into shape, and Team Squirtle begin to successfully hit the targets. The timer beeps again just after both teams hit all the targets down.

The big competition is about to begin. Ash and another trainer face each other. Two small houses are placed in front of them. The houses are set on fire. The other trainer has a team of Muk, while Ash has Pikachu, Squirtle, Staryu, and Psyduck. Both trainers have to try and put out the fire first. The flag is waved, and the match begins. Squirtle and Staryu spray water on the fire, and Pikachu kicks dirt on the fire. Psyduck just stand there with a confused expression on its face. Staryu accidently hits Psyduck with Water Gun, and Psyduck lands in the middle of the fire. Luckily for Psyduck, Squirtle jumps in and rescues Psyduck. Team Muk has extinguished the fire, and they win.

The next match is between Team Golduck and Team Squirtle. Ash and co. are cheering for Team Squirtle. Aiden is worried that the pressure of the competition may break the Squirtles' competition. Team Squirtle stand in the stadium with nervous expressions on their faces. Officer Jenny tells the Squirtle not to be nervous. The two houses are set on fire, and the match begins. Team Golduck begins shooting water on the house. On the other hand, the Squirtle are so nervous that they can't even move. Officer Jenny tells the Squirtle to move. The Squirtle begin to move towards the burning house, but they trip on each other. Team Squirtle gets up, and they finally use Water Gun on the burning house. Unfortunatley, the Water Gun from the Squirtle isn't having much impact on the flames, while Team Golduck is almost done. Ash, Pikachu, and Squirtle run into the stadium. Pikachu uses Thunderbolt on the Squirtle to get their attention. Ash's Squirtle begins to tell its friends what to do. Team Squirtle finally has more confidence, and they begin to shoot powerful Water Gun attacks at the fire. Team Squirtle puts out the fire before Team Golduck, and they win the match.

Suddenly, the burnt house is set on fire again, and Team Rocket's robot pops out of the ground. Inside the robot, Team Rocket says their motto. Then the robot begins to shoot out flamethrowers at Ash and co. Aiden and Team Wartortle rush into the scene. The Wartortle fight back with their Water Guns. Team Rocket heats up the flames even more. Other trainers and their teams run in to defeat Team Rocket. Meowth pushes a button. A bunch of nets spring out of the robot and capture the Pokémon including Team Wartortle and Pikachu. Then the captured Pokémon are brought inside the robot. Team Rocket's begins to use their flamethrowers to destroy the stadium even more. Ash and co. realize that they have to do something. The only team that is left to save the captured Pokémon and defeat Team Rocket is the Squirtle Squad. Ash tells his Squirtle that he has to guide the other Squirtle in order to beat Team Rocket.

Sqyurtke begins to guide the other Squirtle. They use their Water Gun attacks on Team Rocket's robot. The robot tries to step on the Squirtle, but the Squirtle all dodge the robot's attacks. The robot loses balance and falls over. Then Ash's Squirtle breaks the window and jumps in the robot. It blasts Team Rocket with its Water Gun attack. Squirtle begins to destroy all the controls. The door opens, and all the captured Pokémon run out. After all the Pokémon are free, Squirtle uses Water Gun and Pikachu uses Thunderbolt. The two combined attacks shock Team Rocket. Their robot explodes, and they blast off again.

Ash and co. group up again. Ash tells his Squirtle that the Squirtle Squad needs a great leader like it. Squirtle agrees to be the leader. When the stadium is cleared up, the competition continues on. It all soon comes down to Team Squirtle and Team Wartortle. The challenge is that both teams have to rescue a dummy from a burning house, and then put out the flames. Whoever does so first, wins. The match begins.

Immediately, three Pokémon from each team fire their Water Gun at the burning house, while the fourth Pokémon rescues the dummy. When both dummies have been rescued, both teams concentrate on putting out the fire. Team Squirtle finish first, and they win the competition. Aiden and Team Wartortle salute Officer Jenny and Team Squirtle for a job well done. Back outside, Officer Jenny thanks Ash for letting his Squirtle stay with the rest of the Squirtle Squad. Then Squirtle says goodbye to its friend, Bulbasaur, and then it goes into the car with Officer Jenny. The Squirtle Squad wave goodbye to Ash and co. Ash then recalls all the good times he had with Squirtle, and then Ash and co. continue their journey towards Goldenrod City.
Picture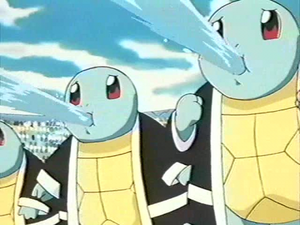 You must be signed in to rate episodes.
Average Rating:
7.38
VHS/DVD/Blu-ray Availability
Titles
| | | |
| --- | --- | --- |
| | 傑尼龜軍團!一起燃燒吧! | |
| | Hasičská soutěž | |
| | Het Brandbestrijdingsteam | |
| | The Fire-ring Squad | 2001-04-21 |
| | Une escouade qui a le feu sacré | |
| | Feuerwehr Wettbewerb | |
| | מכבים את האש | |
| | Pompieri Provetti | |
| | もえろゼニガメだん!ほのおのように!! | 2000-05-11 |
| | Moero Zenigame-dan! Honoo no yō ni!! | |
| | Burn on, Zenigame Gang! Like a Flame!! | 2000-05-11 |
| | Woda, naprzód | |
| | O Esquadrão de Fogo! | |
| | Os Soldados do Fogo! | |
| | La Brigada De Incendios | |
| | El Escuadrón De Bomberos | |
Credits
| | | | |
| --- | --- | --- | --- |
| | Animation Director | 佐藤まさ (Masafumi Satō) | |
| | Episode Director | 井上修 (Osamu Inoue) | |
| | Screenplay | 藤田伸三 (Shinzō Fujita) | |
| | Storyboard | 井上修 (Osamu Inoue) | |
©2002-2020 PocketMonsters.net
Version 5.1778
Rendered in: 0.14563s Queries: 6
Pokémon, all assorted characters, images and audio are ©GAME FREAK, Nintendo, Creatures, TV Tokyo, ShoPro and The Pokémon Company.
All images, text and audio are used in an editorial context. No site content, information, translations, news, images or otherwise may be reposted to any website without expression permission from the staff.
Current logos by: Juno