»
Episode Guide
» Viewing Episode: 新たなる大地!新たなる冒険!!/A New Land! A New Adventure!!
29 Aug 2010 05:09 AM

Admin Staff


Joined: 18 Jun 2007
Forum Posts: 1712


Surprisingly this episode had more edits than I thought it would. Some of them are easy to spot when watching but the Professor Birch one where he didn't know who May was is interesting.

Link to Edits:

http://www.pocketmonsters.net/episodes/277#Edits
27 Sep 2014 01:35 PM

Admin Staff


Joined: 12 Jul 2007
Forum Posts: 990


Summary:

Aiming to become a Pokémon Master, Satoshi and his Pikachu have set off for the Houen Region, a place they've never seen before.

However, Pikachu is acting weird. In order to get it treated for its fever-induced delirium, Satoshi contacts a famous Pokémon Professor from the Houen region, Odamaki. According to the professor, large amounts of electricity have accumulated in Pikachu's body due to the recent attack by the Rocket Gang and it's likely to explode if not treated. He immediately starts a procedure to absorb the electricity in Pikachu's body, but the machine ends up exploding due to the extreme amounts of electricity!

Having completely lost its mind, Pikachu runs outside and escapes. Satoshi and Professor Odamaki chase after it, but......

Meanwhile, a girl from the Houen region named Haruka is riding her bike towards Professor Odamaki's so she can receive a Pokémon and set off on a journey as a Pokémon Trainer. She's a cheerful and active girl who can't seem to sit still for a moment, so when she learns that the professor isn't currently at the lab, she immediately sets off to track him down......

Is the runaway Pikachu still safe!? How will Satoshi cope with this emergency that happened so soon after he arrived on foreign shores!?

Voice Cast:

Rica Matsumoto: Satoshi

Ikue Ohtani: Pikachu

KAORI: Haruka

Megumi Hayashibara: Musashi

Shinichiro Miki: Kojiro

Inuko Inuyama: Nyarth

Fumihiko Tachiki: Professor Odamaki

Akira Ishida: Joshuu

Chinami Nishimura: Achamo

Yuji Ueda: Sonansu

Makoto Tsumura: Pochiena

Unsho Ishizuka: Narration

This post was last edited 27 Sep 2014 01:40 PM by Adamant
Picture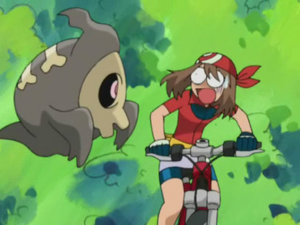 You must be signed in to rate episodes.
Average Rating:
8.44
VHS/DVD/Blu-ray Availability
Titles
| | | |
| --- | --- | --- |
| | 新的大地! 新的冒險!! | |
| | Pikachu Kommer I Stødet | |
| | Eindelijk op weg! | |
| | Get the Show on the Road | 2003-03-15 |
| | Matkalle näytöstyyliin | 2004-09-05 |
| | Une nouvelle rencontre | |
| | Pikachu in Not | |
| | המסע יוצא לדרך | |
| | 新たなる大地!新たなる冒険!! | 2002-11-21 |
| | Aratanaru daichi! Aratanaru bōken!! | 2002-11-21 |
| | A New Land! A New Adventure!! | 2002-11-21 |
| | Få fart på sakene | 2004-04-03 |
| | Długa droga przed nami! | |
| | A Aventura Começa! | |
| | Tudo Começa na Estrada! | |
| | Todos En Camino | |
| | Todos En Camino | |
| | Starta om på nytt | 2004-05-15 |
Credits
| | | | |
| --- | --- | --- | --- |
| | Animation Director | 志村泉 (Izumi Shimura) | |
| | Episode Director | 鈴木敏明 (Toshiaki Suzuki) | |
| | Screenplay | 武上純希 (Junki Takegami) | |
| | Storyboard | 湯山邦彦 (Kunihiko Yuyama) | |
©2002-2020 PocketMonsters.net
Version 5.1778
Rendered in: 0.01849s Queries: 9
Pokémon, all assorted characters, images and audio are ©GAME FREAK, Nintendo, Creatures, TV Tokyo, ShoPro and The Pokémon Company.
All images, text and audio are used in an editorial context. No site content, information, translations, news, images or otherwise may be reposted to any website without expression permission from the staff.
Current logos by: Juno