»
Episode Guide
» Viewing Episode: 激闘!バトルパレスでジャングルバトル!!/Fierce Fighting! Jungle Battle at the Battle Palace!!
As Ash and friends approach the entrance to the Battle Palace, Spenser and Scott emerge from the old-fashioned stone building and welcome them. Ash and Spenser face each other, ready for the coming match for Ash's 5th Frontier Symbol: the Spirits Symbol!

Scott explains the rules of the battle: 3-on-3 and only the challenger will be allowed to substitute. Spenser tells Ash that they spend a lot of time battling inside buildings and that it would be better for them to battle outside… and Ash agrees to have an outdoor battle. Scott takes May, Max, and Brock up in a hot air balloon shaped like a Pokéball with a computer screen inside. Ash and Spenser meet at a battlefield atop a high cliff as Scott explains that the whole of Metallica Island will be the battlefield and that the one they're standing on is only the starting place. A robot appears in front of them and welcomes them. Scott informs everyone that it is the judge and can move quickly to monitor the battle, even underwater.

Meanwhile, Team Rocket watches with their binoculars (Mime Jr. miming them even without binoculars) as the battle begins. Up on the battlefield, Spenser releases a Shiftry and Ash sends out Sceptile. They immediately race off the battlefield and into the jungle, Ash and Spenser giving right behind them. Sceptile uses Leaf Blade and Shiftry counters with Quick Attack. In the balloon, everyone else watches intently. As the battle reaches a waterfall, Shiftry uses Double Team and then aims a Shadow Ball. Sceptile dodges into the water and Shiftry uses Rock Smash as Sceptile reemerges. Sceptile ducks back under the water right away and pops out on top of the waterfall. Sceptile finishes it with Pound and Leaf Blade. The robot declares Shiftry unable to battle.

As Spenser considers his next choice, Team Rocket walks through the woods and Jessie hits a trip wire, and they get caught in their own net. Spenser's next choice is his Venusaur, so Ash calls back Sceptile and sends out none other than Heracross who immediately begins sucking the sap from Venusaur. Venusaur lazily raises a vine and smacks Heracross off. Venusaur starts off the battle with Tackle as Heracross uses Horn Attack. Heracross then uses Fury Attack and smacks Venusaur around the jungle. Heracross then fires a Mega Horn and slams Venusaur into a tree, knocking small pink bananas into Spenser's hand. Venusaur begins powering up for a Solarbeam as Heracross uses Mega Horn again. Meanwhile, James hits a trip wire and Team Rocket gets hit by a slew of arrows that pins them to a tree. Once again, they've hit their own trap… As Heracross' Mega Horn connects, Venusaur releases the Solarbeam and sends Heracross flying, knocking it out.

Ash's next choice is Swellow, but before they battle, Spenser gives everyone some of the bananas that fell and offers a break in the battle to eat and relax. Up in the balloon, Scott and the others each get an apple to eat. Team Rocket, having managed to get un-stuck from the tree, is walking through the forest, Meowth hits another trip wire… but nothing happens. So they continue and fall into a pitfall trap. Meanwhile, Swellow races ahead as Ash chases after it and the beach nears. Venusaur tries Razor Leaf and Vine Whip but misses. They reach the beach and Venusaur tries the same attacks again. Swellow uses Double Team and then Quick Attack to deal some serious damage to Venusaur. Tired, Venusaur charges up a Solarbeam but the sun hides behind the clouds and the charge backs down. Swellow then uses Aerial Ace for the win.

Spenser's third and final choice is a Claydol. Swellow tries a Quick Attack but Claydol dodges and uses Rapid Spin, sending Swellow spiraling off. Claydol then finishes it with Sandstorm. Ash sends out Sceptile and Claydol begins with Psybeam. It misses Sceptile and hits Team Rocket, who, after managing to escape the forest, is sent blasting off again. Sceptile dodges Claydol's next attack by jumping up onto a high cliff as dark clouds fill the sky. It begins to pour and Spenser explains that it's a squall, a sudden rainstorm that is unique to Metallica Island. Claydol uses Sandstorm to damage Sceptile, then combines Psybeam and Rapid Spin for major damage. Sceptile, even after taking all that damage, still refuses to quit. The storm ends, the sun comes out, and the yellow balls on Sceptile's back begin to glow. Ash remembers when Venusaur used Solarbeam, that it had to charge energy and orders the most powerful Grass Attack.

Spenser tells Claydol to finish it with Hyper Beam and it fires off the attack. Sceptile dodges the attack and fires the Solarbeam, knocking out Claydol and ending the match. As the sun sets on Metallica Island, everyone (including Sceptile, Heracross, and Swellow) gathers on the beach and Spenser awards Ash the Spirits Symbol. He does his trademark pose and Scott mentions that the next Frontier Facility will be much, much harder.
Picture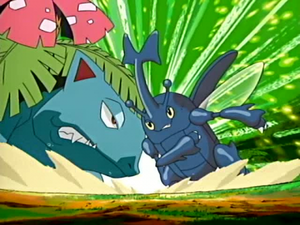 You must be signed in to rate episodes.
Average Rating:
7.27
VHS/DVD/Blu-ray Availability
Titles
| | | |
| --- | --- | --- |
| | 激戰!對戰宮殿裡的叢林戰鬥! | |
| | Udsigt Til Ka Boom | 2008-11-15 |
| | Een uitzicht met inzicht | |
| | Ka Boom With a View! | 2006-11-10 |
| | Yhtä luonnon kanssa | |
| | Combat dans la jungle | |
| | Natürlich Natur! | |
| | Ένα Μπουμ με Θέα | |
| | Incontro nella giungla | |
| | 激闘!バトルパレスでジャングルバトル!! | 2006-02-16 |
| | Fierce Fighting! Jungle Battle at the Battle Palace!! | 2006-02-16 |
| | Utsikt til Ka Boom. | 2009-06-22 |
| | Vitória à Vista! | |
| | Uma Explosão de Opinião! | 2007-07-07 |
| | Mucha Acción Y Buenas Vistas | |
| | Explosión A La Vista | |
| | Ett med naturen | 2008-11-29 |
Credits
| | | | |
| --- | --- | --- | --- |
| | Animation Director | 山下惠 (Megumi Yamashita) | |
| | Episode Director | 渡辺正彦 (Masahiko Watanabe) | |
| | Screenplay | 松井亜弥 (Aya Matsui) | |
| | Storyboard | 日高政光 (Masamitsu Hidaka) | |
©2002-2020 PocketMonsters.net
Version 5.1779
Rendered in: 0.04567s Queries: 6
Pokémon, all assorted characters, images and audio are ©GAME FREAK, Nintendo, Creatures, TV Tokyo, ShoPro and The Pokémon Company.
All images, text and audio are used in an editorial context. No site content, information, translations, news, images or otherwise may be reposted to any website without expression permission from the staff.
Current logos by: Juno