»
Episode Guide
» Viewing Episode: ウソハチキングとマネネクイーン!?/Usohachi King and Manene Queen!?
We see a preview with Ash winning his fifth symbol, the Spirit Symbol, from Spencer. Max reminds Ash that he will get the location for his last symbol once he gets the sixth symbol. May asks Brock where they are headed next. Brock tells May that they are headed for the Battle Tower which is nearby. They have arrived at a town. They walk off their boat. As soon as they reach the ground, Team Rocket walks up to them dressed as buisness people. They tell Ash and co. that they have won a free massage. Max wonders if it is a scam or not, but Team Rocket assures him that it is real.

They are led to a tent. Ash and co. each lay on a table while their Pokémon are all on another table. Meowth presses a button, and the group is locked in the table. Pikachu tries Thunderbolt, but the attack doesn't affect Team Rocket. Meowth presses another button, and a cage springs down on Pikachu, Eevee, and Bonsly. Then Team Rocket say their motto. Ash sends out Sceptile. Jessie sends out Dustox and James sends out Mime Jr. Suddenly, Munchlax comes out of its Pokéball. Munchlax uses Metronome. A sandstorm whips up causing the tent to explode. When the commotion is over, Brock can't find Bonsly and Ash can't find Pikachu. Team Rocket also notices that Meowth and Mime Jr are gone.

Pikachu, Meowth, Bonsly, and Mime Jr fall out of the bag and land on the sidewalk. They notice that their trainers are missing, so they have to take care of themselves for awhile. Suddenly, a limousine pulls up. Three suspicious-looking men walk out of the car. They are about to grab the Pokémon when the bag falls on them. When the men are trapped in the bag, Pikachu, Meowth, Bonsly, and Mime Jr make their escape. The men begin to chase the Pokémon. The people in the limousine block the Pokémon's path. Meowth sees a narrow path beside him and they run in there. Fortunately, the men are too big to fit in the path.

Pikachu, Meowth, Bonsly, and Mime Jr have stopped underneath a bridge for some rest. Meowth wonders who the people are and why they are trying to get them. Suddenly, the three people appear again. The Pokémon run away as fast as they can. Pikachu and friends find a stack of pipes, and they hide in them. The men past the pipes. They are safe for now.

Meowth notices that Pikachu, Bonsly, and Mime Jr are wiped out and hungry. He needs to find a way to get them food. Meowth sees a lady struggle with carrying boxes of Pokémon food. He helps the lady out, and the lady ends up giving Meowth a box of food as a reward. Pikachu doesn't trust Meowth, but Bonsly and Mime Jr are happy. Then Pikachu becomes happy too.

Ash and co. are searching the town for Pikachu. Brock is worried about Bonsly since it is still a baby and might be scared. Bonsly is crying over the food since it only eats Pokémon food. Meowth sighs and makes some Pokémon food for Bonsly. Bonsly is happy when it eats the food. Suddenly, the limousine pulls up and the three men begin to chase Pikachu, Meowth, Bonsly, and Mime Jr again.

Meanwhile, James is looking in trash cans for Mime Jr. He is worried that something might've happened to it. Jessie looks under a blue blanket. She sees a Bonsly and Mime Jr, however it is not James's Mime Jr. The Bonsly and Mime Jr have nervous looks on their faces. They run out of their hiding spot and bump into Ash and co. Ash and co. take notice on the Bonsly and Mime Jr, however it isn't Brock's Bonsly. A group of people see Bonsly and Mime Jr, and they chase after them. Ash and co. wonder what that was all about. May figures out that the Bonsly and Mime Jr are starring in the latest movie. That's why they are famous. Brock also reads the stories about Bonsly and Mime Jr.

Meanwhile, Pikachu and friends are running as fast as they can from the three men. Up ahead is a movie set with a group of people surrounding it. Thinking that Bonsly and Mime Jr are their king and queen, they tell them not to run off again. The director notices something different about Bonsly and Mime Jr. He doesn't think they are his king and queen. Jessie taps Meowth on the shoulder. She and James are in disguises. Jessie walks up to the director and tells him that they have a Bonsly and Mime Jr as replacements for the movie. Since the director can't find their other Bonsly and Mime Jr, he agrees to use Team Rocket's Pokémon instead.

The director has his assistants show a demonstration on how the scene should look. Jessie tells Bonsly and Mime Jr to just do what the director has them do. Suddenly, Bonsly begins to cry. Jessie holds Bonsly and tells the director that they will practice with Mime Jr first. The director loves Mime Jr's talent. After some work, they have a break for lunch.

Ash and co. continue to search for Pikachu and Bonsly. They find the three men holding their stars, Bonsly and Mime Jr, however they are wiped out right now. They ask Ash and co. if they know any nearby Pokémon Centers. Max takes out his Pokémon Navigator and finds a Pokémon Center nearby. Then they ask the three men if they saw another Bonsly. The men tells them that they have seen a Bonsly and Pikachu near the bridge.

Ash and co. run towards the bridge, and they find Pikachu and Bonsly. The director invites Ash and co. to be extras in the movie. They think it's a great idea. The movie begins. Everything goes perfectly until Jessie gets in the way. The director, angry, orders Team Rocket to get out of the way. His assistants takes them out of the movie. This gets Jessie mad a lot.

The movie begins again. Suddenly, in the middle of the movie, smoke appears. Team Rocket says their motto. The director hits Jessie and orders them to move out of the way. Jessie hits the director back. Brock tells Bonsly to use Double-Edge. Bonsly rapidly hits Jessie several times. Mime Jr mimics that attack and collides into Bonsly. Bonsly then uses Fake Tears. Mime Jr can't handle the loud sound from Bonsly. Then Mime Jr. uses Tickle on Bonsly. The director and his assistants film the battle with Bonsly and Mime Jr. Mime Jr's next move is Teeter Dance. The attack confuses everyone into dancing.

When the dance is over, Jessie sends out Seviper for battle. Pikachu strikes Seviper with Iron Tail. Seviper tries to hit Pikachu with Poison Tail but misses. Then Pikachu uses Volt Tackle causing Team Rocket to blast off again. The director finishes filming his new movie. Now that the movie is finished, Ash and co. continue their way to the Battle Tower.
Picture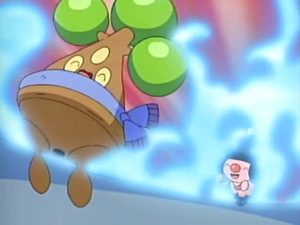 You must be signed in to rate episodes.
Average Rating:
6.45
VHS/DVD/Blu-ray Availability
Titles
| | | |
| --- | --- | --- |
| | 愛哭樹國王與魔尼尼皇后!? | |
| | Konge Og Dronning For En Dag | 2008-11-15 |
| | Koning en koningin voor een dag! | |
| | King and Queen for a Day! | 2006-11-10 |
| | Päivä kuninkaallisena | |
| | Une vie de star | |
| | Achtung, Kamera läuft! | |
| | Βασιλιάς και Βασίλισσα για μια Μέρα | |
| | Re per un giorno | |
| | ウソハチキングとマネネクイーン!? | 2006-02-23 |
| | Usohachi King and Manene Queen!? | 2006-02-23 |
| | Konge og dronning for en dag. | 2009-06-22 |
| | Rei e Rainha por um Dia! | |
| | Rei e Rainha por um Dia! | 2007-07-14 |
| | Rey Y Reina Por Un Día | |
| | Rey Y Reina Por Un Día | |
| | Kung och drottning för en dag | 2008-12-06 |
Credits
| | | | |
| --- | --- | --- | --- |
| | Animation Director | 岩根雅明 (Masaaki Iwane) | |
| | Episode Director | 浅田裕二 (Yūji Asada) | |
| | Screenplay | 大橋志吉 (Yukiyoshi Ōhashi) | |
| | Storyboard | 浅田裕二 (Yūji Asada) | |
©2002-2020 PocketMonsters.net
Version 5.1778
Rendered in: 0.01514s Queries: 6
Pokémon, all assorted characters, images and audio are ©GAME FREAK, Nintendo, Creatures, TV Tokyo, ShoPro and The Pokémon Company.
All images, text and audio are used in an editorial context. No site content, information, translations, news, images or otherwise may be reposted to any website without expression permission from the staff.
Current logos by: Juno