»
Episode Guide
» Viewing Episode: ポッチャマ対スボミー!ヒカリ初バトル!!/Pochama VS Subomie! Hikari's First Battle!!
DVD Extras
Raffle contest
The rental DVD including this episode came with a contest at the very end. The 3 first volumes of the Pocket Monsters Diamond & Pearl rental DVDs would each come with a quiz question, and children could send in a postcard with the answer to all three questions in order to be eligible for a prize. Three different prizes were offered: "a Search and Get DP: Monster Ball Type" (さがしてゲット DP モンスターボールタイプ) toy, a "Talking Plush DP: Pochama" (おしゃべりぬいぐるみ DP ポッチャマ) plushie, and a "Balloon Wrapping" (バルーンDEラッピング) Pokémon kit. Entries had to be market with which prize they wanted to win, with 10 winners being drawn for each prize, making a total of 30. Entries had to be submitted by July 31st, 2007.
Quiz Question #2
Japanese
ポケモ映画10作、劇場版ポケットモンスターダイヤモンド・パールのタイトルはなに? 「ディアルガVSパルキアVS○○○○○」
English
What is the title of the 10th Pokémon movie, Pocket Monsters Diamond & Pearl the Movie? "Dialga VS Palkia VS _____"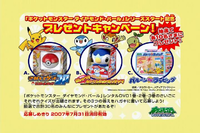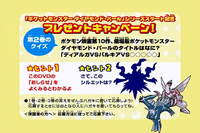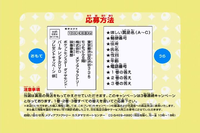 Eyecatch
Diamond and Pearl Eyecatch
Third variation of the Diamond and Pearl Intro and Return Eyecatches featuring
Hikari
,
Satoshi
and
Takeshi
.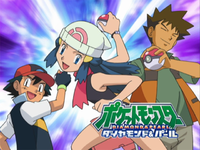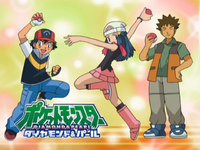 Okido Segment
Pokémon Encyclopedia
Pokémon Encyclopedia & Senryu
Theme
Pokémon Center (ポケモンセンター)
Japanese
ジョーイさん あいたくなったら ポケモンセンター
Romaji
Jooi-san aitaku nattara Pokemon sentaa
Translated
If you want to meet Joy-san, go to the Pokémon Center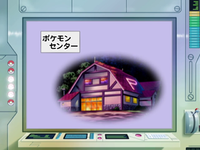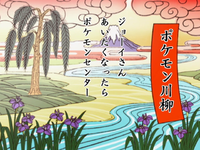 Titles
| | | |
| --- | --- | --- |
| | 波加曼對含羞苞!小光的初次對戰!! | |
| | Žádný učený z nebe nespadl | 2009-01-08 |
| | En Ny Æra Begynder | |
| | Dawn Of A New Era! | 2007-06-07 |
| | Uuden ajan alku | 2008-09-20 |
| | Ca barde pour le barde! | |
| | Friede, Freude, Sonnentag! | |
| | Új kor hajnala | 2009-01-08 |
| | Il nuovo mondo di Lucilla / L'alba di una nuova era | 2007-09-25 |
| | ポッチャマ対スボミー!ヒカリ初バトル!! | 2006-10-05 |
| | Pochama Tai Subomie! Hikari Hatsu Battle!! | 2006-10-05 |
| | Pochama VS Subomie! Hikari's First Battle!! | 2006-10-05 |
| | 팽도리 대 꼬몽울! 빛나의 첫 시합! | 2007-09-18 |
| | Dawn av en ny epoke | 2008-04-20 |
| | Nadchodzi nowa era! | 2008-12-02 |
| | O Início de Uma Nova Era! | 2009-02-21 |
| | O Amanhecer de Uma Nova Era! | 2008-07-03 |
| | Начало новой эры! | 2008-09-28 |
| | Maya Y La Nueva Era | |
| | El amanecer de una Nueva Era | |
| | En ny epok ser ljuset! | 2008-02-03 |
Credits
| | | | |
| --- | --- | --- | --- |
| | Animation Director | 牧野行 (Yukihiro Makino) | |
| | Animation Director | 木下和栄 (Kazue Kinoshita) | |
| | Animation Director | 牧野行洋 (Yukihiro Makino) | |
| | Episode Director | 牧野行洋 (Yukihiro Makino) | |
| | Screenplay | 冨岡淳広 (Atsuhiro Tomioka) | |
| | Storyboard | 日高政光 (Masamitsu Hidaka) | |
©2002-2020 PocketMonsters.net
Version 5.1779
Rendered in: 0.02259s Queries: 7
Pokémon, all assorted characters, images and audio are ©GAME FREAK, Nintendo, Creatures, TV Tokyo, ShoPro and The Pokémon Company.
All images, text and audio are used in an editorial context. No site content, information, translations, news, images or otherwise may be reposted to any website without expression permission from the staff.
Current logos by: Juno