»
Episode Guide
» Viewing Episode: ピカチュウ・ポッチャマ漂流記!/Pikachu-Pochama Drifting Chronicle!
29 Jan 2009 06:11 PM

Admin Staff


Joined: 18 Jun 2007
Forum Posts: 1714


Since the preview a week ago, people were trying to figure out what the gem/egg was. I like many were quite surprised to see that it was Deoxys. This was a fun filler episode but was obviously done to pad the storyline of DP a bit.

Administrator of PocketMonsters.net
30 Jan 2009 04:12 PM

Registered Users


Joined: 22 Jan 2009
Forum Posts: 32


Je trouve que cet episode n'a aucune originalite. C'est juste un episode banal comme il en existe plein d'autres avec un scenario sans surprises.En un mot: BOF! Pas terrible =_= Peut mieux faire.
Picture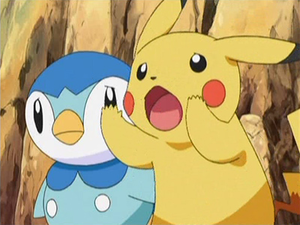 You must be signed in to rate episodes.
Average Rating:
7.56
VHS/DVD/Blu-ray Availability
Titles
| | | |
| --- | --- | --- |
| | 皮卡丘‧波加曼漂流記! | |
| | Radost na ostrově trosečníků | 2010-07-14 |
| | | 2010-06-16 |
| | Cheers on Castaways Isle! | 2009-06-27 |
| | - | 2010-06-16 |
| | Les naufragés Pokémon ! | |
| | Ein Freund aus dem Weltall! | 2010-04-12 |
| | מסתורין על אי בודד | |
| | Dispersi sull'isola deserta! | 2010-04-07 |
| | ピカチュウ・ポッチャマ漂流記! | 2009-01-29 |
| | Pikachu・Pochama hyouryuu ki! | 2009-01-29 |
| | Pikachu-Pochama Drifting Chronicle! | 2009-01-29 |
| | 피카츄! 테오키스와 우정을 나누다! | 2009-10-05 |
| | Glede på de skipbrudnes øy! | 2010-06-16 |
| | Viva a Ilha dos Náufragos! | 2011-06-10 |
| | ¡Alegría en la isla de los náufragos! | |
| | ¡Alegría en la isla de los náufragos! | 2010-02-28 |
| | Jubel på de skeppbrutnas ö! | 2010-06-16 |
Credits
| | | | |
| --- | --- | --- | --- |
| | Animation Director | 岩根雅明 (Masaaki Iwane) | |
| | Episode Director | 浅田裕二 (Yūji Asada) | |
| | Screenplay | 藤田伸三 (Shinzō Fujita) | |
| | Storyboard | 浅田裕二 (Yūji Asada) | |
©2002-2020 PocketMonsters.net
Version 5.1779
Rendered in: 0.02288s Queries: 9
Pokémon, all assorted characters, images and audio are ©GAME FREAK, Nintendo, Creatures, TV Tokyo, ShoPro and The Pokémon Company.
All images, text and audio are used in an editorial context. No site content, information, translations, news, images or otherwise may be reposted to any website without expression permission from the staff.
Current logos by: Juno