»
Episode Guide
»Viewing Episode: 新ジムリーダー・チェレン!/Cheren, the New Gym Leader!
22 Dec 2012 07:04 AM

Automated Bots


Joined:31 Dec 1969
Forum Posts:1406

22 Jan 2013 08:00 AM

Admin Staff


Joined:12 Jul 2007
Forum Posts:1068


Satoshi and friends have just arrived in Hiogi City, having received word of a new Gym there. However, it appears that something is troubling the Hiogi Gym's Gym Leader, Cheren...!? And then another incident occurs!

Summary:

Satoshi and his friends have just arrived in Hiogi City, where a new Gym has opened. The area before the one where the Gym Leader Cheren is located doubles as a Trainers' School in addition to being a Pokémon Gym. Cheren, who used to be a teacher there, has just recently been appointed Gym Leader, so the Gym itself is still under construction.

Meanwhile, Kibago, who has strayed away from Satoshi and the others, starts playing with the equipment in the broadcasting room. This results in loud screaming from the speakers all over the school, which in turn makes the Pokémon in the Pokémon House panic and run off! They split up for their search, but the Dent and Yanappu team are played for fools by Koaruhie and something unbelievable happens...!? Also, Satoshi's Mijumaru and Cheren's 'Loyal Dog Pokémon' Herderrier battle! How does this match turn out!?

Voice Cast:

Rica Matsumoto: Satoshi

Ikue Ohtani: Pikachu

Mamoru Miyano: Dent

Aoi Yuki: Iris

Minami Tsuda: Kibago

Misato Fukuen: Mijumaru

Chika Fujimura: Yanappu

Takuya Eguchi: Cheren

Kiyotaka Furushima: Veteran teacher

Hiro Nakajima: Student

Sayuri Hara: Student

Rumi Okubo: Student

Chihiro Takada: Student

Satowa Tanaka: Student

Erina Hasumi: Student

Marie Mizuno: Student

Asami Yano: Student

Unsho Ishizuka: Narration

This post was last edited31 Jan 2013 05:54 AM byAdamant
16 Mar 2013 09:38 AM

Registered Users


Joined:08 Feb 2011
Forum Posts:336


An okay episode, though the lack of actual gym battle was really disappointing. But not nearly as disappointing as the totally n00b way Satoshi got humiliated. :-/
Picture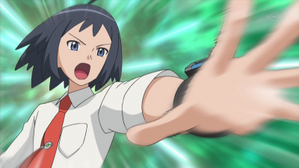 You must be signed in to rate episodes.
Average Rating:
5.50
VHS/DVD/Blu-ray Availability
Titles
| | | |
| --- | --- | --- |
| | Der er en ny Sal-leder i byen! | |
| | Er is een nieuwe Gym Leader in de stad! | |
| | There's a New Gym Leader in Town! | 2013-05-04 |
| | Uusi salijohtaja saapuu kaupunkiin! | |
| | Un tout nouveau Champion d'Arène ! | 2013-05-25 |
| | Der neue Arenaleiter von Eventura City! | 2013-08-27 |
| | C'è un nuovo Capopalestra in città! | 2013-06-18 |
| | 新ジムリーダー・チェレン! | 2013-01-31 |
| | Shin Gym Leader Cheren! | 2013-01-31 |
| | Cheren, the New Gym Leader! | 2013-01-31 |
| | 새로운 체육관 관장 체렌! | 2013-05-15 |
| | Det er en ny Gym-leder i byen! | |
| | Há Um Novo Líder de Ginásio na Cidade! | 2014-04-27 |
| | Um Novo Líder de Ginásio na Cidade! | 2014-02-20 |
| | В городе новый гим-лидер! | |
| | ¡Hay un nuevo Líder de Gimnasio en la ciudad! | 2013-09-24 |
| | ¡Un nuevo Líder de Gimnasio en el pueblo! | 2014-02-20 |
| | Det finns en ny Gym-ledare i stan! | 2014-03-23 |
Credits
| | | | |
| --- | --- | --- | --- |
| | Animation Director | 篠原隆 (TakashiShinohara) | |
| | Episode Director | 牧野吉高 (YoshitakaMakino) | |
| | Screenplay | 面出明美 (AkemiOmode) | |
| | Storyboard | 尼野浩正 (HiromasaAmano) | |
©2002-2020 PocketMonsters.net
Version 5.1779
Rendered in:0.01826s Queries:9
Pokémon, all assorted characters, images and audio are ©GAME FREAK, Nintendo, Creatures, TV Tokyo, ShoPro and The Pokémon Company.
All images, text and audio are used in an editorial context. No site content, information, translations, news, images or otherwise may be reposted to any website without expression permission from the staff.
Current logos by: Juno