»
Episode Guide
»Viewing Episode: アクロマVSハンサム!プラズマ団の陰謀!!/Achroma VS Handsome! The Plasma Gang's Plot!!
30 Jan 2013 05:08 AM

Admin Staff


Joined:12 Jul 2007
Forum Posts:1068


Mysterious incidents of Pokémon attacking people have occurred!! Satoshi and his friends head into the mountains to search for the cause of this, but on the way, even Pikachu and Kibago end up growing violent...!!

Summary:

Plasma Gang scientist Achroma is experimenting with Pokémon. Attempting to draw out its dormant power, he exposes the 'Electric Spider Pokémon' Dentula to a mysterious ray. Dentula cries out, and...

Tunbear and Kojondo are also subjected to such experiments... just what is the true goal of all this?

Satoshi and friends have arrived in Sangi Town. Suddenly, they're attacked by a pack of 'Mushroom Pokémon' Morobareru with odd looks in their eyes! It appears that the Pokémon in the nearby mountain have frequently started acting violent as of late. Having also heard that a group of suspicious people have been hanging around at the observatory in town, the group immediately heads there. On their way, however, Pikachu, Kibago and a group of wild Pokémon all suddenly band together and attack them. Taken back by surprise, Satoshi and friends are saved by a Hiker, who turns out to be...!?

Voice Cast:

Rica Matsumoto: Satoshi

Ikue Ohtani: Pikachu

Mamoru Miyano: Dent

Aoi Yuki: Iris

Minami Tsuda: Kibago

Megumi Hayashibara: Musashi

Shinichiro Miki: Kojiro

Inuko Inuyama: Nyarth

Kiyotaka Furushima: Coil

Kensuke Sato: Golbat

Chika Fujimura: Joy

Chiaki Takahashi: Junsa

Masaki Terasoma: Handsome

Masaki Aizawa: Ghetsis

Hiroki Tochi: Achroma

Akeno Watanabe: Angie

Hiro Sasaki: Townsperson

Yuta Odagaki: Townsperson

Unsho Ishizuka: Narration

This post was last edited07 Feb 2013 05:40 AM byAdamant
Picture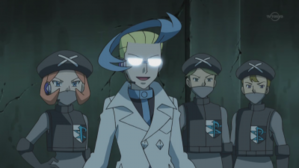 You must be signed in to rate episodes.
Average Rating:
6.00
VHS/DVD/Blu-ray Availability
Titles
| | | |
| --- | --- | --- |
| | Team Plasmas Pokémon-komplot! | |
| | Team Plasma's Pokémon Energie-experiment! | |
| | Team Plasma's Pokémon Power Plot! | 2013-05-11 |
| | Plasmaryhmän Pokémon-juoni! | |
| | Le complot de la Team Plasma ! | 2013-05-29 |
| | Team Plasmas miese Verschwörung! | 2013-08-28 |
| | Il piano segreto del Team Plasma! | 2013-06-19 |
| | アクロマVSハンサム!プラズマ団の陰謀!! | 2013-02-07 |
| | Achroma VS Handsome! Plasma-dan no inbō!! | 2013-02-07 |
| | Achroma VS Handsome! The Plasma Gang's Plot!! | 2013-02-07 |
| | 아크로마 VS 핸섬! 플라스마단의 음모! | 2013-05-15 |
| | Team Plasmas Pokémon kraft plan! | |
| | A Conspiração de Poder Pokémon da Team Plasma! | 2014-05-03 |
| | O Grande Plano Pokémon da Equipe Plasma! | 2014-02-21 |
| | Заговор Команда Плазмы! | |
| | ¡Complot poder Pokémon del Equipo Plasma! | 2013-09-25 |
| | ¡El complot por el poder Pokémon del Equipo Plasma! | 2014-02-21 |
| | Team Plasmas Pokémon-kraftplan! | 2014-03-23 |
Credits
| | | | |
| --- | --- | --- | --- |
| | Animation Director | 夏目久仁彦 (KunihikoNatsume) | |
| | Episode Director | 古賀一臣 (KazuomiKoga) | |
| | Screenplay | 藤田伸三 (ShinzōFujita) | |
| | Storyboard | 古賀一臣 (KazuomiKoga) | |
©2002-2020 PocketMonsters.net
Version 5.1779
Rendered in:0.02184s Queries:9
Pokémon, all assorted characters, images and audio are ©GAME FREAK, Nintendo, Creatures, TV Tokyo, ShoPro and The Pokémon Company.
All images, text and audio are used in an editorial context. No site content, information, translations, news, images or otherwise may be reposted to any website without expression permission from the staff.
Current logos by: Juno