»
Episode Guide
» Viewing Episode: 大量発生チュウ!ピカチュウのたに!!/It's an Outbreak-chu! The Pikachu Valley!!
Note
The official TV Tokyo Pocket Monsters Sun and Moon anime website posted a news article on September 9th, 2018, announcing that
Nicole Fujita
would be a voice actor in this episode.
A Pikachu played by Nicole Fujita is going to appear?!
The Pokémon fan model Nicole Fujita attempts voice acting for the very first time!
She'll be playing a female Pikachu named "Kurin"-chan in the first episode to air after the timeslot switch,
Sunday October 7th's "It's an Outbreak-chu! The Pikachu Valley!"
Kurin-chan is called the idol of the Pikachu Valley.
Don't miss out on her role in the episode!!
We have a comment from first time voice actor Nicole Fujita:
"I've always wanted to try voice acting, but I'm really happy my first gig was in Pokémon.
I'm playing a Pikachu in this episode, but since my lines are also basically "Pika!" over and over, I was completely unable to picture how I should play the role at first. But I practiced at home and the staff was really kind to me, so I was able to get it done.
I did my absolute utmost with parts that weren't actually in the script as well, like giving the Pikachu a voice in a scene where it's running, so I want you to pay close attention so you notice those minor bits as well."
藤田ニコルさん演じるピカチュウが登場!?
2018.09.09
ポケモン大好きモデルの藤田ニコルさんが、声優に初挑戦!
日曜日におひっこしして1回目、
10月7日(日)放送の「大量発生チュウ!ピカチュウのたに!!」で、
「クリン」ちゃんというメスのピカチュウを演じるよ!
ピカチュウのたにの、アイドルだというクリンちゃん。
その活躍を見逃すな!!
声優初挑戦の、藤田ニコルさんからコメントが届いたよ!
声優のお仕事は、いつかやってみたいと思っていたんですけど、初めての声優がポケモンで、すごく嬉しかったです。
今回、ピカチュウを演じさせていただいたんですが、基本的に「ピカッ」がメインのセリフだったので、最初はどう演じていいか全然イメージがつかめなかったですけど、家で練習をしたり、スタッフの方々にたくさん優しさをいただきながら、やり遂げることができました。
ピカチュウが走っているときの声とか、台本に書いてない部分も一生懸命演じたので、そういう細かいところも、見逃さずに見てほしいです。
Source:
http://www.tv-tokyo.co.jp/anime/pokemon_sunmoon/news/index.html#211881

Culture Edit
This episode marks the
last time Unsho Ishizuka
would be a voice actor for the series after over 20 years as being the narrator and
Professor Okido
. His final voice acting role as the narrator was at the end of this episode.
"The Pikachu Valley. It's a paradise for people who love Pikachu by people who love Pikachu. The fun times will keep on coming Pika! Pika?"
「ピカチュウの谷。そこは、ピカチュウ好きのピカチュウ好きによるピカチュウ好きのための楽園ピカ。楽しい時間はまだまだ続くピカ!ピカ?」
Picture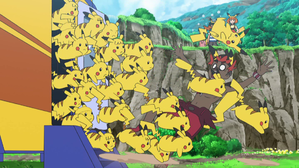 You must be signed in to rate episodes.
Average Rating:
8.00
VHS/DVD/Blu-ray Availability
Titles
| | | |
| --- | --- | --- |
| | 大量発生チュウ!ピカチュウのたに!! | 2018-10-07 |
| | Tairyō hassei-chu! Pikachu no tani!! | 2018-10-07 |
| | It's an Outbreak-chu! The Pikachu Valley!! | 2018-10-07 |
Credits
| | | | |
| --- | --- | --- | --- |
| | Animation Director | 一石小百合 (Sayuri Ichiishi) | |
| | Animation Director | 志村泉 (Izumi Shimura) | |
| | Episode Director | 中田誠 (Makoto Nakata) | |
| | Screenplay | 冨岡淳広 (Atsuhiro Tomioka) | |
| | Storyboard | 中田誠 (Makoto Nakata) | |
©2002-2019 PocketMonsters.net
Version 5.1778
Rendered in: 0.11533s Queries: 7
Pokémon, all assorted characters, images and audio are ©GAME FREAK, Nintendo, Creatures, TV Tokyo, ShoPro and The Pokémon Company.
All images, text and audio are used in an editorial context. No site content, information, translations, news, images or otherwise may be reposted to any website without expression permission from the staff.
Current logos by: Juno