»
Episode Guide
»Viewing Episode: 大乱闘!バトルロイヤル151!!/Brawl! Battle Royal 151!!
29 Jun 2019 11:17 AM

Admin Staff


Joined:12 Jul 2007
Forum Posts:1066


The Alola League preliminaries, a Battle Royal with 151 competitors, has begun! Will Satoshi and the others win their way through?! Hiroki, the character played by Abareru-kun, appears as well!
Also, we have a new ending theme

Summary:
The battles of the Alola Pokémon league finally begin!! First up is the preliminaries! They're a Battle Royal where 151 competitors fight each other all at once! Will Satoshi and his friends from the Pokémon School be able to remain in the league with this lineup of strong Trainers like Guzma, Ilima and Hau around?! Hiroki, the character played by Abareru-kun, is there as well! What role will he play?! This episode, the ending theme will change to "Type: Wild", sung by Shoko Nakagawa!
We also have part 2 of the predictions of the outcome of the Alola League!

Voice Cast:
Rica Matsumoto: Satoshi
Ikue Ohtani: Pikachu
Daisuke Namikawa: Rotom
Kei Shindo: Lilie
Kaito Ishikawa: Kaki
Reina Ueda: Mao
Hitomi Kikuchi: Suiren
Fumiko Takekuma: Māmane
Keiichi Nakagawa: Professor Kukui
Kenyu Horiuchi: Principal Okido
Yudai Chiba: Ilima
Abareru-kun: Hiroki
Megumi Hayashibara: Musashi
Shinichiro Miki: Kojiro
Inuko Inuyama: Nyarth
Yuji Ueda: Sonansu
Mika Kanai: Togedemaru
Kenta Miyake: Bakugames
Wakana Kingyo: Shore
Nobuyuki Hiyama: Hala
Masaki Aizawa: Kuchinashi
Nobuhiko Okamoto: Gladio
Jun Fukuyama: Hau
Mitsuaki Madono: Sauboh
Sayaka Kinoshita: Lusamine
Sachi Kokuryu: Burnet
Chika Fujimura: Wicke
Yasuyuki Kase: Guzma
Saki Endo: Plumeri
Toru Sakurai: Tupper
Soshiro Hori: Zip
Madoka Asahina: Wrap
Kiyomitsu Mizuuchi: Bourgain
Sumire Morohoshi: Acerola
Saki Fujita: Pikarla
Masami Iwasaki: Mad Boober
Ryota Iwasaki: Mister Elec
Risa Shimizu: Joy
26 Jan 2020 05:58 PM

Admin Staff


Joined:26 Jan 2020
Forum Posts:21


Dub Cast:

Sarah Natochenny - Ash, Mimikins

Laurie Hymes - Lillie

Jessica Paquet (Rebecca Soler) - Mallow

Rosie Reyes (Rohana Kenin) - Lana

Alyson Leigh Rosenfeld - Sophocles

Marc Swint - Kiawe

Rodger Parsons - Narrator

Ryan Andes - Hala, Kommo-o

Justin Anselmi - Spearow

Jo Armeniox - Plumeria

Simona Berman - Pyukumuku(?)

Ben Burgess - Caster

Roger Callagy (Rob Morrison) - Rotom Dex, Poliwrath, Politoed

Francesca Calo - Ilima Fangirl

James Carter Cathcart - James, Meowth, Torkoal

Neo Cihi - Hau

James Weaver Clark - Mad Magma

Emily Cramer - Togedemaru, Pikala

Daniel J. Edwards - Faba

Abe Goldfarb - Professor Kukui, Silvally, Sandslash, Boldore

Wayne Grayson -

Brittney Lee Hamilton - Blonde Ilima Fangirl

Martha Harms - Araquanid

Bobbi Hartley - Lusamine

Alex Haynes - Talonflame

Melissa Hope - Professor Burnet, Mareanie

Emily Jenness (Emily Bauer) - Snowy, Ribombee

Riley Joseph - Wicke

Lauren Kammerling - Acerola

Michele Knotz - Jessie, Mudbray, Corsola, Shiinotic, Hat Ilima Fangirl

Eddy Lee - Gladion

Jeremy Levy

Mike Liscio - Ilima, Magikarp

Evan Maltby - Guzma

Michael McMillan - Nanu

Suzy Myers - Nurse Joy(s)

Ryan Nicolls - Hiroki

Jake Paque - Zipp, Skarmory

Haven Paschall - Salazzle

Ben Phillips (Aaron Phillips) - Mr. Elect

Lori Phillips - Shaymin, Rapp

H.D. Quinn (Tyler Bunch) - Viren, Magmortar

Bill Rogers - Sudowoodo, Alakazam, Electivire

Erica Schroeder - Wobbuffet, Sandy/Eevee

Billy Bob Thompson - Mimikyu, Tupp, Clawitzer

Marc Thompson - Turtonator, Principal Oak, Primeape, Herdier, Geodude

Unknown: Orange Hair Ilima Fangirl, Black Hair Ilima Fangirl, Bolt (Pikala's Pikachu), Trainer B (Magikarp Trainer), Trainer C (Pyukumuku Trainer)

Ash's Pikachu, Raichu, Salamence, Gyarados, Metagross, Tauros, and Staryu keep their JP voices.

This post was last edited26 Jan 2020 10:19 PM byPkmndub
Picture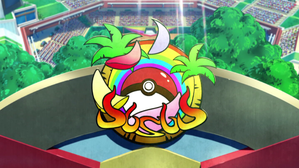 You must be signed in to rate episodes.
Average Rating:
VHS/DVD/Blu-ray Availability
Titles
| | | |
| --- | --- | --- |
| | Battle Royal for 151! | |
| | Koninklijk Gevecht 151! | 2020-01-12 |
| | Battle Royal 151! | 2019-11-09 |
| | Battle Royal 151! | |
| | Une Bataille Royale à 151 ! | |
| | Battle Royale 151! | |
| | I 151 della Battle Royale! | |
| | 大乱闘!バトルロイヤル151!! | 2019-07-07 |
| | Dairantō! Battle Royal 151!! | 2019-07-07 |
| | Brawl! Battle Royal 151!! | 2019-07-07 |
| | 난투! 배틀 로열 151!! | 2019-11-19 |
| | Battle Royal 151! | |
| | Batalha Real 151! | |
| | 151 Тренер в Королевском поединке! | |
| | ¡Battle Royale 151! | |
| | ¡Batalla Royal ¡151! | |
| | Battle Royal 151! | |
Credits
| | | | |
| --- | --- | --- | --- |
| | Animation Director | 新城真 (MakotoShinjō) | |
| | Episode Director | 牧野吉高 (YoshitakaMakino) | |
| | Screenplay | 藤咲淳一 (JunichiFujisaku) | |
| | Storyboard | 齋藤徳明 (NoriakiSaito) | |
©2002-2020 PocketMonsters.net
Version 5.1779
Rendered in:0.01797s Queries:9
Pokémon, all assorted characters, images and audio are ©GAME FREAK, Nintendo, Creatures, TV Tokyo, ShoPro and The Pokémon Company.
All images, text and audio are used in an editorial context. No site content, information, translations, news, images or otherwise may be reposted to any website without expression permission from the staff.
Current logos by: Juno