»
Episode Guide
» Viewing Episode: ムロジム!波乗りジムリーダー・トウキ登場!/Muro Gym! Enter Touki, the Surfing Gym Leader!
Ash and co. have already arrived on Dewford Island. Ash and Pikachu walk out of the islan'd Pokémon Center. They are ready for their gym battle at the Dewford Gym. Brock and Max also walk out. They already know Ash is ready for his gym battle. May then comes out with her pillow. Max points the pillow out to May. She almost left the Pokémon Center with it. Ash and Pikachu run up the path that leads to the gym.

Brock, May, and Max have caught up with Ash. A big sign says, "Fight the big wave." Brock wonders if the gym leader is one of those big guys like Chuck from the Cianwood Gym. Ash knocks on the door. The door quickly opens and group of girls run out with surfboards. Ash falls to the ground. A young man then walks out and asks Ash if he is alright. He is the gym leader of the Dewford Gym, and his name is Brawly. When Ash asks him for a battle, Brawly tells Ash that he has to do some surfing first and that they can battle the next day. Then he runs off. Ash gets angry at Brawly because he can't have his gym battle today. May and Brock think that enjoying the beach would be great. Max tells Ash that he can't have a battle without a gym leader. Since Ash doesn't have a choice, they decide to have some fun.

Many people are surfing in the water. Others are laying out on the beach. Two people walk in the cafe. The cafe is empty when Team Rocket comes out from behind the counter. They say their motto. The two people run out of the cafe. Meowth sees Ash and co. walking by. They think of a plan to catch Pikachu. May wants to go swimminig already. Max tells her that she can't change out of her clothes on the beach. May tells Max not to worry and she takes off her clothes. Underneath them is her swimsuit. Brock is admiring all the girls riding the waves. Then they see Brawly. He sends out Makuhita. Brawly and Makuhita begin to surf the waves. Ash looks up Makuhita in his Pokédex.

Ash gets angry that Brawly turned down his gym battle only so that he could surf the waves. Ash begs Brawly to battle him. Brawly tells him that he isn't battling today. Makuhita begins to lose its balance because it's distracted, but Brawly tells Makuhita to concentrate. They are surfing on a big wave. Ash dives down into the water to get Brawly. The wave crashes wiping them all out. Brock, May, and Max make sure to see that Ash and Brawly are okay.

Team Rocket is on a boat. They fire a net which captures Pikachu. Pikachu uses Thunderbolt, but the attack doesn't work. Brawly wonders who they are. Team Rocket introduces themselves with their motto. Meowth cuts the motto short, and they begin to escape. Makuhita jumps on its surfboard and chases after Team Rocket. It hits Team Rocket's boat with Tackle. Pikachu falls out of Meowth's hands. Ash gets Pikachu and frees it from the net. Then Pikachu uses Thunderbolt and blasts Team Rocket off again.

Brawly is impressed with Ash's battle skills. He accepts Ash's battle. Ash is stretching out for the battle. May wonders what strategy Ash will use. Brock thinks that Ash doesn't have a strategy and Max agrees. Brock tells Ash that he should use a Flying type. Ash thinks he will win his gym badge easily by using Taillow. The judge explains the rules of the battle, and then the battle begins.

Ash sends out Taillow and Brawly sends out Machop. May looks up Machop in her Pokédex. Taillow starts off with Wing Attack. Machop stares at Taillow and takes the hit. Taillow hits Machop again with Wing Attack. Machop gets back up on its feet. A third time Taillow hits Machop with Wing Attack. Since Machop still isn't attacking Taillow, Taillow uses a string of Wing Attacks. Each attack hits Machop, however Machop is still able to get back up. Brock explains that Machop has been absorbing the attack each time, so there hasn't been any damage at all. Taillow then uses Quick Attack. Machop counters with Cross Chop. The attack hits Taillow and it faints.

Everyone is surprised by this because a flying Pokémon would usually do better against a fighting Pokémon. Brock thinks that Machop's victory was because of its surfing skills. Machop was able to move like it does on a surfboard. Brock tells Ash that he needs to change his strategy because the power attacks won't do anything. Ash refuses to change his strategy. He sends out Treecko. Treekco uses a series of Pound attacks. Eventually, Machop grows tired. Then Treecko uses Quick Attack. Machop barely dodges the attack. Treecko finally uses Pound. The attack hits Machop, and Machop faints.

Brawly then sends out Makuhita. Treecko starts off with Pound, but Makuhita dodges all of Treecko's attacks. Treecko is weakening. Ash orders Treecko to use Quick Attack. Makuhita counters the attack with Vital Throw followed by an Arm Thrust. Even though Treecko is crippled, it still is able to get back up. Treecko charges towards Makuhita. Makuhita easily picks up Treecko and attacks with Seismic Toss. Treecko falls to the ground again, however it is still able to get back up. Suddenly, Makuhita begins to glow. It evolves into Hariyama! May looks up Hariyama in her Pokédex. Ash still wants to battle even though Hariyama can easily beat Treecko. Treecko uses Pound. The attack doesn't do a thing to Hariyama. Hariyama strikes Treecko with a Knock Off attack. Finally, Treecko faints and Brawly is declared the winner.

Ash and co. bring Treecko to a Pokémon Center. Nurse Joy tells Ash that he shouldn't force Treecko to battle in a weakened condition. Max tells Ash that Nurse Joy is right. Ash is still upset that he lost against Brawly. He gets so angry that he runs out of the room. Ash and Pikachu walk on the beach. Ash sees Brawly training his Hariyama. They are surfing in the water. When they take a break, Ash runs up to Brawly. He apologizes to Brawly. Ash thought that surfing was only fun and games, but it is really hard work. Brawly accepts Ash's apology. Then Brawly and Hariyama run back into the water. Brock, May, and Max meet up with May. Ash apologizes to his friends. He asks them if he can stay on the island some more and train. His friends think it's a great idea. Now Ash will train even harder to prepare for a rematch against Brawly.
Picture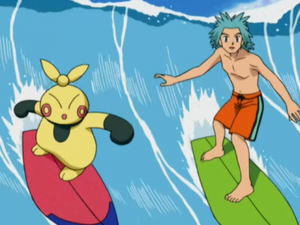 You must be signed in to rate episodes.
Average Rating:
7.00
VHS/DVD/Blu-ray Availability
Titles
| | | |
| --- | --- | --- |
| | 武鬥道館!衝浪道館訓練家藤樹登場! | |
| | Alt På et Bræt | |
| | Trotseer de golf | |
| | Brave the Wave | 2004-02-07 |
| | Aallon ratsastaja | 2005-04-14 |
| | A l'assaut des vagues | |
| | König der Wellen | |
| | !להתייצב מול הגל | |
| | Sull'Onda dell'Entusiasmo | |
| | ムロジム!波乗りジムリーダー・トウキ登場! | 2003-04-10 |
| | Muro Gym! Naminori Gym Leader Touki tōjō! | 2003-04-10 |
| | Muro Gym! Enter Touki, the Surfing Gym Leader! | 2003-04-10 |
| | Ri på bølgene | 2004-10-17 |
| | Mistrz wielkiej fali | |
| | Enfrentar a Onda | |
| | Domando as Ondas | |
| | ¡Que Gozada De Ola! | |
| | Toma La Ola | |
| | Brottarvågen | 2005-01-09 |
Credits
| | | | |
| --- | --- | --- | --- |
| | Animation Director | 宍戸久美 (Kumiko Shishido) | |
| | Episode Director | 秦義人 (Yoshito Hata) | |
| | Screenplay | 武上純希 (Junki Takegami) | |
| | Storyboard | 秦義人 (Yoshito Hata) | |
©2002-2019 PocketMonsters.net
Version 5.1778
Rendered in: 0.04244s Queries: 6
Pokémon, all assorted characters, images and audio are ©GAME FREAK, Nintendo, Creatures, TV Tokyo, ShoPro and The Pokémon Company.
All images, text and audio are used in an editorial context. No site content, information, translations, news, images or otherwise may be reposted to any website without expression permission from the staff.
Current logos by: Juno