»
Episode Guide
» Viewing Episode: ジュプトルVSトロピウス!草原の決闘!!/Juptile VS Tropius! Grassland Duel!!
Ash and co. are on a boat towards Yuzuriha Island where May will compete for another ribbon. However, Ash and co. have to switch boats, so that they can get to the island. The port is at Chamomile Island. May is still staring at the letter that Drew gave her. At the port are a lot of Pokémon such as Rhyhorn, Ponyta, and Girafarig. Max sees the herd of Rhyhorn. Brock is amazed at the Pokémon the island holds. Ash wants his Pokémon to come out too. He sends everyone out of the Pokéballs. May and Brock thinks it's a good idea, and they do the same.

A ball of grass flies up and lands near a Donphan. The Donphan looks at the baby Rhyhorn who appear to be nervous. The Donphan roars happily, picks up the ball, and stomps to the Rhyhorn. The baby Rhyhorn run away in fear. Three other Rhyhorn who appear to be the mothers attacks the Donphan. Donphan drops the grass ball and runs away as fast as it can. Ash and co. sees the Rhyhorn after it, and they also begin to run away. The Rhyhorn still charge after them. Suddenly, a car flies out from a cliff. Inside is Nurse Joy. She skids to a stop and sends out Meganium. Meganium uses Calm Mind to stop the charging Rhyhorn. Donphan sighs in relief. Ash thanks Nurse Joy for saving them. May looks up Meganium in her Pokédex. All the Pokémon seem to be fine until Ash notices that Grovyle is missing from the group. He sees Grovyle facing a Tropius.

Ash runs to Grovyle. He then looks up Tropius in his Pokédex. The rest of the group run beside Ash. Nurse Joy states that Grovyle is trespassing Tropius's territory which is the large tree. Grovyle charges to Tropius, but Tropius uses a Steel Wing to throw Grovyle backwards. Then it uses Gust to pin Grovyle to the ground. Ash is worried that Grovyle might get hurt. He runs to Grovyle. Tropius fires a Razor Leaf at Grovyle, causing more damage. Nurse Joy tells Meganium to attack Tropius. Meganium uses Razor Leaf at Tropius. Tropius stops its attack, looks straight at Meganium, and blushes. Ash and co. wonder why Tropius doesn't attack Meganium. Ash calls out for Grovyle. He picks up his weakened Pokémon and hopes that it will be okay. Nurse Joy takes a look at Grovyle. She tells Ash that it has to be treated at the Pokémon Center. Nurse Joy drives everyone to the Pokémon Center.

Team Rocket is behind the bushes. They were watching the battle between Grovyle and Tropius. Meowth's plan is to capture Tropius and to give it to the boss. Meowth heads into one of his fantasies. He imagines that at a sunny beach the Tropius will put its leaf over the boss to keep him cool. Then the boss will eat the fruit that Tropius has. Jessie, James, and Meowth dream about the promotions they would get if they captured the Tropius. Jessie asks how they plan to capture Tropius. Meowth is stumped on that question. Jessie and James tell Meowth that it could talk and negotiate with Tropius. Tropius is eating some fruit when Meowth walks up to it. Meowth asks Tropius of what it wants, and that he will bring the wish to it. Tropius thinks that Meowth is lying, but Meowth tells Tropius that he isn't lying. A few minutes later, Meowth walks back up to Jessie and James. Meowth tells his friends that Tropius will agree work for them as long as it can be with Meganium. Team Rocket now understands that since Tropius loves Meganium it won't attack it. They get an idea.

Grovyle is laid on a bed. Meganium is sending off auroras which should heal Grovyle. Grovyle opens one eye, and it sees Meganium smiling at it. Immediately a flower emerges from Grovyle's stick. Brock already can see that the flower came from Grovyle's heart. Ash sees the red marks on Grovyle. He wonders if it's a fever or not. Brock bends over and tells May and Max that Grovyle loves Meganium. Ash and co. head outside so that Grovyle can rest for a while.

Team Rocket is in a mechanical robot. They see Meganium with Nurse Joy. A mechanical arm shoots out, breaks through the wall, and grabs Meganium. Ash and co. hear the commotion, and they rush to Nurse Joy. Nurse Joy tells them that Team Rocket stole her Meganium. Team Rocket stands up, and they say their motto. Team Rocket then runs off with Meganium. Back at the tree is Tropius and Grovyle facing each other. The two Pokémon look at each other in the eye. Suddenly, Tropius flies up and uses Gust on Grovyle. Grovyle does its best to endure the attack. Then Tropius charges itself into Grovyle and uses Razor Leaf. Tropius fires more leaves at Grovyle who is blocking them all. Grovyle looks at his flower and sees the face of Meganium. With this, Grovyle gets a boost of energy and runs up the tree. It creeps up above Tropius and fires a Bullet Seed at it. Tropius is slowly brought to the ground. With a Leaf Blade, Tropius is nearly knocked out.

Team Rocket heads up to Tropius and lays down Meganium. They also see Grovyle there. They wonder why it is there. Meganium sees the injured Tropius and it runs to it. Grovyle thinks that Meganium is running to it, and so joy fills Grovyle's heart. Meganium passes Grovyle. It uses its healing aurora to restore Tropius's health. Grovyle is shocked by this. Team Rocket is discussing the love situation. They think that Tropius and Meganium were meant for each other and that Grovyle "failed" in love. Ash and co. pull up. They get out of the car and see that Grovyle is on its knees. Ash looks up at Team Rocket. Team Rocket tells him that Grovyle battle Tropius and won. Brock sees that Grovyle won its revenge match but lost in love. Ash is confused.

Suddenly, two mechanical arms reach out and grab Tropius and Meganium. Grovyle is mad by this. It starts to glow in a whiteish color. The glow surrounds the whole of Grovyle's body, and it evolves into Sceptile. It charges at Team Rocket's robot. Jessie sends out Seviper and James sends out Cacnea. Ash tells Sceptile to use Bullet Seed. Sceptile charges up for the attack, but nothing comes out of its mouth. Sceptile is shocked by this. It tries a Leaf Blade, but that attack fails too. Team Rocket laughs at Sceptile's weakness. Seviper hits Sceptile with a Poison Tail. Then Cacnea hits Sceptile with Needle Arm. The attacks from Team Rocket's Pokémon continue until it can't fight anymore. Sceptile falls to the ground. Meowth presses a button. One mechanical leg lifts up. It is about to smash Sceptile when Pikachu uses Thunderbolt on the leg. The leg blows up, leaving Team Rocket off balance. Tropius and Meganium are left safely on the ground. Nurse Joy runs up to the Pokémon and gives them both a hug. Team Rocket's robot is destroyed. Instead of blasting off, they decide to flee. Meowth takes out a remote and presses the button. Their balloon floats down from the sky, and they head in it. Ash sees Team Rocket escaping. Tropius and Meganium decide to help. Meganium fires a Razor Leaf to the balloon. With the help of Tropius's Gust, the leaves are fired directly at Team Rocket. Team Rocket blasts off again.

Tropius and Meganium begin to bond with each other. Everyone thinks that they make a great couple. Nurse Joy has decided to let Tropius and Meganium live together at the Pokémon Center. Ash asks Nurse Joy if his Sceptile will be okay. Nurse Joy says that it will be fine. Ash still wonders why Sceptile couldn't use any attacks. Nurse Joy tells him that it will take some time before Sceptile can fully learn its moves again. Ash and co. take the next boat to Yuzuriha Island. They all wave goodbye to Nurse Joy. Nurse Joy wishes May good luck at her next contest.
Picture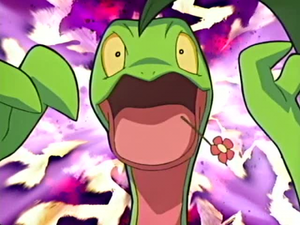 You must be signed in to rate episodes.
Average Rating:
6.70
VHS/DVD/Blu-ray Availability
Titles
| | | |
| --- | --- | --- |
| | 森林蜥蜴對決熱帶龍!草原的決鬥! | |
| | 1, 2, 3 For Mange | 2008-11-01 |
| | Vijfde Pokémon aan de wagen! | |
| | Odd Pokémon Out | 2006-10-28 |
| | Kolmas pyörä | 2008-08-24 |
| | Duel amoureux | |
| | Schmerz - lass nach! | |
| | Το Άλλο Πόκεμον | |
| | Rivali in amore | |
| | ジュプトルVSトロピウス!草原の決闘!! | 2006-01-26 |
| | Juptile VS Tropius! Sougen no Kettou!! | 2006-01-26 |
| | Juptile VS Tropius! Grassland Duel!! | 2006-01-26 |
| | Neste pokemon ut. | 2009-06-22 |
| | O Grovyle Apaixona-se | |
| | O Fora do Pokémon | 2007-06-16 |
| | Pokémon Enamorados | |
| | La Evolución De Grovyle | |
| | Fnurra på kärlekstråden | 2008-11-08 |
Credits
| | | | |
| --- | --- | --- | --- |
| | Animation Director | 玉川明 (Akihiro Tamagawa) | |
| | Animation Director | 志村泉 (Izumi Shimura) | |
| | Animation Director | 玉川明洋 (Akihiro Tamagawa) | |
| | Episode Director | ながはま (Norihiko Nagahama) | |
| | Screenplay | 武上純希 (Junki Takegami) | |
| | Storyboard | 秦義人 (Yoshito Hata) | |
©2002-2020 PocketMonsters.net
Version 5.1778
Rendered in: 0.01531s Queries: 6
Pokémon, all assorted characters, images and audio are ©GAME FREAK, Nintendo, Creatures, TV Tokyo, ShoPro and The Pokémon Company.
All images, text and audio are used in an editorial context. No site content, information, translations, news, images or otherwise may be reposted to any website without expression permission from the staff.
Current logos by: Juno