»
Episode Guide
»Viewing Episode: ピカチュウポッチャマくっつかないで!!/Pikachu, Pochama, Keep Apart!!
29 Oct 2009 07:08 AM

Admin Staff


Joined:18 Jun 2007
Forum Posts:1719


A decent episode, but it seemed like nothing really 'happened' in it. The first half of the show seemed to go by really fast with like absolutely nothing going on.

Administrator of PocketMonsters.net
30 Oct 2009 02:03 PM

Registered Users


Joined:10 Nov 2008
Forum Posts:122


I gotta say, I really liked this episode. The ridiculously romantic music that played whenever Pikachu and Pochama started hugging was hilarious.
03 Nov 2009 01:31 PM

Registered Users


Joined:05 Mar 2009
Forum Posts:274


the episode is ok but yeah what sunain said when nothing is going on
Picture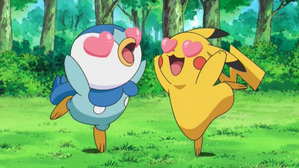 You must be signed in to rate episodes.
Average Rating:
8.03
VHS/DVD/Blu-ray Availability
Titles
| | | |
| --- | --- | --- |
| | 皮卡丘波加曼別黏在一起!! | |
| | Nepřekonatelná přitažlivost | 2010-10-19 |
| | Hold fast på den du kender! | |
| | Plakken aan degene die je liefhebt | |
| | Sticking with Who You Know! | 2010-03-20 |
| | Pokémonmaista vetovoimaa! | |
| | Les meilleurs amis du monde ! | 2010-09-14 |
| | Freunde, …ob ihr wollt oder nicht! | 2010-06-14 |
| | נשארים ליד מי שמכירים | 2010-09-24 |
| | Resta con chi conosci! | 2010-06-15 |
| | ピカチュウポッチャマくっつかないで!! | 2009-10-29 |
| | Pikachu Pochama kuttsukanai de!! | 2009-10-29 |
| | Pikachu, Pochama, Keep Apart!! | 2009-10-29 |
| | 팽도리와 피카츄! 사랑에 빠지다?! | 2010-03-30 |
| | Sammensveiset! | |
| | Amigos Inseparáveis! | 2011-07-25 |
| | Grudado em Quem Você Conhece! | |
| | Друзья не разлей вода! | |
| | Pegándose a quien ya sabes tú | |
| | ¡Pégate a quien conoces! | 2010-11-24 |
| | Håll dig till den du känner! | 2011-05-29 |
Credits
| | | | |
| --- | --- | --- | --- |
| | Animation Director | 志村泉 (IzumiShimura) | |
| | Episode Director | うえだしげる (ShigeruUeda) | |
| | Screenplay | 十川誠志 (MasashiSogo) | |
| | Storyboard | うえだしげる (ShigeruUeda) | |
©2002-2020 PocketMonsters.net
Version 5.1779
Rendered in:0.01861s Queries:9
Pokémon, all assorted characters, images and audio are ©GAME FREAK, Nintendo, Creatures, TV Tokyo, ShoPro and The Pokémon Company.
All images, text and audio are used in an editorial context. No site content, information, translations, news, images or otherwise may be reposted to any website without expression permission from the staff.
Current logos by: Juno