»
Episode Guide
» Viewing Episode: シッポウジム戦!VSジムリーダー・アロエ!!/Shippo Gym Match! VS Gym Leader Aloe!!
13 Dec 2010 10:02 PM

Registered Users


Joined: 31 Mar 2010
Forum Posts: 29


she is a baker, wright? sweet!
17 Jan 2011 08:26 PM

Registered Users


Joined: 25 Sep 2009
Forum Posts: 96


This gym battle was one of my favorites. I loved how it focused on strategy instead of power, and how Ash lost but not in a ridiculous way like with Shootie. It seemed that Ash was really focused from the time he entered the library in the museum since he didn't really want to read the book he was asked to. I thought that a veteran battler like him would be more attentive.
I think it was good that Ash did not use Pikachu since it gives him a chance to make his newer Pokémon stronger. He seemed really motivated after his loss to do better. I think the Roar and Mean Look combination was especially potent since Ash only had two Pokémon. The animation of Mean Look looked really cool.
28 May 2011 09:35 PM

Admin Staff


Joined: 18 Jun 2007
Forum Posts: 1712


I think this episode has one of the most horribly edited scenes in the entire series. Lenora's hips and legs look terrible and they shouldn't have even bothered. The edit sticks out like a sore thumb.

English Dub edits:

http://www.pocketmonsters.net/episodes/1210#Edits
Picture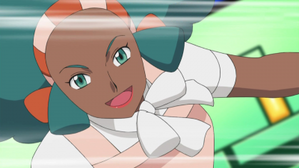 You must be signed in to rate episodes.
Average Rating:
7.76
VHS/DVD/Blu-ray Availability
Titles
| | | |
| --- | --- | --- |
| | 七寶道館賽!VS道館訓練家·蘆薈!! | 2011-04-29 |
| | The Battle According to Lenora | 2011-05-14 |
| | Le combat selon Aloé! | 2011-09-07 |
| | Ein ganz spezieller Kampfstil! | 2011-07-17 |
| | La lotta secondo Aloé! | 2011-06-15 |
| | シッポウジム戦!VSジムリーダー・アロエ!! | 2011-01-06 |
| | Shippo gym sen! VS Gym Leader Aloe!! | 2011-01-06 |
| | Shippo Gym Match! VS Gym Leader Aloe!! | 2011-01-06 |
| | 칠보체육관 시합! 지우 VS 체육관 관장 알로에! | 2011-06-07 |
| | Bitwa według Lenory! | 2012-01-20 |
| | O Combate Segundo Lenora! | 2012-07-14 |
| | ¡El combate al estilo de Aloe! | 2011-08-18 |
| | ¡La batalla según Lenora! | 2012-06-23 |
| | Striden enligt Lenora | 2011-11-27 |
Credits
| | | | |
| --- | --- | --- | --- |
| | Animation Director | 小野和寛 (Kazuhiro Ono) | |
| | Episode Director | 花井宏和 (Hirokazu Hanai) | |
| | Screenplay | 冨岡淳広 (Atsuhiro Tomioka) | |
| | Storyboard | 山田浩之 (Hiroyuki Yamada) | |
©2002-2020 PocketMonsters.net
Version 5.1778
Rendered in: 0.01749s Queries: 9
Pokémon, all assorted characters, images and audio are ©GAME FREAK, Nintendo, Creatures, TV Tokyo, ShoPro and The Pokémon Company.
All images, text and audio are used in an editorial context. No site content, information, translations, news, images or otherwise may be reposted to any website without expression permission from the staff.
Current logos by: Juno