»
Episode Guide
» Viewing Episode: シッポウジム戦!VSジムリーダー・アロエ!!/Shippo Gym Match! VS Gym Leader Aloe!!
Scene Cut
A line was skipping for Iris in the English dub that was originally in the Japanese original.

Iris: What's this place?
(アイリス): ここは?

Script Error
Ash in the English dub isn't certain what's down the staircase he just revealed. Satoshi on the other hand had a good idea and Aloe confirms his suspicions that the battlefield is in the basement.
| Character | English | Translation | Japanese |
| --- | --- | --- | --- |
| Ash | Wh-What's down there? | This is... | これって。 |
| Lenora | Ash! It's the battlefield, of course! | That's right, the battlefield is in this basement. | そう この地下がバトルフィールドさ。 |

Paint Edit
In the Japanese original, Aloe puts on and adjusts her apron. In the English dub she doesn't put on her apron and her legs and hips look quite odd with the edited animation.
Script Error
Lenora's reaction is a bit out of character compared to Aloe in the Japanese original especially the way the English dub's voice actor angrily says the line.

Lenora: What's going on?!
Aloe: My!?
(アロエ): なんと!?

Script Error
Satoshi doesn't initially complement in the Japanese original like Ash does as the English dub removes Satoshi's observation that the attack strategy was effective.

Ash: Way to go!
Satoshi: It was effective.
(サトシ): 効いてるぞ。 

Script Error
Satoshi says he wanted to make his opponent flinch (hirumasete ひるませて) with Water Gun. In the video games, the move does not cause the opponent to flinch. This *could* be an error and they were actually referring to the status ailment Flinch (ひるませる), but it is also possible that its the more normal, mundane meaning of "hirumu" since its used quite frequently outside of the Pokémon franchise as well. It does make it a bit confusing for viewers nonetheless.

Ash: I was planning on surprising them by using Water Gun and then finishing it up with Razor Shell, but my close-range strategy didn't work!
Satoshi: I wanted to make it flinch with Water Gun and then finish it off with Shell Blade...
(サトシ): 水鉄砲でひるませてシェルブレードで一気に決めるはずだったのに。

Script Error
Ash in the English Dub doesn't mention the fact that his Pokémon look frustrated (悔しい).

Ash: That's not easy, I know!
Satoshi: You guys must be frustrated too.
(サトシ): お前たちも悔しいんだな!

Script Error
Similar to how Kidachi calls his wife Mama throughout the episode, Don George refers to Aloe as 'Mother Aloe'. The 'Mother' term refers to how Aloe is a figurehead in Shippo City, just like a mother is in a family. In the English dub, Don George just calls her Lenora.
Don George English dub: I understand. So you were roundly defeated by all of Lenora's tricks,
Don George Japanese Translation: I see. So you've been deceived by Mother Aloe.
(ドン・ジョージ): なるほど。 アロエのおっかあにしてやられたってわけだ。

Picture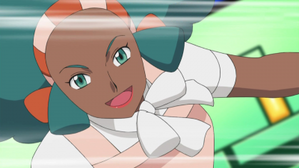 You must be signed in to rate episodes.
Average Rating:
7.76
VHS/DVD/Blu-ray Availability
Titles
| | | |
| --- | --- | --- |
| | 七寶道館賽!VS道館訓練家·蘆薈!! | 2011-04-29 |
| | The Battle According to Lenora | 2011-05-14 |
| | Le combat selon Aloé! | 2011-09-07 |
| | Ein ganz spezieller Kampfstil! | 2011-07-17 |
| | La lotta secondo Aloé! | 2011-06-15 |
| | シッポウジム戦!VSジムリーダー・アロエ!! | 2011-01-06 |
| | Shippo gym sen! VS Gym Leader Aloe!! | 2011-01-06 |
| | Shippo Gym Match! VS Gym Leader Aloe!! | 2011-01-06 |
| | 칠보체육관 시합! 지우 VS 체육관 관장 알로에! | 2011-06-07 |
| | Bitwa według Lenory! | 2012-01-20 |
| | O Combate Segundo Lenora! | 2012-07-14 |
| | ¡El combate al estilo de Aloe! | 2011-08-18 |
| | ¡La batalla según Lenora! | 2012-06-23 |
| | Striden enligt Lenora | 2011-11-27 |
Credits
| | | | |
| --- | --- | --- | --- |
| | Animation Director | 小野和寛 (Kazuhiro Ono) | |
| | Episode Director | 花井宏和 (Hirokazu Hanai) | |
| | Screenplay | 冨岡淳広 (Atsuhiro Tomioka) | |
| | Storyboard | 山田浩之 (Hiroyuki Yamada) | |
©2002-2020 PocketMonsters.net
Version 5.1778
Rendered in: 0.02719s Queries: 7
Pokémon, all assorted characters, images and audio are ©GAME FREAK, Nintendo, Creatures, TV Tokyo, ShoPro and The Pokémon Company.
All images, text and audio are used in an editorial context. No site content, information, translations, news, images or otherwise may be reposted to any website without expression permission from the staff.
Current logos by: Juno