»
Episode Guide
»Viewing Episode: 激走!! バトルサブウェイ!! (後編)/A Mad Run!! The Battle Subway!! (Part Two)
15 Sep 2011 12:15 PM

Registered Users


Joined:12 Aug 2009
Forum Posts:1


Nyasu return Rocket gang :(
06 Oct 2011 06:43 AM

Registered Users


Joined:08 Feb 2011
Forum Posts:336


I found it a tad disappointing that Rocket Gang's plan eventually failed, though that was highly predictable. Personally, I really wished it would work. Why didn't they do as they did for the Galaxy Gang, who only got stopped at the end of the series? There was a lot of potential, story-wise,in letting Nyarth and co. escape with all the Pokémon (minus Satoshi an co's of course).

Anyway, this one-hour special was really great! As I've already saidd multiple times already, I'm really glad to see the Rocket Gang getting so much attention. And the plot is getting really interesting, even better than Diamon and Pearl... it's really refreshing, especially compared to the first series.

I'm really looking forward to the episodes teased at the end of this one hour special. Looks like we've got a great bunch of great episodes coming up!

This post was last edited06 Oct 2011 06:44 AM byChance
29 Oct 2011 02:57 PM

Registered Users


Joined:25 Sep 2009
Forum Posts:96


Quote From: Chance


I'm really looking forward to the episodes teased at the end of this one hour special. Looks like we've got a great bunch of great episodes coming up!

Yeah, I'm really interested in the later episodes as well. I especially would like to see if Iris gets the Monozu in the upcoming episode.

Honestly this episode was somewhat disappointing compared to the previous one. I wished that Pikachu and the other Pokémon had opened more Pokéballs, not just their own, to get help. I wonder how they could tell the Pokéballs apart? It would have been nice to see random trainers' Pokémon working together. I also didn't quite understand why the helicopter couldn't keep chasing them after the blades were attacked, since they seemed to be working fine to me. I enjoyed the part when Pikachu considered which Pokémon would be best for breaking down the door. The idea of a car powered by Shibirudon was really cool as well.
Picture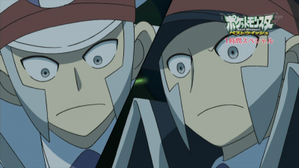 You must be signed in to rate episodes.
Average Rating:
7.67
VHS/DVD/Blu-ray Availability
Titles
| | | |
| --- | --- | --- |
| | 疾奔!對戰地下鐵!!(後篇) | 2012-01-18 |
| | Kampen om undergrunden! | |
| | De strijd om de metro! | |
| | Battle for the Underground! | 2011-12-28 |
| | Taistelu maanalaisesta! | |
| | Combat pour le métro ! | 2012-03-03 |
| | Der Kampf um die Metro! | 2012-01-29 |
| | Lotta metropolitana! | 2011-12-24 |
| | 激走!! バトルサブウェイ!! (後編) | 2011-09-15 |
| | Gekisō!! Battle Subway!! (kōhen) | 2011-09-15 |
| | A Mad Run!! The Battle Subway!! (Part Two) | 2011-09-15 |
| | 폭주! 배틀서브웨이! (후편) | 2012-05-03 |
| | Kamp for undergrunnen! | |
| | Combate no Subsolo! | 2012-09-20 |
| | Batalha no Metrô! | |
| | Битва за подземку! | |
| | ¡Combate por el metro! | 2012-01-29 |
| | ¡Batalla por el Subterráneo! | 2013-02-08 |
| | STRIDEN OM TUNNELBANAN! | |
Credits
| | | | |
| --- | --- | --- | --- |
| | Animation Director | 岩根雅明 (MasaakiIwane) | |
| | Episode Director | 浅田裕二 (YūjiAsada) | |
| | Screenplay | 冨岡淳広 (AtsuhiroTomioka) | |
| | Storyboard | 浅田裕二 (YūjiAsada) | |
©2002-2020 PocketMonsters.net
Version 5.1779
Rendered in:0.01862s Queries:9
Pokémon, all assorted characters, images and audio are ©GAME FREAK, Nintendo, Creatures, TV Tokyo, ShoPro and The Pokémon Company.
All images, text and audio are used in an editorial context. No site content, information, translations, news, images or otherwise may be reposted to any website without expression permission from the staff.
Current logos by: Juno