»
Episode Guide
» Viewing Episode: イワークの島でサバイバル!/Survival at Iwark Island!
31 May 2012 11:30 AM

Automated Bots


Joined: 31 Dec 1969
Forum Posts: 1137

26 Jun 2012 10:56 PM

Admin Staff


Joined: 12 Jul 2007
Forum Posts: 825


Satoshi and his friends arrive an an ninhabited island rumored to house extremely abnormal Iwark. As they play with their Water Pokémon, they are attacked by a huge horde of Iwark! What's the deal with these abnormal Iwark...?

Summary:

"Satoshi and his friends spend all their days at Shirona's villa in Sazanami Town training for the Junior Cup. But when Hikari tells them they need to relax every now and then, they go along with her suggestion to go play at an uninhabited island said to have abnormal Iwark on it. When they arrive on the island, they are greeted by many cute 'Water Pokémon'! Satoshi and friends fully get into a vacation mood, but as they explore the caves along the coast, they are suddenly attacked by the 'Rock Snake Pokémon' Iwark.

They somehow manage to escape, but Satoshi ends up separated from Iris and Hikari. As he searches for his friends, he returns to the coast for a bit, but again he is attacked by a giant Iwark!! The combined power of the Water types Mijumaru and Pochama somehow manages to drive off the Ground/Rock type Iwark, but a lot more Iwark emerge from behind it!! Just then Meloetta starts to sing, which causes it to change its...!?

Voice cast:

Rica Matsumoto: Satoshi

Ikue Ohtani: Pikachu

Mamoru Miyano: Dent

Aoi Yuki: Iris

Minami Tsuda: Kibago

Megumi Hayashibara: Musashi

Shinichiro Miki: Kojiro

Inuko Inuyama: Nyarth

Misato Fukuen: Mijumaru

Kiyotaka Furushima: Doryuzu

Chika Fujimura: Yanappu

Etsuko Kozakura: Pochama

Megumi Nakajima: Meloetta

Megumi Toyoguchi: Hikari

Takanori Hoshino: Jeremy

Daichi Endo: Iwark

Mitsuaki Kanuka: Iwark

Tomoyuki Higuchi: Iwark

Koji Takeda: Iwark

Hiroaki Tajiri: Iwark

Ryusuke Kanemoto: Iwark

Unsho Ishizuka: Narration

This post was last edited 26 Jun 2012 11:06 PM by Adamant
04 Aug 2012 11:38 AM

Registered Users


Joined: 08 Feb 2011
Forum Posts: 336


Ah, before I even watched this episode, I was really expecting we'd get to see Takeshi one way or another, though I was quite surprised to see him get mentionned at all (yeah, go ahead, keep rubbing that knife in that wound, will ya ?).
It's kinda sad we'll definitely never see him again, not until the inter-series episode(s), before the kick in the new Gen. Not even sure they'll have him make an appearance then, though.

Anyway, that was a cool episode, though I was a tad disappointed the special Iwark was nothing more than a 'Shiny' Iwark... was somehow expecting a crystal/silver/gold Iwark, bit like in that Orange Isles episode.

Oh, and yeah, can't wait for the next episode!
Picture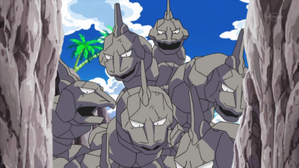 You must be signed in to rate episodes.
Average Rating:
8.71
VHS/DVD/Blu-ray Availability
Titles
| | | |
| --- | --- | --- |
| | 大岩蛇島野外求生! | 2012-08-31 |
| | Expedition to Onix Island! | 2012-11-10 |
| | Expédition à l'île des Onix! | 2013-01-02 |
| | Expedition auf die Onix-Insel! | 2012-11-29 |
| | Spedizione all'isola degli Onix! | 2012-11-19 |
| | イワークの島でサバイバル! | 2012-07-05 |
| | Iwark no shima de survival! | 2012-07-05 |
| | Survival at Iwark Island! | 2012-07-05 |
| | 롱스톤 섬에서 위험한 서바이벌! | 2013-03-28 |
| | Expedição à Ilha dos Onix! | 2013-11-07 |
| | Expedição à Ilha Onix! | 2013-11-01 |
| | ¡Expedición a Isla Onix! | 2013-03-11 |
| | ¡Expedición a Isla Onix! | 2013-11-01 |
| | Expeditionen till Onix-ön! | 2013-10-06 |
Credits
| | | | |
| --- | --- | --- | --- |
| | Animation Director | 案浦達哉 (Tatsuya Annoura) | |
| | Episode Director | 古賀一臣 (Kazuomi Koga) | |
| | Screenplay | 米村正二 (Shōji Yonemura) | |
| | Storyboard | 古賀一臣 (Kazuomi Koga) | |
©2002-2017 PocketMonsters.net
Version 5.1778
Rendered in: 0.05743s Queries: 9
Pokémon, all assorted characters, images and audio are ©GAME FREAK, Nintendo, Creatures, TV Tokyo, ShoPro and The Pokémon Company.
All images, text and audio are used in an editorial context. No site content, information, translations, news, images or otherwise may be reposted to any website without expression permission from the staff.
Current logos by: Juno