»
Episode Guide
» Viewing Episode: ヒノアラシ!ゲットだぜ!!/Hinoarashi! Get it!!
Ash and co. are on their way to Azalea Town. Right now they are in the forest trying to find their way out. Brock is staring at his map, but he can't seem to find a way out. Ash says that they don't need a map. All they have to do is cut through the woods until they find the road. Misty knows they'll get lost even more if they do that. Then a kid walks up to Ash and co. He asks them if they have seen any Cyndaquil. This gets Ash excited because he wants a Cyndaquil. The kid tells Ash to stay away from the Cyndaquil because he wants to catch one for himself. Misty and Brock tell the kid that anyone can catch a Cyndaquil if they find one. The kid walks away with a grunt. Misty notices that the kid's attitude is worst than Ash's. Misty and Brock notice that Ash isn't with them.

Ash is in the forest searching for Cyndaquil. Pikachu jumps off of Ash's shoulder and helps search, too. Misty and Brock now have to look for Ash. Jessie, James, and Meowth are using their binoculars to spy on Misty and Brock. They hope to capture Pikachu soon. Team Rocket goes about how they had to work real hard to save money for their secret weapon. Misty wonders how far Ash went. Suddenly, they hear Team Rocket's voices. Team Rocket approaches Misty and Brock in their Meowth robot. They say their motto. When they find out that Ash and Pikachu aren't with them, Team Rocket gets back in their robot and leave.

Ash and Pikachu continue to search for the Cyndaquil. Unfortunately, they aren't have much luck. Suddenly, Team Rocket swoops down on them in their Meowth robot. Team Rocket demands that Ash hands over Pikachu. Ash tells Pikachu to use Thunderbolt. Pikachu uses Thunderbolt, but the electric attack has no effect on the robot. Meowth states that the electricity just helps them power the robot even more. The robot begins to shoot out wads of sticky gum at Ash and Pikachu. Ash and Pikachu are able to dodge the wads of gum, and they try to avoid Team Rocket. Team Rocket chases Ash and Pikachu. Ash dives into a bush. Team Rocket wonders where Ash and Pikachu went. James uses one of his new inventions to detect the location of Ash and Pikachu. When Ash's location is found, they fire more wads of gum. Ash dodges them all, and he continues to run away from them. The robot begins to walk again, but it trips over a tree root and falls to the ground.

Ash and Pikachu arrive to a mountain filled with many caves. Pikachu spots a Cyndaquil at the edge of one of the caves. Ash looks up Cyndaquil in his Pokédex. Ash is glad to have found a Cyndaquil. He begins to climb the mountain to get closer to the Cyndaquil. The kid from before sees Ash climbing the mountain. Then he sees the Cyndaquil at the top. The kid sends out Sandslash and orders it to use Sand-Attack. Sandslash climbs the mountain, and then it throws sand down in Ash's face. Ash loses his grip and falls back to the bottom. The Cyndaquil runs inside the cave, and the kid and his Sandslash run in after it. Ash runs up the mountain again. Team Rocket finds Ash. Ash tells them that he doesn't have time to battle, and he runs inside the cave.

The cave is very big. Ash sees Cyndaquil run by. He starts running towards it, but he gets bumped by Sandslash. The trainer runs past Ash, too. Back outside, Team Rocket fires a huge, inflatable ball inside the cave. Ash continues his search for Cyndaquil until he sees the ball bouncing towards him. Meanwhile, the trainer is ready to battle Cyndaquil. Sandslash uses Poison Sting, but Cyndaquil jumps up to dodge the attack. Ash grabs onto Cyndaquil and continues to run. The trainer shouts at Ash until he gets knocked out by the bouncing ball. The ball explodes. Ash holds onto the Pokémon tightly as he is blown out of the cave.

Team Rocket's robot faces Ash. They fire a wad of gum at Ash. The gum hits Ash and throws him to the side of the mountain. The wad of gum prevents Ash from moving. Then Team Rocket notices that Ash has a Cyndaquil. Because Cyndaquil are rare, Team Rocket decides to capture it, too. Ash throws Cyndaquil onto the cliff and tells it to run away. Ash promises Cyndaquil that he can take care of himself. Cyndaquil begins to run when it is stopped by Team Rocket. Team Rocket has decided to capture Cyndaquil first while Ash is still stuck and then capture Pikachu. Before Team Rocket can attack Cyndaquil, Cyndaquil powers up and uses Flamethrower on the robot. The whole robot is burnt to a crisp. The robot is about to blow up. Ash knows he has to do something. He tells Pikachu to use Thunderbolt. Pikachu uses Thundershock. Even though Ash is shocked, the wad of gum breaks apart. Ash quickly recovers from the attack. Ash throws a Pokéball to capture Cyndaquil. Just as Cyndaquil gets inside the Pokéball, the robot explodes, and Team Rocket blasts off again.

When the explosion is over, Ash makes sure Pikachu is alright. Then he picks up his Pokéball and sends out Cyndaquil. Ash thanks Cyndaquil for saving him from Team Rocket. Ash realizes that the Cyndaquil he caught is powerful and nice. Misty and Brock soon find Ash. Ash tells them that he finally caught a Cyndaquil. The trainer from before walks out of the cave. He sees Ash with Cyndaquil and tells him to stay away. Ash tells the trainer that he already caught Cyndaquil. The trainer then offers Ash a challenge. They will battle and whoever wins gets to keep Cyndaquil. Ash accepts the battle, and he plans on using Cyndaquil to beat Sandslash. Misty tells Ash that he has never trained Cyndaquil before, but Ash doesn't worry because he has already seen Cyndaquil's power.

The battle begins. Sandslash starts off with Fury Swipes. Ash orders Cyndaquil to dodge the attack, but he sees Cyndaquil sleeping. At the very last second, Cyndaquil wakes up and dodges the attack. Sandslash then uses Slash attack, but Cyndaquil dodges the attack. Cyndaquil jumps from tree to tree as Sandslash tries to hit it. Each tree that Sandslash hits gets knocked down. Brock notices the amazing power Sandslash holds. Sandslash then uses Fury Swipes, but Cyndaquil is able to dodge each attack. Ash, Misty, and Brock are amazed at the speed Cyndaquil has. Sandslash soon gets worn out from all the slashing. Now Cyndaquil can attack since its opponent is getting tired. Sandslash's trainer orders Sandslash to keep on using Slash.

Realizing the attack is not doing anything, the trainer tells Sandslash to use Sand-Attack. Sandslash hurls sand in Cyndaquil's face. Then Sandslash uses Swift. Ash tells Cyndaquil to counter with Flamethrower. Cyndaquil tries to shoot out flames, but nothing comes out of its mouth, and it ends up getting hurt from the Swift attack. Ash doesn't know why Cyndaquil didn't use Flamethrower. Sandslash uses Swift again, but Cyndaquil dodges the attack. It runs straight in front of Sandslash. Sandslash uses Swift again, and this time the attack hits. Ash tells Cyndaquil not to give up because it's better than Sandslash. Sandslash uses Scratch attack, which hits Cyndaquil. Cyndaquil is knocked into a tree. Sandslash then tries to finish Cyndaquil off with its Fury Swipes. However, Cyndaquil dodges the attack, and Sandslash gets its claw stuck in the tree. Sandslash desperately tries to get its claw out, but it remains stuck. Cyndaquil finally tackles Sandslash, knocking it out.

Ash and Cyndaquil win the battle. The trainer returns Sandslash back into its Pokéball. Then he gets out a net and tries to capture Cyndaquil. Ash thinks the trainer is cheating. Cyndaquil powers up and uses Flamethrower on the trainer. The trainer then runs off. Misty and Brock congratulate Ash for catching a new Pokémon. Meanwhile, Team Rocket is at a job site. They see the same star in the sky as they did before many nights ago. Then their boss makes them get back to work.
Picture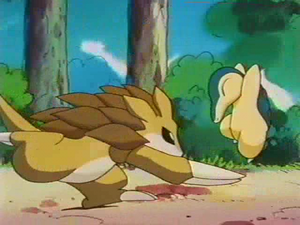 You must be signed in to rate episodes.
Average Rating:
7.91
VHS/DVD/Blu-ray Availability
Titles
| | | |
| --- | --- | --- |
| | 收服火球鼠 | |
| | Zápas o Cyndaquila | |
| | Een Goeie Jacht | |
| | Good 'Quil Hunting | 2001-03-03 |
| | Tulisieluinen Cyndaquil | 2002-06-01 |
| | Tout feu tout flamme | |
| | Feurige Jagd | |
| | המצוד אחר סינדקוויל | |
| | Un Prezioso Alleato | |
| | ヒノアラシ!ゲットだぜ!! | 2000-03-30 |
| | Hinoarashi! Get daze!! | |
| | Hinoarashi! Get it!! | 2000-03-30 |
| | Polowanie | |
| | Caça ao Cyndaquil | |
| | A Temporada de Caça! | |
| | Buena Caza De Quil | |
| | La Cacería De Cyndaquil | |
| | Cyndaquiljakten | |
Credits
| | | | |
| --- | --- | --- | --- |
| | Animation Director | 香川久 (Hisashi Kagawa) | |
| | Episode Director | 浅田裕二 (Yūji Asada) | |
| | Screenplay | 米村正二 (Shōji Yonemura) | |
| | Storyboard | 浅田裕二 (Yūji Asada) | |
©2002-2019 PocketMonsters.net
Version 5.1778
Rendered in: 0.04383s Queries: 6
Pokémon, all assorted characters, images and audio are ©GAME FREAK, Nintendo, Creatures, TV Tokyo, ShoPro and The Pokémon Company.
All images, text and audio are used in an editorial context. No site content, information, translations, news, images or otherwise may be reposted to any website without expression permission from the staff.
Current logos by: Juno